Spotlight on Elvis Presley's hidden sales
Charts-excluded budget releases, CDs issued thanks to loopholes, direct marketing series, albums from state-owned labels, etc… the number of Elvis Presley's records that remained out of the spotlight was huge. The revolution brought by Discogs means their sales to consumers can now be accurately gauged.
This article focuses on these black boxes. The point isn't to value sales of known records, like 30 #1 Hits, but instead to identify every large selling record that we don't know about. I'll start with series, then move to loopholes and then to budget releases to end with the fascinating state-owned labels.
Non traditional series
Time-Life Music
We already went through these records while digging into Presley's US album sales. By then, we had to use several assumptions. We accepted that among the 15 Time-Life series from 1997-2000 the largest sellers were the ones with the most popular songs and that earliest releases sold the most. Plus, Country album sold more copies thanks to its release in standard retailers. Below is the number of owners for each of these albums on Discogs: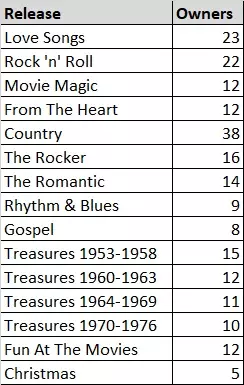 It confirms everything we previously assumed with a best scaling of gaps between each release. These numbers are fascinating because they show how a few owners only can bring us very telling representations of real sales to consumers.
Follow That Dream
We have set realistic ballparks for FTD releases on this page, thanks to past comments from the label manager Jorgensen and information collected on several sources. For individual releases though, we hardly knew a thing except that The Jungle Room Sessions is the top seller among all. Thanks to Discogs, we have the complete list of most owned FTD records. Aforementioned Jungle Room Sessions has 134 owners, barely 1,34% of its 10,000 buyers in real life. The representativeness is striking though as it does come on top, followed by expected releases like Elvis Is Back!, Burbank 68 and more.
Of course, we always need to keep in mind that LPs are more collected than CDs at Discogs. The numbered 2xLP edition of Moody Blue has 69 owners while it sold 1,500 units (limited and sold out) meaning 4,6% of its buyers are Discogs users. Once we compare LPs with LPs and CDs with CDs though, it's the perfect list to gauge accurately sales of each individual release.
Double Features
Also mentioned as part of Presley's US sales, the only figure available about Double Features releases is the Soundscan tally of 70,000 units for the first one made of Love In Vegas and Roustabout. We also pointed out that the first release for this kind of series always outsells follow-ups. Below is the number of US owners for each of them which can almost be directly be converted in realistic Soundscan sales: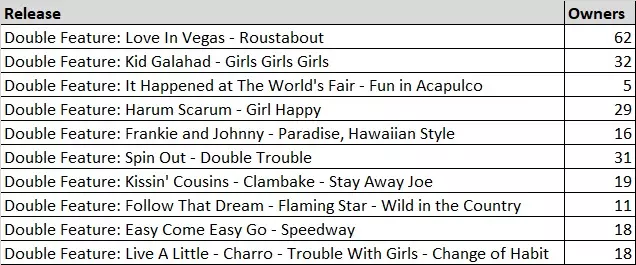 Reader's Digest
Thanks to late 90s certifications from late 90s, we own some data about Reader's Digest records. The largest of all was the 7xLP from 1978, His Greatest Hits. Its Platinum award from the US is already impressive, but it did much more. It went 2xPlatinum in Australia, with no multi-disc counting. It shipped 30,000 units in Finland. While it is exactly the kind of products strongly collected at Discogs, the fact that it has over 600 owners from its UK editions is still telling. It failed to go Silver on their large audit from 1998 but it must have been close. I'll pass on detailing all calculations to convert owners into sales for every country, but the global estimate of that album while using this method is noteworthy as this 7xLP album stands on 560,000 pure units.
The 4xCD box The Legend Lives On is Gold in the US for 125,000 units shipped, but it also did wonders abroad. Available statistics conclude on 380,000 global sales. Sings Inspirational Favorites and Sings Country Favorites sold almost as much combined.
Through the Years (Germany)
In 1991, 18 albums titled Through the Years were issued in Germany. Typical direct to consumer releases, it's the kind of albums that is entirely outside of charts panel. At Discogs, they have cumulatively 130 owners. The traditional German CD releases from 1991 to 1995 sold an estimated 240,000 units with 342 owners, implying a gauge of 100,000 units sold for the Through the Years collection.
Editions Atlas (France)
During the 90s it was impossible to not know Editions Atlas in France. A large company, the Atlas model consisted in extensive collections sold mostly at newsagent's shops but also by mail order. The first volume of each collection was always incredibly cheap, almost given away, but from number 3/4 the price was fairly high. There have been collections of everything – Star Wars figures, tiny cars reproductions, rocks, geography cards, history books, etc. They also issued various CDs series.
The most famous of them was Les Plus Belles Chansons Françaises. This collection was unique in that songs were newly recorded by other highly popular Adult Contemporary French singers. The volume covering 1962 songs, which started the collection in 1996 and was sold for 7.5F only (about 1,1€) sold over a million copies. In total, 84 albums came out from this collection. The 1962 volume is the most owned at Discogs, showing one more time how efficient this tool is, with 59 owners. It sounds low in comparison to the million buyers, but Discogs users are hardly collectors of multi-artists covers compilations.
Then there was various artists-themed albums with collections linked to a genre. The Blues collection started with a best of from John Lee Hooker which went Gold (100,000 units) with 63 owners. The second number of the series, signed Memphis Slim, has 48 owners at Discogs but failed to reach Gold. The rock series saw its first volume, a Chuck Berry compilation owned by 77 users, hit 300,000 units to be certified Platinum. The second volume by Jerry Lee Lewis went Gold with 47 owners. Following releases drop to 37 owners or less, they all failed to hit Gold.
In 1995, the Jazz & Blues Collection, kicked with a best of Ella Fitzgerald sold at a mere 7F. It has a huge 172 owners, suggesting possibly well over half a million sales. It wasn't certified because the Atlas label was excluded by the SNEP in 1995 after complaints from various artists. In fact, the 1989, 97 albums series, themed around Jazz and that sold a stunning 5 million albums in total, used some recordings without license. Later that year, a new collection about sacred music started with a Requiem of Mozart, sold at 5F (less than 0.8€) which shipped nearly 800,000 units.
You may wonder why do I talk about these series. It's because from 1997 to 1999 Elvis Presley received his series entirely dedicated to him. A total of 30 albums came out. This collection unlike the others was never sold at newsagent's shops, instead targeting the King's fans by mail order. The first volume has 13 owners at Discogs and following ones drop to 7 or less. Looking at patterns from previous rock series, that's good enough to claim 130,000 sales in total.
Agora (Poland)
A series of albums at Agora can result into massive numbers in Poland. As many as 27 of their albums went Platinum (20,000 units) in 2009 and 22 in 2010. The most impressive result came from the classic band Queen that got 24 Platinum albums in the former year. All of them sold around 30,000 units with a peak at over 60,000 for one of them. Presley also got his series of 12 weekly issued albums from the firm. What do we know about it then?
None of them went Gold while Agora certified many albums in the months following their releases, this suggest under 10,000 sales a piece. Then, this financial report of the group states the following: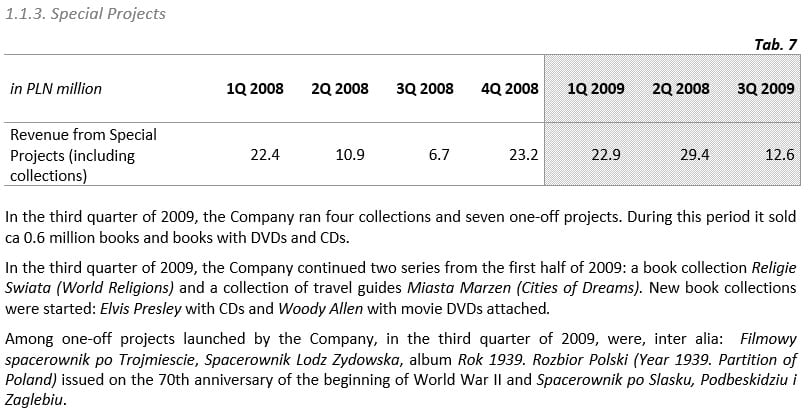 With about 60 releases – some that got certified but not Presley's ones – for 600,000 sales, we start to believe the 12 volumes series can't have sold more than 6-80,000 units combined. Discogs then provides us an unbiased method that is also more precise. Queen's 24 releases add for exactly 800 owners, that's 33 per album, which sold about 30,000 units each. Presley's albums add for 41 owners, 3,4 per album. This implies over 3,000 units per title, a combined total of 40,000 for the entire collection.
Around the same time, Presley had similar series in Denmark (100%, Familie Journal), Sweden (100%, Expressen), Italy (Arnoldo Mondadori) and Spain (El Rey, ABC). The first two have roughly the same number of owners than the Agora series while the latter two were much weaker (around 5 times less).