The Ravaging Impact of Download Sales 2004-2014
Analyzing charts of the Hit Makers albums
From the previous page table which lists all those mega-successful eras, let's add a column with the number of weeks inside the Top 10 managed by the album.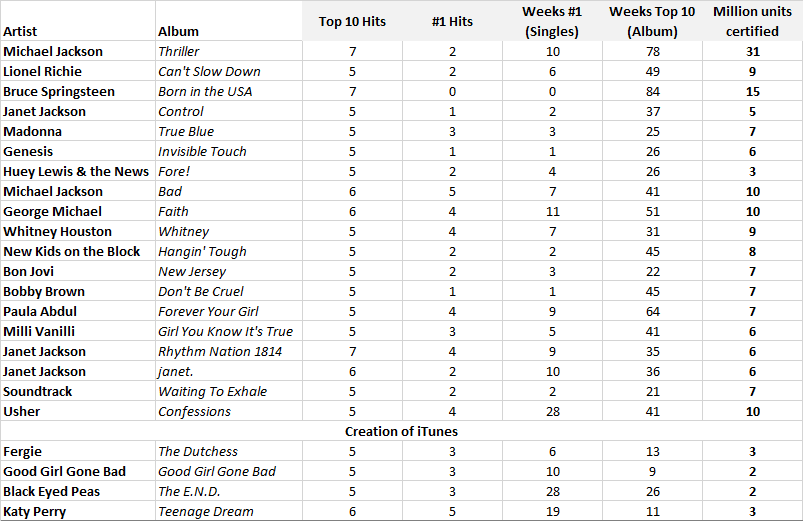 Results are a true shocker. From the 19 pre-iTunes albums, only three lasted less than 6 months inside the Top 10. They still lasted 21-25 weeks on it and were follow ups of Diamond albums – True Blue and New Jersey, following respectively Like A Virgin and Slippery When Wet – or a Soundtrack, explaining why they sold huge numbers in a relatively short time frame. Overall, those albums averaged 42 weeks inside the Top 10. This average drops to less than 15 weeks for post-iTunes monster albums. Those four LPs even combine for a dreadful 14 weeks inside the Top 5 album chart and a disastrous 2 weeks at #1. How is it possible that albums which registered 14 #1s hits that lasted 53 weeks at the top of the Hot 100 averaged the ridiculous tally of 3,5 weeks inside the Top 5 Album Chart? Things get ever worse when we consider that both Good Girl Gone Bad and Teenage Dream got extra-weeks high on charts thanks to heavily successful new editions.
In the other side, those four albums combined amassed 175 weeks inside the Top 20 and 274 weeks inside the Top 40 album chart.
To resume, while during the 80s-90s the norm for an album enjoying Pop Airplay hits was sitting comfortably inside the Top 10, during the downloads era it the norm became to barely hang around the Top 40. This proves hit makers were damaged way more strongly than other artists by the arrival of iTunes. I previously mentioned the target audience of those artists are the regular buyers that are from 12 to 25 years old. From 2005, those over 21 continued to buy albums as they had that habit already and a bit of money to afford those purchases. Fans from 12 to 20 years old though were still not into buying albums and had less money, thus jumping on iTunes and their gift card when they started to pay for music. This is how artists like Rihanna lost 60% of the sales they should have got 20 years earlier when the market overall was similar but iTunes wasn't here to destroy artists able to register popular hits.
As years passed, by 2014 even 25 years old music enthusiasts were only 15 when iTunes came out, meaning the entire 12 to 25 generation of Pop Airplay stations listeners had never been into buying albums. That's how some songs went on selling 8 million downloads while related albums were struggling to make a real impact.
If we look at Soundscan annual reports over several years, we can easily identify that popular genres like Pop, R&B or Rap dropped way more during that period than Country, Jazz, Classical or Classic Rock music. As this is quite obvious, I won't invest time on showing it, instead taking a distinct approach to reveal the deep difference between hit makers albums and blockbusters albums.