The Ravaging Impact of Download Sales 2004-2014
Analyzing sales of the Hit Makers albums
Let's start with up to date Soundscan sales of the digital era albums from the hit makers category.
3,975,000 – Fergie – The Dutchess
3,300,000 – Black Eyed Peas – The E.N.D.
3,050,000 – Katy Perry – Teenage Dream
2,880,000 – Rihanna – Good Girl Gone Bad
The first striking conclusion is how close they all are. Coincidence? Of course not. Albums with Top 10 hits are albums which get Pop 40 Airplay, albums with popular tunes aimed at the 12 to 25 years old population, exactly the same age group that was downloading. The lead of The Dutchess make it look like a bigger album. The truth is that with 6 weeks at #1 on he Hot 100, its singles have the weakest showing of the aforementioned four records. One question comes in – was it really bigger, or is it higher simply because iTunes was still not that big, consequently damaging it on a lower extent than the remaining albums? No doubt there, that's the correct interpretation.
None of those albums belong to the very top selling albums of the last 10 years which may seem surprising since they got more hits than the others. It is because the target audience of hits is limited to regular music buyers, which are numerous but will always be lower than an album attracting regular buyers and occasional buyers, something records from Adele, Taylor Swift or Nickelback have been able to do.
What happens when we compare those 2005-2010 albums to the historical hit makers albums from the 80s?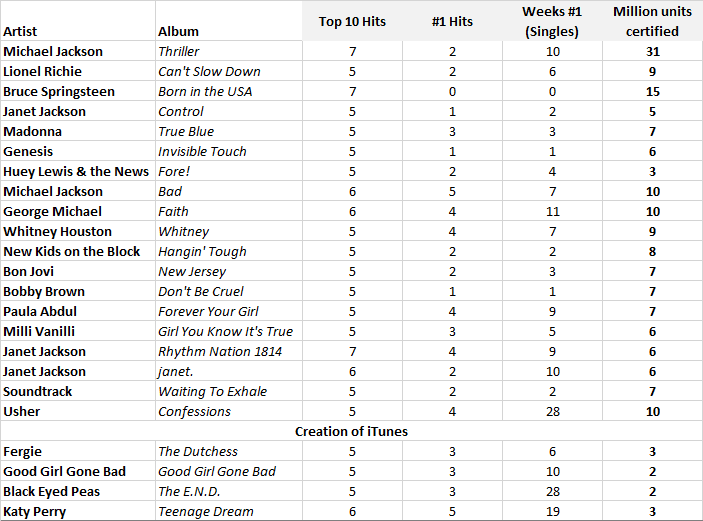 Please note certifications based on equivalent album sales from singles sales / streams have been excluded for comparison purpose
All three Janet Jackson's albums, certified 5/6/6 times Platinum, have outdated awards with real sales over 7/8/8 million respectively. Invisible Touch by Genesis has also not been updated in more than 20 years too, while Milli Vanilli LP was last certified in January 1990. Obviously, it isn't a good catalog seller, but RIAA rules were changed years later to allow all Records Clubs sales, which mean those units are unaccounted for on the case of Girl You Know It's True. In other words, 18 out of the 19 albums that had at least 5 Top 10 Hits pre-iTunes sold close to 7 million copies or more.
Both Thriller and Born in the U.S.A. belong to the blockbusters category, appealing to consumers from all fronts. Apart from them, we can also notice that the remaining 17 albums sold 10 million copies or less. This is in spite of 70 albums hitting at least 11 times Platinum. Interestingly, we met the exact same situation than with post-iTunes hit makers albums: solid sales, all very close, but not among the very top sellers. Those top sellers often contain 1 or even 0 Top 10 hit as they focused the promotion over the pure album format.
So, how have we gone from albums which dominate the Top 40 Airplay stations for 18 months routinely shifting 8 million copies to barely 3 million? Weaker Top 10 Hits? Clearly not, on average post-iTunes albums have more #1s and way more weeks at the top of the Hot 100 than previous albums. Lower market? While that would seem true, by the time Fergie's album came out, the album market was at 649 million units in the US, a massive 50% ahead of the 430 million albums sold in 1982 by the release of Thriller. When Good Girl Gone Bad came out, the market was higher than every year from 1982 to 1986, which hasn't prevented the six hit makers albums from those years to move from 7 to 31 million units each. More years of catalog sales for 80s records? While this is partially true, most of those LPs have long been replaced by Greatest Hits-type albums, while the four 2006-2010 records haven't, precisely because iTunes made those compilations irrelevant.
We are left with the conclusion of hit makers albums dropping from 8 to 3 million in sales on average, a harsh 60% drop, although the market was basically equivalent. The only sensible explanation is that those album sales have been cannibalized by an other format, in fact by downloads of singles. Here comes the evidence…