Understanding: RIAA / Label audits – The case of Michael Jackson
IV) The pivotal year – 1994
The year 1994 was supposed to be quiet. It could have been, but not after the RIAA decided to change its rules to allow all kinds of sales to be certified, including the well known Music Club sales and their heavy subscription offers and gifts. This update led to various sizable impacts. The most famous of them all is the Greatest Hits 1971-1975 by the Eagles which suddenly jumped from 14xP to 22xP.
Michael Jackson didn't fit the typical profile for the Columbia House target audience during the early days of the company, with consumers being more into Folk / Americana / Country / Rock music, but he still sold his albums there. Off The Wall was introduced in the Club in July 1981, Thriller from July 1983, Bad from July 1988, and Dangerous from September 1992. Those sales were first audited by Epic in September 1994, resulting in the following certifications:
| | | | | |
| --- | --- | --- | --- | --- |
| JACKSON, MICHAEL | THRILLER | 09/29/94 | EPIC | M (24) |
| JACKSON, MICHAEL | BAD | 09/29/94 | EPIC | M (8) |
| JACKSON, MICHAEL | DANGEROUS | 09/29/94 | EPIC | M (6) |
Those awards are clearly not date-specific. The criteria's were reached earlier but some sales weren't allowed. Thanks to the previous awards and Soundscan sales since then, we know the maximum retail sales up to September 1994. Bad was at most on 7,2 million, Thriller on 22,3 million while Dangerous had scanned 5,45 million. Thus, we can deduce that via Clubs Bad sold at least 800,000 copies, Thriller at least 1,7 million and Dangerous at least 550,000.
Since all three albums were certified at once, it is fairly clear that Off The Wall would have been also if it had been eligible. Its last award was 6xP in 1988. Is it normal to see the LP still under 7 million in spite of 6 more years of sales plus all music clubs sales? From available information, we can tell the album sold from 800,000 to 900,000 copies at retail since 1988. Did it sell close to nothing via both the BMG Music Club and Columbia House?
At the former club, Jackson had 4 albums listed on their all-time Top 100 sellers:
50. MICHAEL JACKSON – THRILLER (EPIC) (923,000 units)
61. MICHAEL JACKSON – BAD (SONY) (879,000 units)
78. MICHAEL JACKSON – HISTORY (EPIC) (730,000 units)
100. MICHAEL JACKSON – DANGEROUS (SONY) (298,000 units)
Off The Wall, if available, sold poorly at BMG Music Club, missing the list that all the other albums made. On Columbia House, we know that it was always available, but we also know that only albums listed and pictured on printed magazines sold well. Was it listed on ads then? I collected various such ads from Columbia House to build the below table, showing the availability of albums related to Michael Jackson.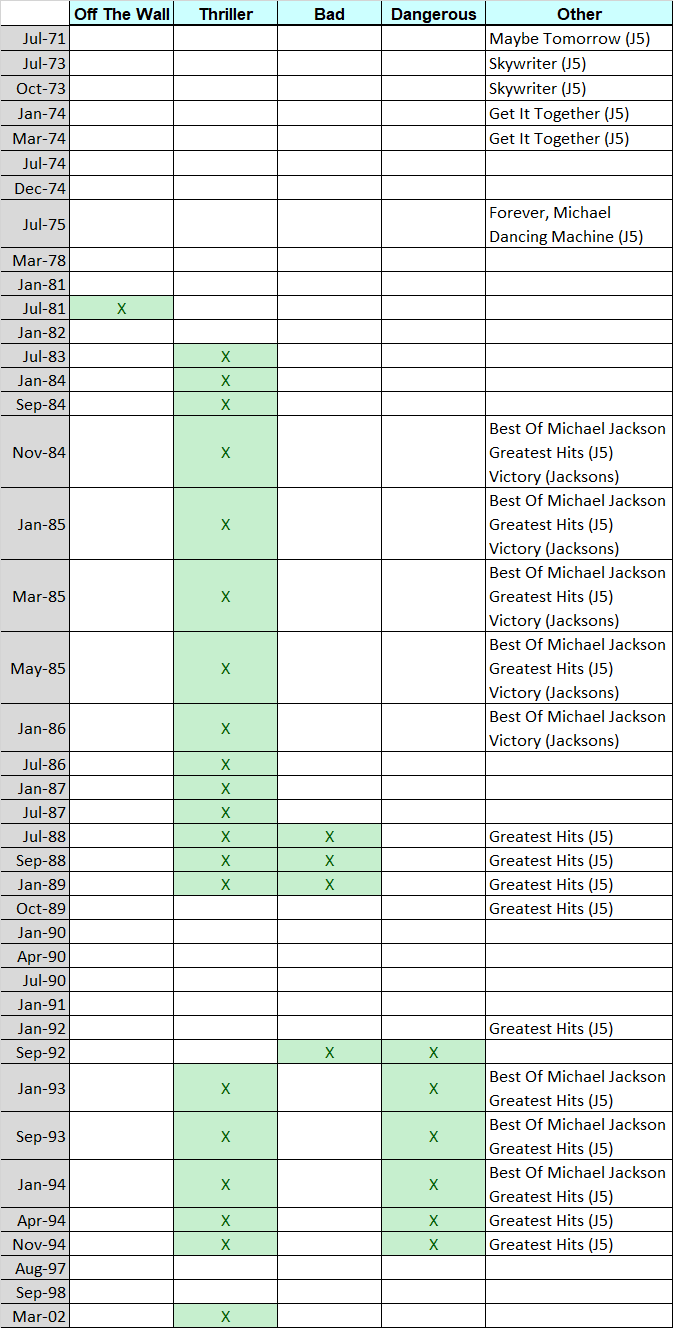 With this list, it now feels fairly natural that Off The Wall was the only album which failed to get a jump in certification after the change of RIAA rules. It was never A-List material via clubs, at BMG nor Columbia. During the MJ fever in 1984 various albums related to him appeared promoted at Columbia, but still not Off The Wall. However Thriller continued to be listed during the entirety of the 80s and returned regularly as soon as Jackson was a part of the news. Bad clearly made most of its impact during the 80s, only returning to accompany the newly available Dangerous in September 1992.