Understanding: Japanese Album Sales
There's still plenty of work to be done on France Album Sales and CSPC Analysis categories. This being said, it is now time to introduce a new Master Series, the Understanding one.
The aim of this new category will consist in explaining both technical and functional subjects usually misunderstood by the average music follower and chart watcher. The first piece of this new series will treat a technical issue, the album sales of a very atypical country, Japan.
Not many foreigners made it big there, but some still achieved it. The most obvious examples are the Beatles and Mariah Carey, along with others a la Carpenters, Michael Jackson, ABBA, Billy Joel, Celine Dion, Aerosmith and more. As a chart watcher for very long, what strikes me the most yet isn't who's big and who's weak in Japan, but the huge lack of understanding of the raw data we have been getting for this country.
To fix this issue, during the next few pages I'll be first presenting the known sources of Japanese sales figures and then on a second time detail every limitation – and they are utterly strong – of them. By the end of this article, you should be able to much better gauge how much your favorite artist shifted there once you know the raw data. As concrete examples are always much better than too much literature, on a third part we will be highlighting all limitations by checking cases of some artists and albums, let's start!
I) Raw data sources
A) Oricon – Charts & Sales
Decades before the US introduced Soundscan in 1991 or the UK got the DUS scanning system in 1994 Japan already had an album chart with sales mentioned explicitly. Indeed, Oricon company – named initially Original Confidence – was founded in 1967, started issuing draft charts a few months later and then officially publishing its first weekly music charts in 1970.
During the last decades, the ranking obviously evolved. Its size changed, the format (LP, CD etc.) factored in too, just like a few additional rules. One point that never changed is that sales are displayed only while a record is charting. To clarify it, below is the full discography of legendary American singer Carole King as posted by grendizer on UKMix:
Albums
1971/07/01 Tapestry # 29 , 42 weeks, 50,200 [LP]
1971/09/10 Writer # 67 , 8 weeks, 7,840 [LP]
1972/01/25 Music # 28 , 19 weeks, 25,480 [LP]
1972/12/01 Rhymes And Reasons # 34 , 12 weeks, 24,890 [LP]
1973/07/25 Fantasy # 21 , 13 weeks, 33,720 [LP]
1974/10/25 Wrap Around Joy # 73 , 1 week, 1,540 [LP]
1976/03/21 Thoroughbred # 72 , 5 weeks, 6,660 [LP]
2002/06/19 Love Makes The World # 90 , 2 weeks, 6,220 [CD]
Singles
1971/07/01 It's Too Late # 34 , 17 weeks, 64,000
1972/02/25 Sweet Seasons # 71 , 6 weeks, 15,000
First date is the entry date on charts, second the title of the record, third the chart highest position reached, fourth the number of weeks charted, fifth the number of copies sold and then the format used to compile charts.
Seeing this list make it look like the jigsaw is pretty much completed with all information needed there. Wait a minute! If this raw data surely is valuable you will quickly understand how wrong all those figures are if you expect to read the artist overall sales in Japan.
B) RIAJ – Certifications
RIAJ stands for Recording Industry Association of Japan, the local equivalent of the US counterpart RIAA. In spite of being create way back in 1942, certifications got introduced only in January 21 1989.
Not only certifications got introduced late, they were also restricted to various rules we are going to study. Until July 2003, the Gold album award was given after 100,000 units shipped and one Platinum disc was awarded after request each 200,000 units. After July 2003 the Platinum criteria was moved to 250,000 units.
All certifications, old and new, are available and published on a monthly basis at RIAJ website.
II) Understanding raw data
A) Uncharted records
Undoubtedly the most impacting limit of Oricon sales figures is the fact sales out of charts are not tracked. Nowadays, the weekly ranking is a deep one as it is a Top 300. Some 300 units sold are enough to put an album inside the ranking, thus the limit doesn't seem that important.
Until 2003 yet, the chart was only a Top 100 plus the market was much healthier. During most of the 90s, about 3,000 copies were needed to feature inside the ranking. This means an album could in theory sell 100,000 units within' a year without ever charting.
B) Format issue
Japanese charts have always been very strict with each format being let alone. As a result, during the 90s three distinct album rankings were published separating LP, CT and CD sales. Below is an example of an album huge during this period, True Blue by Madonna.

There is a total of seven cells in red, when the album wasn't charted in one of the three rankings. Not only those cells represent uncovered sales, this case also highlights the fact albums just under each ranking were losing from 2,000 to 3,000 units a week.
By November 1989 as the CD was getting bigger and bigger, both former LP and CT charts stopped being published. Officially, from that point the album chart was a merged chart including all physical formats. I mention officially because it is truly unclear how the merge was done. Considering Oricon history, the company was most likely continuing to run sub-lists for each format and adding those figures to albums charted on several of them. This means if an album was charting inside the Top 100 CD and LP rankings but not inside the Top 100 CT, those sales were most likely not added. Similarly, various sales got lost before the introduction of those charts. In 1970, only LP sales were recorded with CT sales considered from 1974. In-between those two dates, all CT sales were completely ignored.
C) Different editions
We already mentioned how strict Oricon charts used to be. This wasn't only limited to the different formats but also different editions of albums. Below is an extract of September 14 2009 Top 300 Album chart:
Rank – Sales – Album (Edition)
14 – 11,275 – Thriller (07/2009 EICP-1195 version)
119 – 1,101 – Thriller (2001 Remaster)
129 – 1,046- Thriller (25th Anniversary standard edition)
134 – 988 – Thriller (2000 Edition)
200 – 640 – Thriller (03/2009 EICP-20036 version)
Yes, one album, five spots occupied. We then need to notice other versions of the album were still selling as 25th Anniversary had two more versions plus a few more Japanese specific discs similar to 2009 EICP-1195 release including some that charted as EICP-1409 version from June 2010. In total, there is most likely close or more than 10 different versions of Michael Jackson's Thriller being tracked separately which still selling. As the market collapsed and the chart is now a Top 300, the impact may not seem so big, but think about a similar case happening during the 90s – in this present example, 3,775 sales would have been overlooked if charts were still a Top 100 only, plus sales of records under the Top 300.
D) Import sales
As incredible as it may seem, imports represented as much as a third of international artists sales in Japan during various years, even more at some point. Those import sales were fully excluded from Oricon charts until the extended Top 300 ranking started in 2003.
Below two extracts from 2002 RIAJ Annual Report. First, international albums production per year in Japan: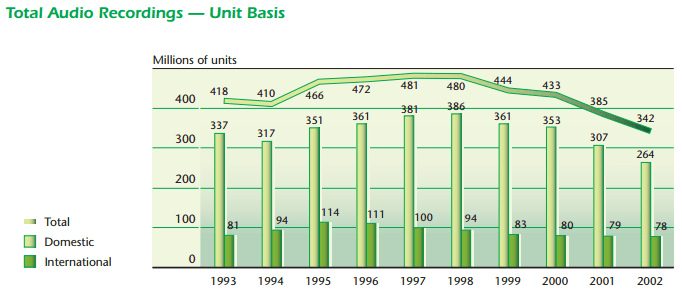 As you can see, the number was around 80 million per year in early 00s. Second, at the same time below is the of yearly imports, coming obviously from non-Japanese artists:
In 2002, a massive 62 million albums have been imported. This means every 10,000 copies registered by Oricon for international sellers, some 8,000 units were ignored. Obviously, big international acts like Michael Jackson or Madonna weren't impacted on such a dimension since their majors were locally promoting and shipping their albums, but still all foreign acts lost a chunk of their sales in Oricon charts.
E) Digital Sales
Yeah, Japanese charts can sometimes make us want to beat our head against a wall. As soon as something doesn't fit into the norm, it gets excluded.
While digital sales of albums never really took off in Japan, they still exist and ultimately reached decent amounts in recent years. In 2015, as much as 8,4 million digital albums were bought in Japan, an all-time peak. With a cumulative total of 114 million physical albums sold for the year, this adds an average of 7,4% to all Oricon figures. I pointed out earlier big acts weren't benefiting a huge share of imports. In the case of digital sales, it is pretty much the opposite. Local acts have often strong following with a collection-logic highly present. In the other side, young international stars who are less present on stores are incredibly popular online. The most striking example is Taylor Swift album Red, which is on 335,000 units as per Oricon and has reached 100,000 units downloaded, a notable 30% addition. Adding by default 15% to all recent international albums to estimate digital sales isn't optimistic at all.
F) Certifications on request
This is no news for people following charts and sales domain, but just like for other countries certifications in Japan are not automatic. Instead, majors must request Gold / Platinum awards to RIAJ in order to get their records certified.
We need to highlight one more time that prior 1989 there was no certification at all and that newly introduced certifications weren't retroactive. Clearly, many post-89 albums haven't been updated properly. An example of that among many others is Michael Jackson 1995 album History which registered 585,000 sales on Oricon alone within' four months but still never got certified 3xPlatinum.
III) Concrete examples
If we consider all Oricon limits together, we can theoretically create a case of albums selling a million units within' a few years without ever charting. With 4-5 different versions selling on various formats during high period of sales and with large imports can mean 20,000 copies sold a week in spite of being off the radar.
Of course, this case doesn't exist. Still, various popular international albums sold way, way more than their Oricon sales suggest. Let check a few of them.
A) Carole King – Tapestry
Albums
1971/07/01 Tapestry # 29 , 42 weeks, 50,200 [LP]
1971/09/10 Writer # 67 , 8 weeks, 7,840 [LP]
1972/01/25 Music # 28 , 19 weeks, 25,480 [LP]
1972/12/01 Rhymes And Reasons # 34 , 12 weeks, 24,890 [LP]
1973/07/25 Fantasy # 21 , 13 weeks, 33,720 [LP]
1974/10/25 Wrap Around Joy # 73 , 1 week, 1,540 [LP]
1976/03/21 Thoroughbred # 72 , 5 weeks, 6,660 [LP]
2002/06/19 Love Makes The World # 90 , 2 weeks, 6,220 [CD]
So, Tapestry sold 50,000 units and Fantasy 34,000. Wait, hasn't Tapestry outsold anything else Carole King ever released by a considerable margin? Clearly, it did. Is it different in Japan? No. What happens is that breakthrough albums are largely deflated by Oricon measurements as they often sell well for many months while other albums are heavily frontloaded.
Oricon figure includes only 42 weeks of sales out of 45 years. If one check the US results of the album, it was still under 3 million units sold 42 weeks after release while it is over 13 million by now. One may argue all those comments are assumptions only and that the album never got the enduring appeal it had elsewhere. While this is doubtful considering how well – relatively speaking – her following albums did, we have one additional but key element about this album. In fact, Tapestry CD issue from May 1991 reached Gold status in December 1995. In other words, the album sold 100,000 units within' four years only in spite of never charting. What's more incredible is that it represents a mere 417 copies a week, nowhere near the 3,000 units required to get into the ranking by 1994.
One can only guess how much this album sold by now, but anything under half a million wouln't be realistic – an album on barely 50,000 units as per Oricon!
B) TLC
The R&B group from the 90s got big in Japan in late 90s as shown by Oricon figures below.
1994/12/21 Crazysexycool # 91 , 7 weeks, 22,190
1999/03/06 Fanmail # 10 , 33 weeks, 480,540
2002/11/06 3D # 2 , 19 weeks, 195,636
2003/11/19 Now & Forever-The Hits # 11 , 14 weeks, 163,999
TLC = Oooooohhh… On The TLC Tip = G = 100,000 = May-02
TLC = Crazysexycool = G = 100,000 = January-96
TLC = Crazysexycool = P = 200,000 = February-97
TLC = Crazysexycool = PP = 400,000 = February-99
TLC = Fanmail = P = 200,000 = March-99
TLC = Fanmail = PP = 400,000 = April-99
TLC = Fanmail = PPP = 600,000 = May-99
TLC = Fanmail = PPPP = 800,000 = August-99
TLC = Fanmail = M = 1,000,000 = November-02
TLC = 3D = P = 200,000 = November-02
TLC = Now & Forever · The Hits = P = 250,000 = November-03
The band 1992 album Oooooohhh… On The TLC Tip never charted. It still reached 100,000 a decade later as a catalog album. The most striking example of Oricon logic limits is maybe Crazysexycool, which totalled only 22,000 registered units – please notice if charts were a Top 90 instead of a Top 100 it would have got 0 sale – spread over seven charts. The reality is that once all sales considered, by February 1999 the record was up to 400,000 units. If we add later sales especially during the hyped Fanmail era, this record easily shifted some 600,000+ units to date, about 30 times its Oricon number.
Fanmail itself ends up massively deflated, this one due to import sales. Below is the album certifications compared to its Oricon sales up to the same date:
TLC = Fanmail = P = 200,000 = March-99 – 123,690
TLC = Fanmail = PP = 400,000 = April-99 – 257,650
TLC = Fanmail = PPP = 600,000 = May-99 – 348,190
TLC = Fanmail = PPPP = 800,000 = August-99 – 451,000
While it is normal to see shipments run ahead of registered sales upon release, during the following months sales must fill the gap. Yet, as we can see, the gap just got bigger and bigger. No imports data is available for this record but it appears absolutely obvious that it moved incredible numbers by that way.
C) Enya – Watermark
1989/02/25 Watermark # 7 , 23 weeks, 182,960
Enya = Watermark = G = 100,000 = April-89
Enya = Watermark = P = 200,000 = September-90
Enya = Watermark = PPP = 600,000 = April-98
Here comes another Tapestry-like success. Enya album Watermark charted for 23 weeks in 1989, moving 183,000 units. Sales haven't stop from the day it dropped out yet and by April 1998 the set had already more than tripled its total, increasing to over 600,000 units sold. Only the release of million selling Paint The Sky With Stars compilation in late 1997 slowed it down.
D) Avril Lavigne – Let Go
By February 2003, a mere six months after release, Let Go by Avril Lavigne was certified Diamond, representing one million units sold in Japan. At the same time, the album was showing only 544,000 copies sold as per Oricon ranking. Once again, the reason is import sales. This album was the #4 most imported foreign album of 2002 at 174,000 units and #1 of 2003 at 214,000 units.
By June 2003, Oricon tally was up to 749,000 copies plus 133,000 units for the Bonus tracks edition released in May 2003. In 2004, a Tour edition was released, also charting separately. This created the exact situation previously detailed of several editions selling notable amounts week after week, sometimes charting, sometimes not. All in all, if one fill in the holes in its chart run up to its last entry in 2011, this album is up to a massive 1,35 million copies sold at retail – plus 388,000 imports. Up to date sales of this record are on at least 1,7 million, way higher than anything ever shown on Oricon.
E) Red Hot Chili Peppers – By The Way
2002/07/10 By The Way #4, 30weeks, 258,919
Imports 2002-2003: 246,103
Do I need to add something?
F) Deep Purple
1972/04/25 Machine Head # 6 , 33 weeks, 64,000 [LP]
1972/12/10 Live In Japan # 14 , 21 weeks, 46,000 [LP]
1978/11/25 Live In Japan # 80 , 3 weeks, 4,000 [LP]
1989/02/10 Machine Head # 62 , 3 weeks, 7,000 [CD]
1989/02/10 Live In Japan # 31 , 6 weeks, 21,000 [CD]
1998/02/11 Machine Head # 72 , 1 week, 4,140 [CD]
2006/03/06 Live In Japan # 138 , 1 week, 1,640 [CD]
2006/03/06 Machine Head # 159 , 1 week, 1,404 [CD]
2008/09/29 Live In Japan # 166 , 1 week, 906 [CD]
2008/09/29 Machine Head # 146 , 1 week, 1009 [CD]
2011/08/29 Machine Head # 210 , 1 week, 458 [CD]
Cumulative sales for each Machine Head and Live In Japan are respectively 78,000 and 74,000 units.
In February 1989, all their catalog was reissued in CD format, creating following entries:
1989/02/10 Deep Purple In Rock # 93 , 2 weeks, 3,000 [CD]
1989/02/10 Machine Head # 62 , 3 weeks, 7,000 [CD]
1989/02/10 Live In Japan # 31 , 6 weeks, 21,000 [CD]
1989/02/10 Burn # 81 , 2 weeks, 4,000 [CD]
If we set up realistic estimates over a three weeks period, they sold as listed below:
Live In Japan, 13,500
Machine Head, 7,000
Burn, 6 weeks, 5,500
Deep Purple In Rock, 4,500
Their label had the good idea to certify their catalog in November 1993 – remember only post-1989 sales are eligible – creating the following Gold awards:
DEEP PURPLE = Live In Japan = G = 100,000 = November-93
DEEP PURPLE = Machine Head = G = 100,000 = November-93
Considering the pace of sales visible in 1989, one may expect Live In Japan to have been close to 200,000 units already, while both Burn and Deep Purple In Rock were close to 100,000 units. Other albums failed the cut in 1989 but it is safe to say that Stormbringer or Fireball were at least on 50,000 copies from 1989 to 1993.
In total, Deep Purple had close to 50 entries and re-entries into Japanese Album chart, but none of them generated 100,000 sales or more. Still, all evidences suggest their back catalog alone was moving some 150,000 copies a year in early 90s. As for individual albums, if Oricon figures of both Live In Japan and Machine Head are under 80,000 it appears clear they shifted well past 1 million copies combined.
G) The Carpenters
During the first half of the 70s, the Carpenters were ridiculously popular in Japan. This resulted into an insane number of Japan-only compilations released by the duet, one of them being Twenty-Two Hits Of The Carpenters, one of the biggest selling albums ever in the country, issued in 1995.
As a Japanese-only release, there is obviously no imports to add. The album was charted inside the Top 50 for its first 36 weeks, moving the absurd total of 2,094,000 units. By the end of 1997, the album was already on 2,3 million units sold.
What's interesting about this album is the various re-entries it got once charts got expanded to a Top 300.
Week – Ranking – Sales
01/12/2003 – 159 – 1376
08/12/2003 – 221 – 1286
15/12/2003 – 252 – 1061
22/12/2003 – 193 – 1301
29/12/2003 – 203 – 1331
12/01/2004 – 177 – 3436
19/01/2004 – 205 – 1244
26/01/2004 – 236 – 917
09/02/2004 – 269 – 830
16/02/2004 – 270 – 793
23/02/2004 – 268 – 839
01/03/2004 – 293 – 650
15/03/2004 – 255 – 813
22/03/2004 – 266 – 765
29/03/2004 – 234 – 904
26/04/2004 – 271 – 653
21/02/2005 – 206 – 1043
30/04/2007 – 126 – 1116
07/05/2007 – 155 – 1308
14/05/2007 – 245 – 865
21/05/2007 – 182 – 858
27/10/2008 – 280 – 480
04/05/2009 – 171 – 905
11/05/2009 – 179 – 793
18/05/2009 – 136 – 935
25/05/2009 – 282 – 415
As you can notice, the album never re-entered the Top 100 which means if charts hadn't been expanded, it would have remained off radar during all those years. Fact is, this album was moving an average of more than 500 units a week all along, which is nearly 200,000 copies over seven years.
Gold best of was reissued and promoted in 2003 yet, decreasing Twenty-Two Hits Of The Carpenters appeal. From 1998 to 2002, this latter album was selling a minimum of 50,000 copies a year. By 2016 and although it was replaced by various new hits packages since, this album is clearly close to the 3 million mark, some 700,000 units ahead of its Oricon total despite there is not a single import involved.
H) Billy Joel – Greatest Hits Volume 1 & 2
This may seem quite random since he is regarded as a typical US artist in Europe, but Billy Joel has been huge since the end of the 70s all over Asia. One of the first foreign artists to get his albums officially released in China along with Michael Jackson and Lionel Richie, he also sold massive numbers in Japan. From 1978 to 1983, the five albums he released plus one live all sold in the 240-500,000 units range as per Oricon initial figures only.
Logically, this golden era resulted into a compilation release, 1985 set Greatest Hits Vol. 1 & 2. Within' six months only, this package sold an impressive 726,000 units on all formats. Later, in 1999, it was certified 3xPlatinum for 600,000. Logical? Yes, but not for the reasons you believe. In fact, those two figures of 726,000 and 600,000 units do not have a single copy in common. The first one was achieved in late 1985 / early 1986 while the second one came from November 1987 reissue only, a reissue which ironically sold supposedly only 24,000 units as per Oricon.
BILLY JOEL = Greatest Hits Volume 1 & 2 = G = 100,000 = May-91
BILLY JOEL = Greatest Hits Volume 1 & 2 = P = 200,000 = November-92
BILLY JOEL = Greatest Hits Volume 1 & 2 = PP = 400,000 = March-95
BILLY JOEL = Greatest Hits Volume 1 & 2 = PPP = 600,000 = October-99
As you can see, those 600,000 units certified got reached off the radar thanks to continuous catalog sales. The album kept selling roughly 100,000 units every 18 months, close to 1,500 units a week, without ever appearing inside Oricon ranking except the first few weeks.
In spite of the release of The Ultimate Collection in 2000, once charts got extended to a Top 300, the 1985 best of randomly re-entered for 8 weeks in 2003/2004, selling an average of 900 copies a week on each of them.
If the first run of the album revealed only 240,000 sales at the time – only LP sales were reported to Medias – this album shipped an estimated 2 million units since its release at 1,1 million 1985-89, 600,000 1989-1999 and 300,000 units since. The album could have been even higher but its profile got downgraded a lot by 2005 release of Piano Man – The Very Best Of Billy Joel.
In the meantime, please note both 52nd Street and The Stranger got certified for 100,000 sales in 1994/1995 for their CD reissue sales only. Both of them along with An Innocent Man are close to the million mark, an incredible showing from the artist.
Conclusions
In the very first message of this blog nearly six months ago, I explained below definition:
Understanding Music industry consists in three main steps:
Collecting raw data
Interpreting technically collected values
Understanding social meaning of information
Thanks to this article, you must now be able to perform the action 2. as far as Japanese market is concerned. Raw data is essential to complete steps 2 and 3, but it does not tell the truth by itself.
Mariah Carey is well known for being the biggest selling foreign artist in Japan as she has more Oricon sales than any other artist. Guess what? Anyone educated enough about Japanese sales information to interpret it correctly will tell you this claim is wrong as the Beatles obviously outsold her. This just goes on showing how important it is to add analysis to raw data.
The point of this article is not to inflate sales of foreign albums yet. Not all sold in the millions – far from that.
If you ever aim to know how much your favorite artist sold in Japan, after collecting the data from links I posted, you should ask yourself following questions to understand those figures:
How many weeks the album has been floating just under charts?
How many years of relevant catalog sales has it managed – e.g. when was the next hits package released – ?
Was it released before or after imports got added to charts?
Have some formats been excluding from its total?
Have there been several different versions of the album available?
Have later and weaker albums sold well or not?
Does it have a strong digital appeal?
If that sounds complicated to you, well, just ask me! I may be posting articles similar to France Album Sales series for Japan in the future so I'll let all of you request which artists you want to see studied!
As usual, feel free to comment and / or ask a question!
Sources: RIAJ, Oricon, UKMix, Nelson.