France best selling albums ever: Le Chemin by Kyo (2003)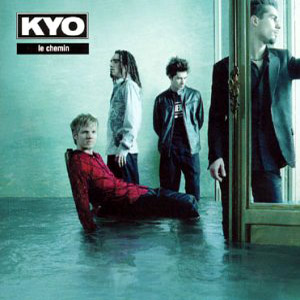 Just like Raphael, Calogero or Benabar, French Pop / Rock band Kyo released a debut album in 2000 that got unnoticed. Just like them yet, success wasn't very far yet and times of massive sales came in 2003 thanks to the huge hit album Le Chemin.
Several songs like Le Chemin (feat. Sita), Dernière Danse and Je Saigne Encore all became iconic among the younger generation. The first one led the album to an unexpected #14 debut but it is the second hit that sent Kyo into stardom area. Le Chemin album increased all the way from #57 to #3 in 8 weeks as Dernière Dance rotation started rolling. Once the increase realized, the album stayed high on chart for one complete year, from April 2003 to April 2004.
This impressive run led the album to the year end Top 10 charts in both years, respectively #4 in 2003 and #9 in 2004. Below run completed with certifications perfectly shows the evolution of sales:
18/01/2003: 14-12-15-18-23-34-41-42-57-47-44-43-27-22-18-10-3-4-8-5-8-11-(2xGold)–8-6-5-5-4-3-*2*-2-2-2-4-3-4-6-5-8-10-13-11-10-14-(2xPLatinum)-11-10-16-17-13-9 (03/01/2004) 2-6-4-2-2-2-3-4-4-(Diamond)-2-2-2-6-8-11-9-12-16-15-19-21-27-28-29-16-14-18-18-17-32-30-30-41-47-70-64-70-81-88-98-131-133-135-146-162
Its certifications confirm figures we saw on Florent Pagny's Ailleurs Land, which shipped 900,000 copies in 2003. This one sold 100,000 copies more in 2003, before being crushed by 3 to 1, 360,000 to 120,000, in year 2004. This puts Kyo album on 1,16 million by the end of 2004.
Although being one more victim of the 2-year exclusion rule, the album kept selling well  in 2005 adding 57,000 more IFOP sales, that would have been translated into some 70,000 in GFK numbers. It did some 25,000 more in 2006, plus a decent 20,000 for the 2CD box with eponymous Kyo debut album.
The group disbanded for a decade before returning in 2014. From the Best Of release in 2007 to this return, album Le Chemin never featured anymore on charts. In spite of this, strong airplay of its hits enabled some ok-ish catalog sales, from 10,000 a year in 2007 and 2014 to 5,000 the remaining years.
Net shipment as of the end of 2015 is estimated at 1,330,000 copies.
As usual, feel free to comment and / or ask a question!