France best selling albums ever: Equinoxe by Jean-Michel Jarre (1978)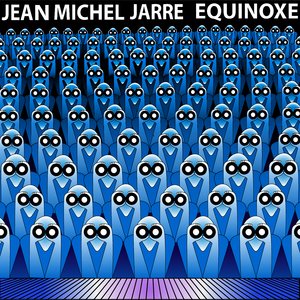 Less than two years after his first mainstream album redefined the borders of music and made Jean-Michel Jarre a pioneer in the electronic genre, French artist was back with heavily awaited Equinoxe album.
Released in November 1978, the album contains eight tracks named each Equinoxe Part X with X ranging from 1 to 8. The first single Part 5 was a big hit. The album was Gold upon release, although his label never properly audited it. Until early July, the album was floating inside the Top 10, accumulating over 500,000 sales.
By that time, second single Part 4 was taking over. What made a massive impact yet was the gigantic show that Jean-Michel Jarre performed in Paris, at Place De La Concorde, on July 14 the French National Day. On that date, an outstanding 1 million people joined his outdoor show. To maximize sales, a package of both 1976 classic album Oxygène and this new 1978 album Equinoxe was released. It was the hottest album of the summer, with the label shipping 800,000 units of Jarre albums within' six weeks. This included about 350,000 copies of the box, counted as two in the figure, plus about 100,000 units cumulatively from individual albums, mostly Equinoxe.
By January 1981, the label Disques Dreyfus claimed 1,5 million sales of each of those two big albums in France. Why claimed? Because this label wasn't part of the big ones, it was the kind of lower-profile label that happened to manage one massive selling artist, which used to claim inflated figures. This is why after certifying Gold the Oxygène album in 1977, the label completely ignored SNEP official certifications until 1986 and never audited its catalog since. This article stating 1,5 million sales a piece also claim 15 million cumulative sales worldwide for the two albums which seems to be largely rounded up. The fact is that they sold 11 million by November 1979 when their best period was over and 17 million by 1991. At that date, Oxygène was on 10 million worldwide while Equinoxe had sold 7 million. Those figures themselves appear to be clearly overstated giving those albums sold very small amounts in the US and ok-ish sales elsewhere while it takes blockbuster results everywhere to achieve such totals without the US. What's interesting yet is the 10 to 7 ratio which appears perfectly in line with French calculated sales of 1,5 million (Oxygène) to 1,05 million (Equinoxe) by the end of 1980. They also fit with the claim on page D-14 that do highlight a 1 million figure for Equinoxe rather than 1,5 million.
In later years, the career of Jean-Michel Jarre was marked not only by additional successful albums but also by additional monster outdoor events. In 1986, 1990, 1995 and 1998 he did four shows in France totaling an audience of over 5 million people. It is pretty difficult to gauge the impact on catalog sales. During the 80s, labels were pre-defining which records had to be counted in order to be eligible in charts. Most labels were doing it accurately but this one, as already stated, was a small label often ignoring standard practices. Thus, the absence of chart activity by 1976-1978 blockbuster albums in 1986-90-95 can be interpreted by a lack of sales but can also represent only a lack of interest by the label. The fact is that 1986 Jarre album Rendez-Vous, several months after debuting at #5, rocketed to #1 during two months after the show.
Since charts are more accurate this LP failed to make an impact into charts yet making it very unlikely to be a strong catalog seller. Estimates are on 1,2 million by 1991 and 1,35 million by now.
Net shipment as of the end of 2015 is estimated at 1,350,000 copies.
As usual, feel free to comment and / or ask a question!
Sources: SNEP, Nielsen, Platine, Billboard.