Valuation of an artist's popularity per era
Not all artists started big. Some took many years and albums before breaking over. Acts like Aerosmith, the Red Hot Chili Peppers and Green Day are good examples. Then you have acts like Kylie Minogue who were globally successful with some albums but less with others. This creates several doubts. If we speak about the latter, how can we know her sales from everywhere while only post-Fever (her 2001 smash album) data is enough documented in most markets?
The artist's consistency
The case of Minogue is typical of many artists in terms of available sales information. We know a lot about one album – charts and / or certifications from more than 30 countries for Fever – but much less from her remaining records. Thus, we would like to extrapolate Fever's data into the rest of her discography. If we look at her sales, it doesn't seem possible. Her first two albums, Kylie and Enjoy Yourself, add for nearly twice as many sales as Fever in the UK but less than half in the US. With sales patterns so different depending on the country, we don't know how to work it out. Still, we can do it thanks to YouTube Insights.
Below table lists the share of video streams among Minogue's catalog from her #1, #3, #5, #10 and #20 most viewed songs from multiple markets. Please notice I selected views from the month of January 2018 to avoid specific case of Christmas songs and newly released singles. Let's see what we can learn from that:

How should we interpret this table? It suggests Minogue is the closest to a one-hit-wonder in the US, where her most viewed song represents over 34% of her views. It's not surprising since that's where she sold the least relatively speaking outside of the Fever era. Then we can notice her 1-5 songs are the closest in Japan. Once again that's consistent with album sales since her 4th top LP seller there sold as much as 54% of her biggest studio album in this country against at most 28% elsewhere.
The last 2 lines show how consistent an artist has been. Logically, her views are more spread over her entire catalog in the UK, followed by Australia. In the other side of the spectrum, her low Top 20 songs in the US register very low streams.
These figures prove a real correlation between sales of an artist's albums and views of their related songs on YouTube. They tell how large a fanbase is and how much an artist crossed over the main audience. It doesn't tell us which era did well or not though. We will now value them.
Top 20 Songs ranking highlights highest selling albums
In the previous page, I mentioned each artist has a conversion rate. Depending on how much his audience fits with YouTube's audience, views will suggest different number of sales achieved through the years. It's also true inside the discography of an artist.
The debut album Kylie sold nearly as much as Fever, but its songs are viewed much less. It's fairly natural since Kylie video clips are much older and much cheaper, while those of Fever are pretty iconic. Still, knowing that each song has a distinct conversion rate, we can still compare their performances in diverse countries. Please notice all sales figures mentioned below come from Minogue's CSPC article.
YouTube Insights provide us with the 20 most viewed songs of each artist in each country. Below is the ranking of Minogue's songs in 5 large markets: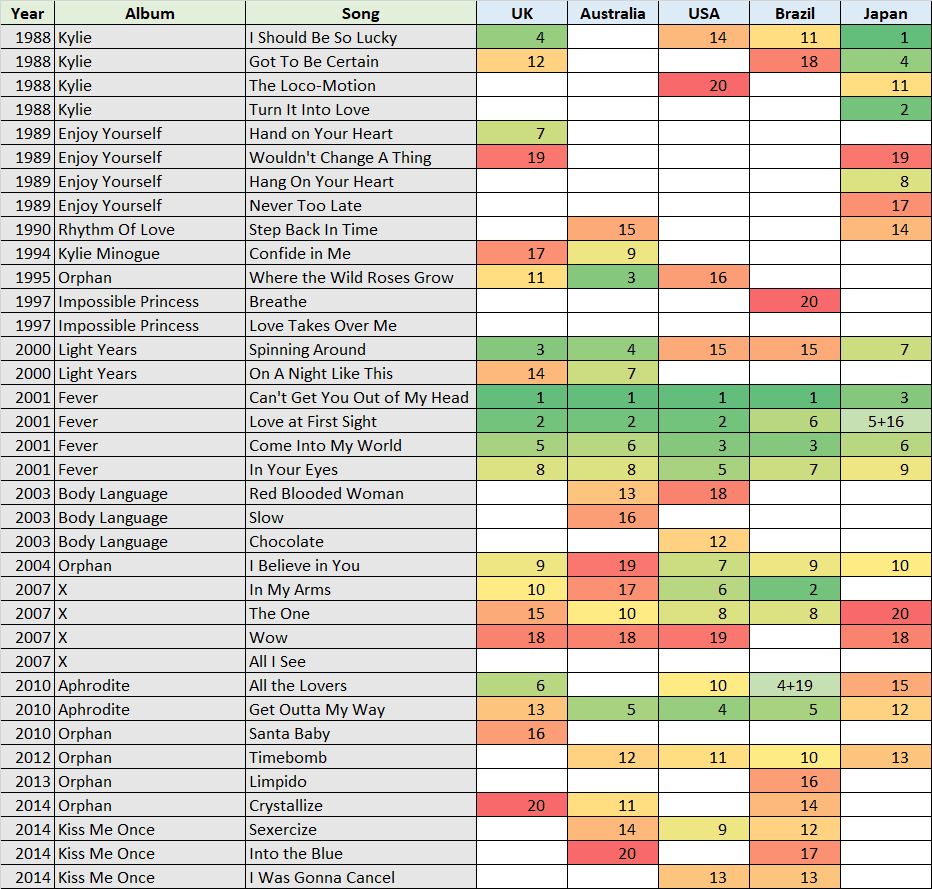 An incredible interconnection
There is a lot of highly valuable information in this table. Early hits are still very strong in Japan. It's indeed where they did the best relatively speaking. Her first 3 albums plus compilations and remixes made of their hits sold 750,000 albums there against only 205,000 for Fever. In the same way, the first two albums combined outsold by almost 2 to 1 Fever in the UK, while they sold less than it in Australia. Thus, we see their songs perform much better in the former country.
There is only 2 markets where 1990's album Rhythm of Love sold almost as much as Enjoy Yourself. That's Japan and Australia. They are also the only two markets where its single Step Back in Time features inside Minogue's current Top 20.
Then there is 2 countries where Kylie Minogue from 1994 strongly outsold 1991's Let's Get To It, the UK and Australia. They are also the only two markets where its single Confide In Me features inside Minogue's current Top 20. Light Years was huge in these countries while so-so elsewhere, we can clearly see it with rankings of Spinning Around and On A Night Like This.
Cross-checking album sales when available with songs' views highlight a true organic link. Consequently, why not use views when data related to album sales is missing? For example, there is no chart nor certification nor publication about the album Kylie's sales in Brazil. Has it sold 0 copies, 25,000, 100,000 or 500,000? That's a huge hole left unanswered without YouTube Insights.
Both I Should Be So Lucky and Got To Be Certain are among Minogue's Top 20 most viewed videos in Brazil. They haven't got popular in recent years just like that. If they are still played to this day, it's because they were successful back then. They are outside her Top 10 though, so we can't assume she was as big there than in the UK and in Japan. We also pointed out previously that her discography isn't very consistent in Brazil, so her low Top 20 songs are less valuable that they are in the UK for example. Indeed, their rankings as well as the distribution of her views are closer to her US statistics. There, Kylie sold half the sales of Fever. This latter album moved 75,000 units in Brazil, so one would expect 30,000 to 50,000 sales to be a valid and realistic range of sales for Kylie. Incredibly easily, we narrowed a range from 0-500,000 to 30,000-50,000, which represents a margin of error of less than 0,4% of Kylie's global sales.
Can we confirm this ballpark with additional facts?
Gauging sales from poorly documented markets
All statistics posted below were related to stand-alone songs. What happens when we check all singles from one album and compare their views to album sales?

The best of Ultimate from 2004 sold a large part of its copies thanks to Fever singles. When we compare the share of views of these singles among Minogue's catalog, we see they perfectly match the share of sales from Fever plus Ultimate among her discography.
How about applying this method to countries where sales of various albums are unknown? We will use Brazil once again. Fever plus Ultimate sold an estimated 84,000 units there and all her remaining records since 2001 to date sold 65,000 units. Fever's singles account for 40,2% of Minogue's streams on YouTube, which puts Brazil in-between Australia and Germany. Consequently, we can calculate that Fever plus Ultimate represent about 37,1% of album sales to date in Brazil. As they sold 84,000 units, it would mean her catalog sold 226,000 copies overall. Once we take off sales of records since 2001, we are left with 77,000 copies sold for Minogue's albums up to 2000 included. It fully confirms our range of 30,000-50,000 units for her debut LP which is far and away her biggest for this period in Brazil as suggested by the Top 20 songs ranking.
What about her sales in Asia? Fever certifications have been documented there and suggest it sold 250,000 to 300,000 units there outside of Japan. The main market for this album was Indonesia with an estimated 50,000 units. During the 90s to early 00s, Indonesia used to be a massive market so we wonder how much she may have sold there, again with a wide margin of error. Singles from Fever represent as much as 54% of her YouTube views though, more than in the US. They are charted at 1-2-3-4 among her personal Top 20 with at least twice more views than anything else. Ultimately, we understand that although Fever sold 50,000 units there, her discography should be barely over 100,000 in total, including the 2001 LP.
Same situation with Mexico. Fever arguably sold 200,000 units there which could led many people to assume the pop star moved tons of albums in this market. Nevertheless, its singles add for a massive 56,5% of Minogue's YouTube views. Her #20 single registers a mere 0,36% of her streams, proving an awful consistency along her career. That's in line with the fact her albums since 2003 have been charting very poorly in this market.
Below is a summary of calculations to see what's extracted from YouTube Insights data:

Green cells are calculations. Averages of the closest markets were used to identify the share of sales from Fever plus Ultimate. Obviously, this method doesn't mean Minogue sold exactly 226,469 albums in Brazil, but it happens to be the closest we can get from official data available and related advanced statistics. Even if we allow for large margin of errors, say assuming 32-42% share of sales for Brazil, the ballpark of 200,000 to 260,000 would be pretty satisfying, reducing a lot the possible error on her early LPs.
On top of that, when we apply the same method to Mexico, Argentina, Indonesia, Taiwan, etc., we reduce the margin of error more and more. Indeed, in some markets her sales will be a bit higher than suggested by her YouTube views, in some a bit lower. Once we apply this process to dozens of countries though there is no reason to expect them all to be either too high or too low.