Have you ever wondered where your favorite artist was truly big? In which country he has sold large quantities of albums without the news breaking traditional online boards? When he started to be popular and with which records? Answers are out there. Continuously disregarded until now, find out how insanely powerful YouTube Insights is.
What's YouTube Insights?
For several years now YouTube has been providing an analytics tool named Music Insights. On it, you can get plenty of details about views of an artist or a geographical area during a certain period of time.
Lists related to a city or a country are fascinating. You can learn a lot about demographics and market dynamics from it. The article today focuses mostly on the artist view though. Our target is to point out a solution to know when, where and how much an artist has been successful in markets usually off the radar.
The data
The big question with merged YouTube views is always the same one: which videos are counted, and which aren't? Statistics from YouTube Insights are based on YouTube's Content ID. What's this?! When you are a rights holder of a song, say a record label, you can request YouTube a Content ID. It tells to YouTube that every time a video related to that Content ID is viewed, they have to pay you royalties. Of course, all official videos from artists' Vevo channels involve a Content ID.
There is more though. When a rights holder detects a video is using his song, he can either ask for the video to be removed, track its views or add his Content ID to be paid his royalties on it. Basically, an unlimited number of videos can be linked to the same Content ID as soon as the music is used on it.
Data presented on YouTube Insights is based on views of the Content ID. It means that includes more than the official video of a song. It also means that just like Gold and Platinum certifications, it requires an action from the record label to be processed correctly. The difference is that YouTube views bring them money, so all labels have employees tracking and managing these Content IDs.
Please note that songs can also have multiple Content IDs. If for some reason a label has distinct agreements for the studio and the live version of a track he may ask for two distinct ones. Similarly, the label can also aim to track distinctly its official videos and users-added content.
You will notice that most views counts are lower than the ones you can see when playing a stand-alone video. It's down to the tracking period. On Insights, the data used to go back to September 2014 but has since been partially purged. Right now, it goes from December 30th, 2016 to date.
These limitations make it look like YouTube Insights data is incomplete and unreliable, which is why it is massively ignored online. That's a tremendous mistake. While YouTube Insights isn't the place to go to know release to date views totals, there is just so, so much more to learn from it. We will see that its relevance is all about organic volumes so the shorter period and the Content ID constraints aren't an issue at all
The screen
How can you access it? It's simple, just follow the link.
The top of the screen looks like below with the example of Dua Lipa: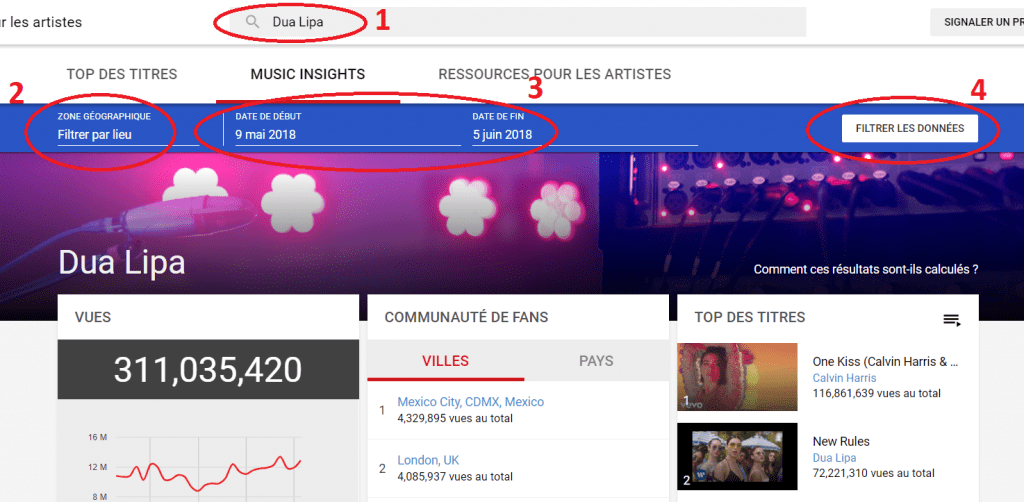 Before anything, you don't need to worry because of titles in French. I'm currently living in a French-language country, but YouTube adjusts it depending on your own place.
The red ellipse 1 enables you to filter an artist or a geographical area. The latter can be a city, a district or a country. Please note that you have to wait for the auto-completion and press on the result that fits your query for results. Both filters, artist and place, are limited to the data processed by YouTube. For example, Dadju, the little brother of Maitre Gims who recently smashed in France with his single Bob Marley, hasn't been added to their database. Teams of YouTube are incredibly efficient though. They don't stop to add newly popular artists. It already includes several thousands of singers so you will most likely find out what you are looking for right now or soon enough.
Red ellipse 2 is a purely geographical filter. Thanks to it, you can combine both filters, the artist and the area. You will then learn that Dream On is far and away the most viewed track of Aerosmith in the US, but only the 14th with less than 2% of views of I Don't Want to Miss a Thing in Japan.
The red ellipse 3 is the date filter. As previously mentioned, the data goes from December 30th, 2016 to date. Validate all your filters by pressing the button displayed on red ellipse 4.
The artist view
Once you selected an artist, there is various additional information as shown below.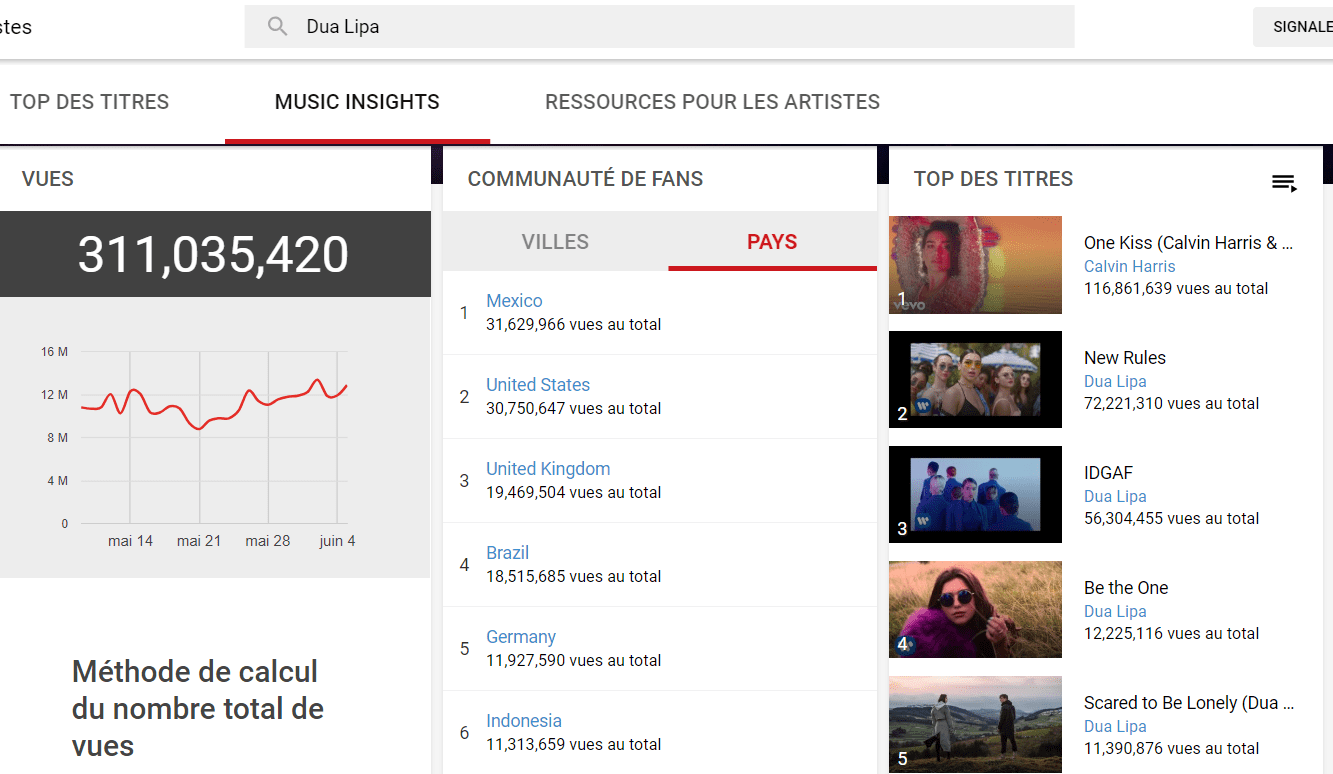 At the left, you can mouse over the red curve under the "Vues" (= "Views") section to see the exact count of views per day.
The section in the middle displays both the Top 100 cities (link "Villes") and countries (link "Pays"). Our example tells us that during the last rolling month Dua Lipa has been streamed more on YouTube from Mexico than from the US and Indonesia is her 6th market. The default screen only displays Top 10s, but there is a "PLUS (100)" button at the end of each list.
At the right, you can see the list of her Top 10 songs over the selected period. It is extendable to a Top 20 thanks to the "PLUS (20)" button at the end of the list.
Once again, you can combine filters together. Thus, you can see Dua Lipa's ranking from all countries and cities. Her One Kiss represents more than half of her views in the UK, but it is outperformed by both New Rules and IDGAF in Indonesia.
Raw data doesn't matter, only their meaning do
I always insist a lot about the fact that identifying receipts is the easy and most irrelevant part of the charts and sales game. What really matters is the analysis part. I'll explain it once again because it is truer than ever with YouTube views which by themselves are hardly valuable.
If you follow media news, you likely heard that the last Star Wars movie, Solo, is bombing hard. After 13 days, it grossed $158 million in the US while the previous 3 episodes produced by Disney stood at $359-$629 million at the same point. Worst, it is already down to a daily pace of $2,5 million when its predecessors were still registering $18-$28 million a day.
When Disney bought the franchise a few years ago, they looked at the numbers and though Star Wars was a massive cash-in machine. At some extent, they were right. They forgot the meaning of numbers though. If each Star Wars episode was grossing so much, it wasn't because of the Star Wars universe only. People wanted to know the main storyline. What happened, why, and what's going to happen next. If an episode brings absolutely nothing to that storyline, there is no reason to be excited about it and less to pay $10 to see it. Portraying a character inside the same background universe is pointless and numbers of Solo prove that. A book about the childhood of Ronald Weasley that's independent from Harry Potter would bomb just as much.
The lesson learned is that we need to understand what the data really stands for and what it ultimately really means. Limiting our work to collect YouTube Insights numbers to convert them into sales would be absurd. Let's open that gold mine and see everything we can learn from it.