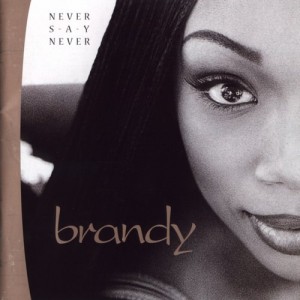 Brandy – Never S-A-Y Never (1998)
Claimed Sales – 16,000,000
Estimated Sales – 8,200,000
Some markets are very favorable for R&B artists. The US is easily the biggest one, Japan comes next. This being said, it is pretty hard to sell truly big amounts of a R&B album in Europe and Oceania, even harder in Latin America.
Brandy is the perfect illustration of this situation. Obviously, her duet with Monica The Boy Is Mine was a massive hit worldwide, but while that convinced nearly 6 million buyers for her Never S-A-Y Never album in North America, this wasn't enough to go even Gold in a single Latin America country.
In Japan the album went Platinum but it still sold only a bit more than half a million in Asia, while climbing to 1,3 million in Europe. All pretty respectable figures, even great for a black music album in those markets, but far from sending the record to the ridiculous claim of 16 million copies sold of this 1998 album.