CSPC: Katy Perry Popularity Analysis
Streaming Sales
Streaming is made up of two families – audio and video. Our CSPC methodology now includes both to better reflect the real popularity of each track. The main source of data for each avenue is respectively Spotify and YouTube. As detailed in the Fixing Log article, Spotify represents 132 million of the 212 million users of streaming platforms, while YouTube is pretty much the only video platform generating some revenue for the industry. Below is the equivalence set on the aforementioned article:
Audio Stream – 1500 plays equal 1 album unit
Video Stream – 11,750 views equal 1 album unit
Equivalent Albums Sales (EAS) = 212/132 * Spotify streams / 1500 + YouTube views / 11750
Streaming Part 1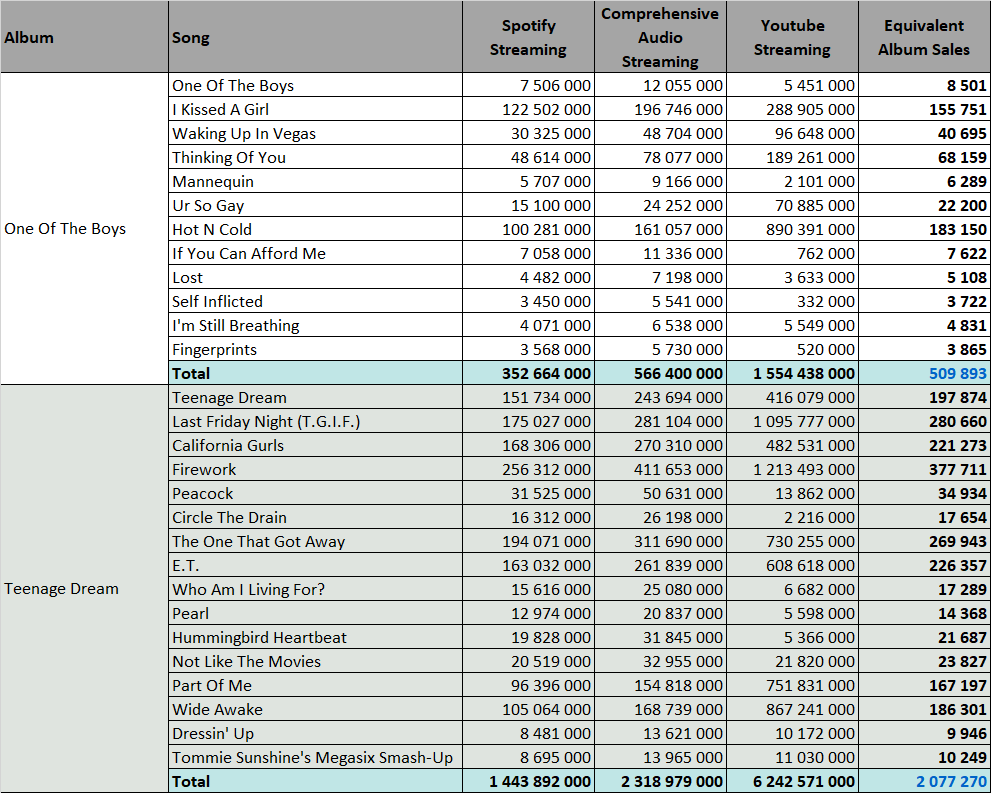 All these songs pre-date the explosion of streaming. Still, all singles figure among the biggest streaming hits of their respective years.
The overall strength of Teenage Dream continues to impress. At almost 100 million plays on Spotify, Part Of Me is merely the eighth most played track on this record, an absolutely terrific achievement. Firework leads the way with 256 million streams on Spotify and over 1,2 billion on YouTube. Speaking of this latter platform, Perry's numbers there are unreal. Hot N Cold is close to 900 million while all 8 singles of Teenage Dream range from 400 million to 1,2 billion.
In terms of equivalent album sales, One of the Boys amasses 510,000 units while Teenage Dream is now over 2 million confirming its status as one of the most successful albums ever released in digital formats.