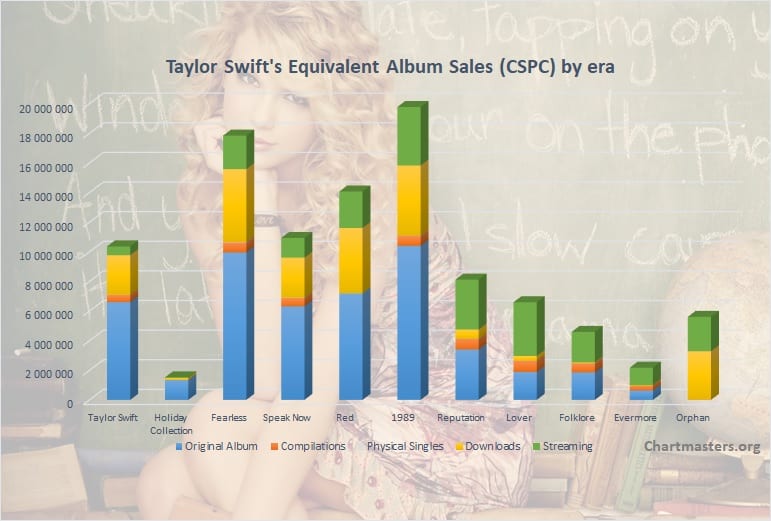 As years pass, the stature of Taylor Swift continues to grow. She is one of the most powerful woman on Earth as well as one of the most successful female artists of all-time.
The thing is, she made it to this level at barely 31. She is still very active and the general public interest in her remains incredible.
Today, we review her career in numbers to see where she stands against her peers at the moment and how high she may end up. Results are stunning.
During the 1989 era, Taylor Swift's extraordinary success looked even bigger since it was heavily focused on pure sales of both albums and singles, while the success of remaining artists was spread across more ways of consumption.
Thanks to the CSPC approach we defined how she truly competes with her challengers, including Rihanna, Beyoncé, Katy Perry, Lady Gaga and Britney Spears.
She is especially similar to Rihanna, who was born in 1988, one year before Taylor Swift. Both artists dropped their debut album at the age of 17 and both have been heavily successful for over a decade.
Both are among the very top selling digital singles artists ever. The huge difference is the way Taylor Swift is widely regarded as a strong album seller, the opposite of Rihanna, mostly thanks to her multi-platinum albums in the US. We will be checking how accurate this perception is.
While she was on par with many of these artists, her heavy productivity may end up pushing her ahead of anyone else.
As usual, I'll be using the Commensurate Sales to Popularity Concept in order to relevantly gauge her results. This concept will not only bring you sales information for all Taylor Swift's albums, physical and download singles, as well as audio and video streaming. In fact, it will also determine their true popularity.
If you are not yet familiar with the CSPC method, below is a nice and short video of explanations. I fully recommend watching it before getting into the sales figures. Of course, if you are a regular visitor feel free to skip the video and get into the numbers directly.
The Commensurate Sales to Popularity Concept (CSPC)
There are two ways to understand this revolutionary concept. The first is the Scribe video posted below. If you are unaware of the CSPC method, you will get the full idea within just a few minutes.
If you are a mathematical person, and want to know the full method as well as formulas, you can read the full introduction article.
Now let's get into the artist's sales figures in detail in order to apply this concept and define the act's true popularity!
Taylor Swift Album Sales

Original Album Sales – Comments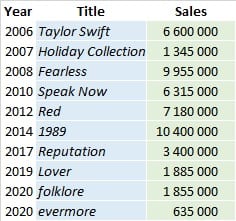 The first five studio albums, plus one Christmas EP, released by Taylor Swift total an impressive 41.8 million units.
More than anything, each of her studio outputs up to 1989 top the 6 million mark, an unreal achievement considering how proportionally poorly she has been selling in Europe.
With over 70% of her sales coming from the US, these figures can be regarded both ways, extraordinary or not so good, whether you are looking to North American results or abroad sales.
The latter improved with the success of 1989 which sold more than 4 million units outside of the US without accounting for Chinese downloads.
It goes on to show her success is huge in various markets outside of North America too, it's just that her out-of-this-world sales in the US outshine remaining results.
The last four albums Reputation, Lover, folklore and evermore came out when streaming was already inevitable. Naturally, they sold less than their predecessors although their numbers are still outstanding by today's standards.
Indeed, the first 3 of them are the only female albums to sell over 1.3 million copies in the US in the last 5 years.
The run of folklore has been especially impressive with 8 frames to date at #1. It is going to outsell Lover.
She is now exploiting to perfection the Asian industry methods to sell physical products, providing her fans various collectors through her website.
Taylor Swift songs sales

Physical Singles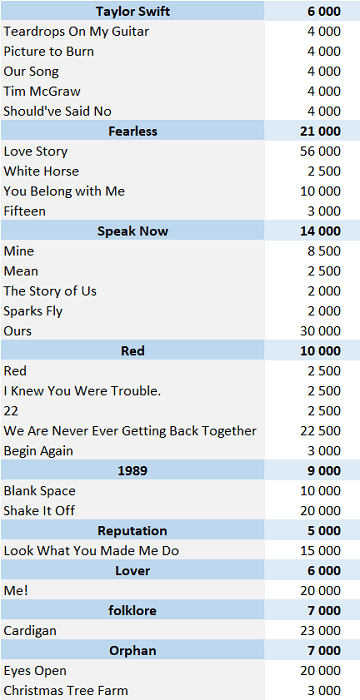 As a reminder, the weighting is done with a 10 to 3 ratio between albums and digital singles.
Well, Taylor Swift's debut album came out in 2006, selling almost exclusively in North America.
By that time, there were still some consistent physical single sales in Europe, Japan, and in Australia but sales were long dead in the US. In fact, none of its singles were physically released.
In Europe, the collapse of physical singles came very precisely at that moment as figures dropped from 14 million in 2006 in the UK to just 3 million in 2009, less than 60,000 units per week for the entire market.
This is the context met by Love Story, the first hit by Taylor Swift that was promoted overseas.
This song sold a few physical copies in Europe and in Australia but wasn't issued elsewhere. With 60,000 sales, it remains easily the star's top seller in this format.
You Belong with Me was a hit in the same markets, but it got a physical release in Australia only, explaining the much lower sales.
By the time she had another international hit with We Are Never Ever Getting Back Together, the physical singles market was completely dead even in Europe.
No single from Red was even issued in the old continent. In the meantime, her superstar status led her label to release limited editions of her singles in the US, most of which were numbered up to 2,500 units.
Two songs, Ours and We Are Never Ever Getting Back Together, got unlimited releases, hitting #1 multiple weeks on physical sales chart with healthy sales.
In later years, her huge popularity originated more releases in GSA countries while Eyes Open came out in China only.
Since 2019, countless limited releases came out in the US, securing some sales thanks to her very solid fan base for songs like ME!, cardigan or her early hits.

Digital Songs

As a reminder, the weighting is done with a 10 to 1.5 ratio between albums and digital singles.
Self titled debut album Taylor Swift was only promoted in North America. All its singles were strongly successful there.
With both downloads and ringtones in both the US and Canada, they achieved nearly 16 million sales in the region, some 90% of their global sales.
These tracks weren't necessarily big #1 hits, but they no doubt faced the test of time very well continuing to sell for many years, ultimately reaching impressive totals.
Teardrops on My Guitar is now over 4 million, joining Our Song there.
The era Fearless continued the impressive streak of US strong sellers. Two songs, Love Story and You Belong With Me, also added international appeal with pop versions issued. Together, this pair of songs sold 20 million units globally.
It isn't only about hits though. The incredible success of Taylor Swift in the album front is also visible through her digital sales.
In fact, each and every one of the 18 tracks on Fearless sold 300,000 units or more and some album tracks even broke the million threshold. That's a terrific total of 32.8 million downloads and ringtones from this era alone.
Speak Now didn't register points as high as Fearless with no song higher than 3.7 million. The consistency was still superb though. In spite of no big hit songs from the album, it got 6 million sellers and the sales total stands on 18 million.
Red saw the country icon turned pop hit maker achieve success on an international scale. Both We Are Never Ever Getting Back Together and I Knew You Were Trouble sold over 8.8 million units.
They were super sellers in every English-speaking country, but the former was also massive in Asia while the latter was a smash in Europe.
The album continued her run of at least 5 million sellers by era, registering 6. The effort is home of singles adding for 29.4 million digital sales.
With the addition of her Orphan tracks, which include as many as 9 million sellers, Taylor Swift was already well over 100 million digital singles sales when 1989 arrived.
The market segment of downloads was starting to go sharply down by then, but the album's unavailability on streaming platforms made it perform incredibly well still.
Shake It Off sold 9.7 million despite the absence of ringtones and low South Korean success.
Blank Space did nearly 7 million and all three of Bad Blood, Style and Wildest Dreams were solid hits also. All told, the era produced 31.6 million sales.
Songs from Reputation had a very hard time trying to stand well against their predecessors. Their presence on Spotify and the likes inevitably divided their impact across distinct services.
That's why these numbers here are not fully relevant as long as we haven't add streaming results to them.
Look What You Made Me Do at nearly 2 million and …Ready for It? at almost 1 million are still great sellers considering their context.
The diva remains a super selling force in this format as shown with Lover tracks. Downloads are even less relevant in 2019 than in 2017 though so even if they performed very well on iTunes lists they add for only 2.1 million sales.
The surprise release of folklore means that no song was released before the album, killing the singer's edge on this format as they got no big first week sales.
This reason along with the lack of Pop 40 smash and the ever decreasing download market explain the anecdotal downloads of songs like cardigan and willow.
In total, that's an immense 159.4 million units sold in downloads and ringtones combined for Taylor Swift, one of the most successful digital artist of all-time.

Streaming
Streaming is made up of audio and video streams. Our CSPC methodology includes both to better reflect the real popularity of each track. The main source of data for each avenue is respectively Spotify and YouTube. To factor in the growing impact of multiple Asian countries where these platforms aren't always the go-to site for music streaming, more sources have been added.
In order to account for their real popularity in each relevant country, the below sources have been used along with the mentioned ratios that reflect the market share of each area.
Audio Streams
– South Korea : Genie streams * 3.05 (consistent with Gaon streaming numbers)
– Japan : AWA streams * 100/5.5 (AWA has 5.5% of the Japanese streaming market)– Elsewhere : Spotify streams * (370 – 8.5 – 9.5 – 33 – 9) / 207 (370 million global subscribers minus 8.5 million from South Korea minus 9.5 million from Japan minus 33 million from China divided by the number of Spotify only users minus 9 million more Asian users) + Genie streams * 3.05 (uses Genie rather than Spotify to extrapolate markets like Taiwan, Thailand and Vietnam)
Video Streams– China* : QQ video streams * 50 if the song is available for audio stream, QQ video streams * 5 elseway (scale built based on known figures for several major artists)– Elsewhere : Youtube views
*since 96.4% of Chinese streaming platforms are free users, that paid-for users pay less than $2 a month and that they are also used as video streaming platforms, their streams are weighted on par with YouTube streams.
Audio Stream value – 1500 plays equal 1 album unit
Video Stream value – 11,750 views equal 1 album unit
Equivalent Albums Sales (EAS) = ( Spotify * 310/207 + Genie * 3.05*2 + AWA * 100/5.5 ) / 1500 + ( QQ views* 50(or 5) + YouTube ) / 11750
Top Hits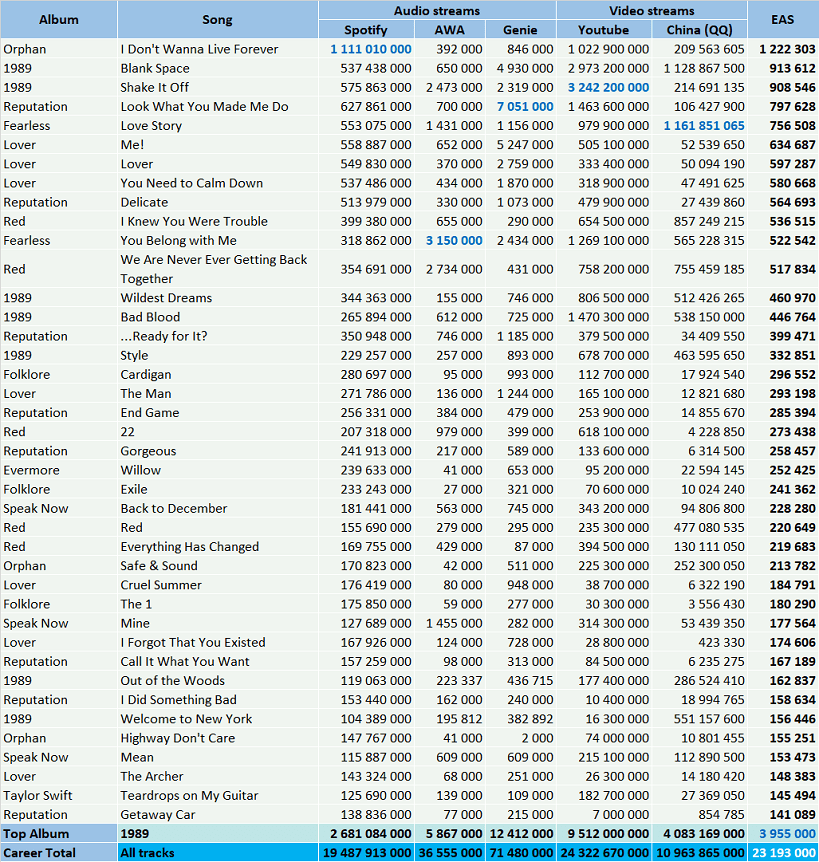 Back in 2013, We Are Never Ever Getting Back Together was inside the Top 20 most streamed tracks ever on Spotify.
While remaining singers started to amass large catalog streams, Taylor Swift took off her discography from these platforms with her streaming-is-evil campaign in order to boost her revenues thanks to higher pure sales.
Then, her catalog was made available anew in June 2017.
Her hits have been making up for these 3 years of unavailability. They are being strongly successful at it.
On Spotify, I Don't Wanna Live Forever has now break the 1.1 billion barrier. Look What You Made Me Do is over 600 million. Additional singles from reputation are in the 242-514 million range.
Songs from Lover are great performers in this list. At 559 million, Me! is her 4th biggest song on Spotify and 6th overall in terms of equivalent album sales.
You Need To Calm Down is at 537 million and Lover stands at 550 million, providing the album 3 songs inside her personal top 10 and 3 with over half a million EAS.
What about her past hits? They enjoyed heavy rotation when coming back to the platform a pair of years ago. There are 20 of them which already aired over 100 million times, with Shake It Off leading the way at 576 million.
Folklore's strength is the consistency of all its tracks, with no big hit surfacing. cardigan is her 17th biggest streaming hit to date, exile is at 23 while the 1 is at 29. The album hits 2 million EAS with no song at 300,000 or more.
evermore is barely starting to pile up streams, with willow leading the way wit 240 million streams on Spotify and 252,000 EAS.
Thanks to their absence on Spotify, songs from 1989 registered gigantic views on YouTube. Shake It Off and Blank Space add for 6.2 billion there.
Even her songs widely available do very well with a stunning career total of 24.3 billion views.
It's worth talking about her Asian statistics too. In China, most of her hits from albums which weren't available for sale at first record more streams than they do on Spotify.
Because of this specific situation, the leading track remains Love Story in this country.
In South Korea (Genie) she is very popular too. Look What You Made Me Do is her leader with Me! securing already the second spot.
In Japan, You Belong With Me remains her strongest song with also impressive results from Shake It Off and We Are Never Ever Getting Back Together.
Album-wise 1989 has now moved ahead of reputation with 3.96 million EAS against 3.37 million. Lover is ahead too now with 3.63 million EAS.
All albums since Fearless, including newly released folklore and evermore, crack the million mark.
Full catalog breakdown
If you are familiar with the artist's catalog and want to check details of each and every song, you can access to all of them right here.
Keep yourself up to date
Our website provides you a fantastic tool which fetchs updated Spotify streams as you request them, use it to watch these results grow day after day!
Taylor Swift compilations sales
It sounds fairly logical to add together weighted sales of one era – studio album, physical singles, downloads, streams – to get the full picture of an album's popularity. For older releases though, they also generate sales of various live, music videos and compilation albums.
All those packaging-only records do not create value, they exploit the value originating from the parent studio album of each of its tracks instead. Inevitably, when such compilations are issued, this downgrades catalog sales of the original LP.
Thus, to perfectly gauge the worth of these releases, we need to re-assign sales proportionally to its contribution of all the compilations which feature its songs. The following table explains this method.
The distribution process

How to understand this table? If you check this example of the Journey To Fearless line, those figures mean it sold 180,000 units worldwide. The second statistics column means all versions of all the songs included on this package add for 2,148,242 equivalent album sales from streams of all types.
The second part on the right of the table shows how many equivalent streams are coming from each original album, plus the share it represents on the overall package.
Thus, streaming figures tell us songs from Fearless are responsible for 74% of Journey To Fearless tracklist attractiveness, which means it generated 139,000 of its 180,000 album sales and so on for the other records.
Compilations sales figures listing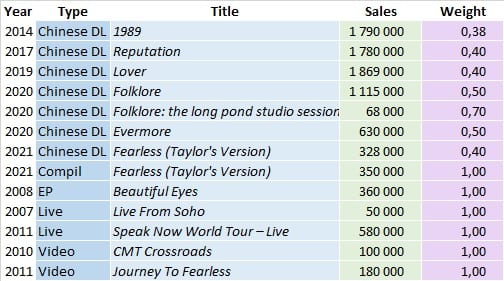 Full Length related records Sales – Summary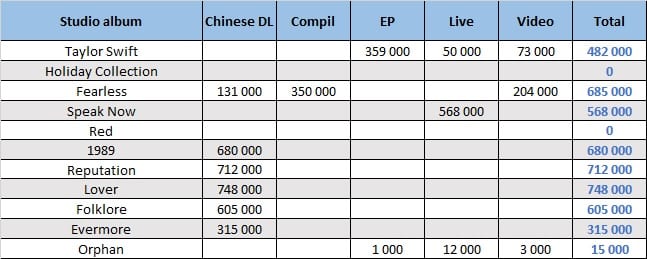 Here is the most underestimated indicator of an album's success – the amount of compilation sales of all kinds it generated. Due to the dependency of sales of the original studio albums on these releases, they are a key piece of the jigsaw.
These numbers are obtained by applying the method from the section The distribution process to all packages listed under Compilation sales figures listing category.
Chinese downloads are weighted as per their price, at selling price / 50, which is roughly 0.4 for Taylor Swift's albums.
We can notice that the American superstar is doing wonders in China, with numbers going higher and higher.
They perfectly offset the absence of compilations products nowadays like tour DVDs.
This section also features the newly recorded version of Fearless, which is naturally allocated in full to the original album.
Total Album (all types) Sales per Country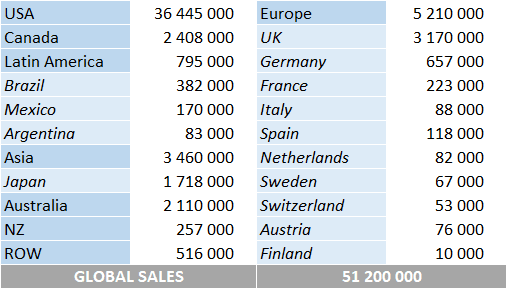 Please note country-specific numbers may miss sales of a few minor releases, although totals are complete.
Taylor Swift Career CSPC Results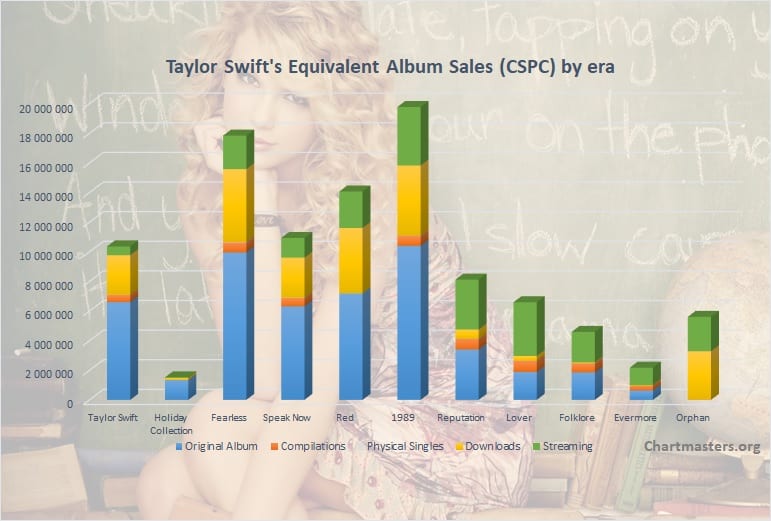 So, after checking all the figures, how many overall equivalent album sales has each Taylor Swift album achieved? Well, at this point we hardly need to add up all of the figures defined in this article!
Albums CSPC results
In the following results table, all categories display figures in equivalent album sales. If different, pure sales are listed between parentheses.
#
Cover
Album
Total CSPC
Sales*
Streams
Total CSPC
Studio Albums
Other LPs
Physical Singles
Digital Singles
Last verified
Auto update
Daily Increase
1
Taylor Swift
10,588,000
6,600,000
482,000
6,000(20,000)
2,682,000(17,880,000)
590,000 (05/25/21)
818,000 (06/29/22)
Av.: 570LD: 570
10,588,000
2
Holiday Collection
1,537,000
1,345,000
0
0(0)
141,000(940,000)
34,000 (05/25/21)
51,000 (06/29/22)
Av.: 40LD: 40
1,537,000
3
Fearless
19,297,000
9,955,000
685,000
21,000(71,000)
4,922,000(32,810,000)
2,260,000 (05/25/21)
3,714,000 (06/29/22)
Av.: 3,640LD: 3,640
19,297,000
4
Speak Now
11,759,000
6,315,000
568,000
14,000(45,000)
2,705,000(18,030,000)
1,331,000 (05/25/21)
2,157,000 (06/29/22)
Av.: 2,070LD: 2,070
11,759,000
5
Red
17,227,000
7,180,000
0
10,000(33,000)
4,415,000(29,430,000)
2,464,000 (05/25/21)
5,622,000 (06/29/22)
Av.: 7,900LD: 7,900
17,227,000
6
1989
21,791,000
10,400,000
680,000
9,000(30,000)
4,734,000(31,560,000)
3,955,000 (05/25/21)
5,968,000 (06/29/22)
Av.: 5,030LD: 5,030
21,791,000
7
Reputation
9,149,000
3,400,000
712,000
5,000(15,000)
632,000(4,210,000)
3,370,000 (05/25/21)
4,400,000 (06/29/22)
Av.: 2,580LD: 2,580
9,149,000
8
Lover
7,927,000
1,885,000
748,000
12,000(40,000)
318,000(2,120,000)
3,628,000 (05/25/21)
4,964,000 (06/29/22)
Av.: 3,340LD: 3,340
7,927,000
9
Folklore
5,936,000
1,855,000
605,000
7,000(23,000)
66,000(440,000)
2,058,000 (05/25/21)
3,403,000 (06/29/22)
Av.: 3,360LD: 3,360
5,936,000
10
Evermore
3,250,000
635,000
315,000
0(0)
39,000(260,000)
1,182,000 (05/25/21)
2,261,000 (06/29/22)
Av.: 2,700LD: 2,700
3,250,000
11
Orphan
5,604,000
0
15,000
7,000(23,000)
3,261,000(21,740,000)
2,321,000 (05/25/21)
N/A
N/A
5,604,000
*Pure sales figures updated on 05/25/21. 'Av.' stands for Average, 'LD' for Last Day.
As a reminder:
Studio Album: sales of the original album
Other Releases: sales of compilations generated thanks to the album
Physical Singles: sales of physical singles from the album (ratio 3/10)
Download Singles: sales of digital singles from the album (ratio 1,5/10)
Streaming: equivalent album sales of all the album tracks (ratio 1/1500 for Audio stream and 1/6750 for Video stream)
See where the artist ranks among remaining singers
As time passes, 1989 has been moving past Fearless to settle itself as the most successful album in Taylor Swift's career.
When we first reviewed her career in 2016, the gap was less than 200,000 units. It steadily increased until reaching nearly 3 million.
It now stands at 1.9 million due to the reissue of Fearless, although we can expect 1989 to gain back on it later on.
The immaculate trajectory of 1989 leads it to 19.8 million equivalent album sales in total, with sales still increasing at roughly a million per year.
It is also fighting with Ed Sheeran's X to be the biggest album from 2014, a battle that it is losing at the moment due to the insane success of the British singer lately.
Fearless itself is an amazing runner up with 17.8 million sales through all formats. It is the third most successful album from 2008.
Interestingly, it must be noted that 1989 is the album that generated the highest number of download sales along with Fearless, although this sector has been collapsing for 7 years now and its songs had little time to add relevant catalog sales.
This highlights incredibly well how the absence of streaming boosted its digital sales and, consequently, how necessary it is to look at all possible music consumption formats to get a meaningful conclusion.
Red is up to 14 million, a figure that looks almost random due to the incredible standards of the singer. It continues to climb fast with over 600,000 units added every year.
Both Taylor Swift and Speak Now have gone up to 10.9 million and 10.4 million equivalent album sales, respectively, an immense total for anyone.
Then comes reputation at 8.1 million. After the strong first week led by her fan base and multiple marketing gimmicks, the album collapsed fast, faster than expected.
It has been able to sustain its appeal fairly well in the mid-run though. It also continues to do well with 300,000 sales since our last update.
Its success is in the same league as the one of Taylor Swift and Speak Now once we consider it had much less years to amass sales.
We can also point out how difficult it is to hit 10 million many times, ones your casual listeners are already satisfied with plenty of hits from you.
In fact, Taylor Swift is the only female singer with 5 10-million sellers this millennium. Overall, only Eminem did better with 6.
Lover is now at 6.6 million. It seems to be one more album that only needs time to grow.
Although there is still a long way, it isn't impossible to see all her albums up to Lover reach 10 million at some point.
folklore is still quite recent, and while right now it lacks hits, the total sales are already very healthy at 4.6 million.
It will need to remain in the spotlight for some time to join its predecessor on higher numbers, but this has been the daily work of Taylor Swift for nearly 15 years.
Evermore scored 2.2 million units to date. While the decreasing trend is negative, the way the artist manages to get her albums climbing forever grants strong numbers in the long run.
What's safe to say is that Taylor Swift retains her superstar aura, granting her strong sales still for her upcoming releases, along with an immensely valuable back catalog.
In a mere 7 months since our last study, she added 8.1 million sales, and 17.8 million in the last 20 months. That's immense.
What about the total to date though? Taylor Swift adds for 101.6 million equivalent album sales.
A key point is how worthy the discography she built is. She can retire now, she will safely add 5 million sales in a weak year still.
Along with Coldplay and Rihanna, the former country star are the first artists to hit 100 million EAS among acts debuting in 2000 or later.
Pacing much faster than Adele and Rihanna currently, in a blink of an eye she will also be over Britney Spears.
Considering her catalog strength, it may be wise to start watching at totals of the likes Barbra Streisand and Whitney Houston as they are getting within reach of Taylor Swift.
Singles CSPC results
The list is compiled in album equivalent sales generated by each song. Therefore, these figures are not merged units of singles formats. Instead, it includes weighted sales of the song's physical single, download, ringtone and streaming as well as its share among sales of all albums on which it is featured.
1. 2008 – Taylor Swift – Love Story [Fearless] – 6,240,000
2. 2014 – Taylor Swift – Shake It Off [1989] – 4,920,000
3. 2014 – Taylor Swift – Blank Space [1989] – 4,520,000
4. 2008 – Taylor Swift – You Belong with Me [Fearless] – 4,150,000
5. 2012 – Taylor Swift – I Knew You Were Trouble [Red] – 3,440,000
6. 2012 – Taylor Swift – We Are Never Ever Getting Back Together [Red] – 3,360,000
7. 2006 – Taylor Swift – Teardrops on My Guitar [Taylor Swift] – 2,600,000
8. 2014 – Taylor Swift – Bad Blood [1989] – 2,380,000
9. 2006 – Taylor Swift – Our Song [Taylor Swift] – 2,370,000
10. 2014 – Taylor Swift – Wildest Dreams [1989] – 2,180,000
11. 2017 – Taylor Swift – Look What You Made Me Do [Reputation] – 2,050,000
12. 2016 – Zayn & Taylor Swift – I Don't Wanna Live Forever [Orphan] – 1,820,000
13. 2014 – Taylor Swift – Style [1989] – 1,760,000
14. 2010 – Taylor Swift – Back to December [Speak Now] – 1,700,000
15. 2010 – Taylor Swift – Mine [Speak Now] – 1,670,000
16. 2012 – Taylor Swift – 22 [Red] – 1,610,000
If you feel inspired by this list, we just created this CSPC Taylor Swift playlist on Spotify!
Discography results
Thanks to our new ASR (Artist Success Rating) concept, we know that her sales represent 14,25 million times the purchase of their discography. Coupled with her total sales, it translates into an ASR score of 216. The ranking of all artists studied so far is available too at this link.
Records & Achievements
At 17,843,000 EAS, Fearless is the 3rd most successful album from 2008.
At 19,778,000 EAS, 1989 is the 2nd most successful album from 2014.
Taylor Swift is the only post-2001 artist with 5 albums on 10 million EAS or more.
At 10.40 million pure sales, 1989 is one of the five 10-million selling albums from the 10s.
At 159.4 million download and ringtones sales, Taylor Swift is among the Top 10 selling digital artists of all-time.
At 4, Taylor Swift has the most albums ever debuting with more than 1 million sales in the US.
At 80, Taylor Swift has the 4th most US Hot 100 Top 40 hits ever, she is number one among female artists.
Taylor Swift has singles certified for more than 100 million units sold combining downloads and streams by the RIAA (US-only).
With Shake It Off and Blank Space, Taylor Swift remains the only female artist to replace herself at #1 of the US Hot 100.
NB: EAS means Equivalent Album Sales.
You may be interested in…
… best-selling artists, albums, and singles
To improve your navigation we created several amazing cross-artists lists posted inside the CSPC: Data Collector article. Click on it to see the full listing of all CSPC results compiled so far!
… similar artists
To put figures from this article into perspective, click on the images below to reach career breakdowns of similar artists: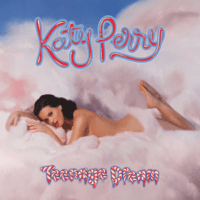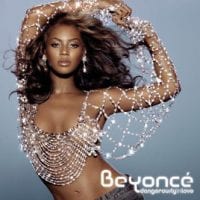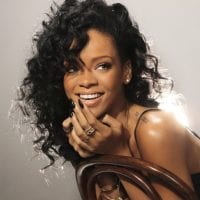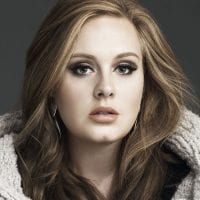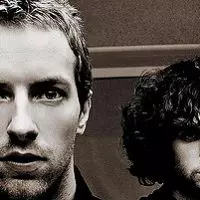 As usual, feel free to comment and / or ask a question!
Sources: IFPI, Spotify, YouTube, Discogs, Billboard, SPIN, Rolling Stone.