Sales per year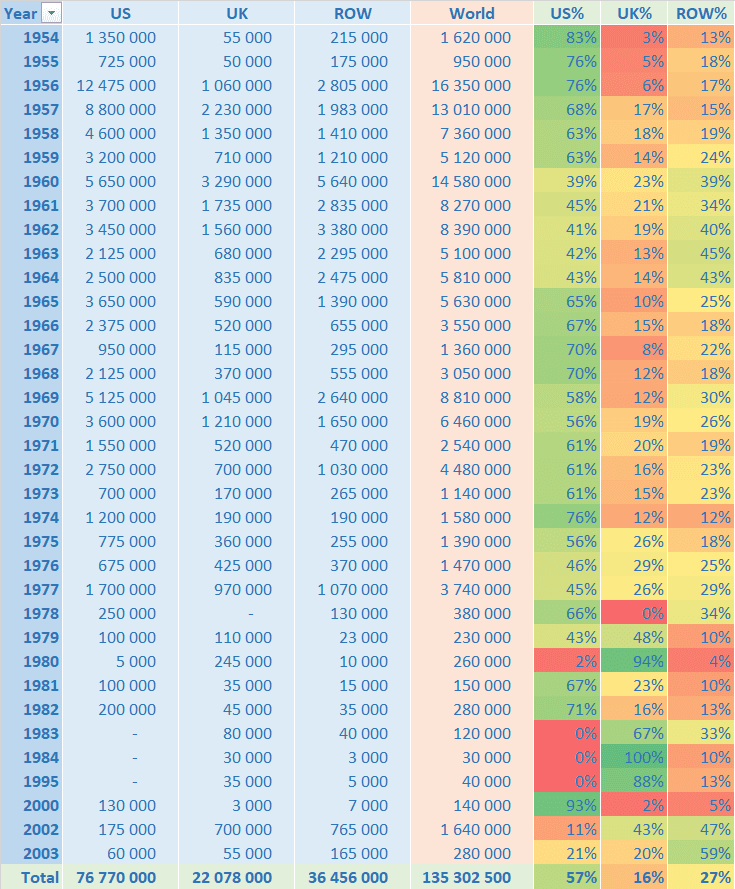 Figures above refer to sales based on the release date of a single, independently of when the single was actually sold. For example, 1954's Sun singles have been mostly sold through the years rather than on their first year.
The true start of Presley's career has been insane. His singles from 1956 moved a combined 16,35 million units. Amazingly, his singles cumulatively topped 5 million during 10 consecutive years. He never dropped below 1 million until his passing, registering 22 years in a row over that barrier.
We can notice that the US represented more than 75% of his sales during the initial hype. That share dropped year after year until hitting a low of 39% – and a high of 61% abroad – in 1960 thanks to It's Now Or Never and You Are Lonesome Tonight? which remain his only two 2-million sellers outside of the US. His large sales outside of the US and the UK lasted from 1960 to 1964. After that period, the gospel tune Crying In The Chapel and Pot Luck singles maintained his popularity stateside while it went down elsewhere, proportionally speaking.
During the later part of his career the promotion was focused on his largest markets, arguably the US and the UK. The only exception came in 1969/1970 when In the Ghetto, Suspicious Minds and The Wonder of You were global hits.
This table is fundamental. I already pointed out that his big hits are by far his main assets to sell compilations globally nowadays, while in the US it is possible to sell relevant amounts of various kind of recordings. The root cause appears on this page. If it was possible to make money from moderate sellers in the US, it wasn't profitable to promote tracks that weren't so strong in many markets. Thus, RCA focused on Presley's main markets for his weakest material while giving him a stronger push elsewhere for singles with higher potential.
The total of 135 million puts him nearly 20 million ahead of the Beatles in physical singles sales. Now, has he sold more units in this format than Bing Crosby? That's a real question!