Streaming Sales
Streaming is made up of audio and video streams. Our CSPC methodology now includes both to better reflect the real popularity of each track. The main source of data for each avenue is respectively Spotify and YouTube. As detailed in the Fixing Log article, Spotify represents 157 million of the 272 million users of streaming platforms, while YouTube is pretty much the only video platform generating some revenue for the industry. Below is the equivalence set on the aforementioned article:
Audio Stream – 1500 plays equal 1 album unit
Video Stream – 11,750 views equal 1 album unit
Equivalent Albums Sales (EAS) = 272/157 * Spotify streams / 1500 + YouTube views / 11750
Streaming Part 1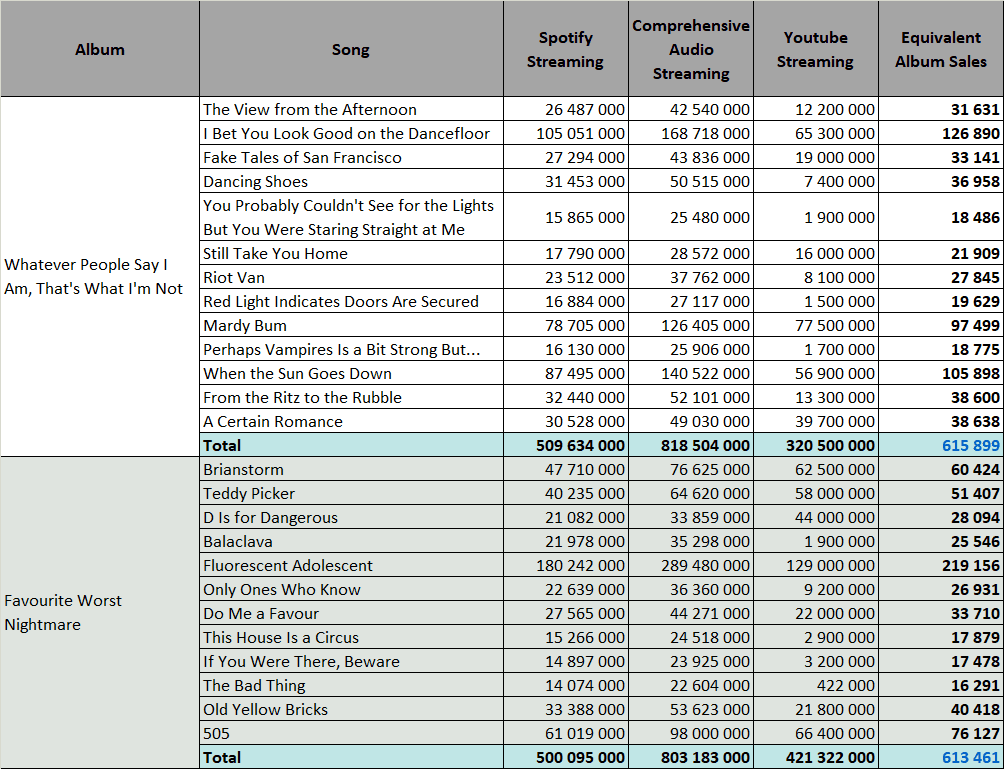 Whatever was a smash immediately, eventually it became a classic too. Its two #1 UK singles lead the way at 105 and 87 million Spotify streams, respectively. Meanwhile, it's its album cuts which impress the most at more than 15 million each. The album concludes on 616,000 EAS as a result.
Seen as a disappointment at first, Favourite Worst Nightmare has fully recovered. Fluorescent Adolescent grew immensely in later years to jump at 180 million streams on Spotify. Likewise, the status of the LP improved strongly. All its songs top 14 million. Its EAS total is identical to its predecessor.