Streaming Sales
Streaming is made up of two families – audio and video. Our CSPC methodology now includes both to better reflect the real popularity of each track. The main source of data for each avenue is respectively Spotify and YouTube. As detailed in the Fixing Log article, Spotify represents 132 million of the 212 million users of streaming platforms, while YouTube is pretty much the only video platform generating some revenue for the industry. Below is the equivalence set on the aforementioned article:
Audio Stream – 1500 plays equal 1 album unit
Video Stream – 11,750 views equal 1 album unit
Thus…
Equivalent Albums Sales = 212/132 * Spotify streams / 1500 + YouTube views / 11750
Streaming Part 1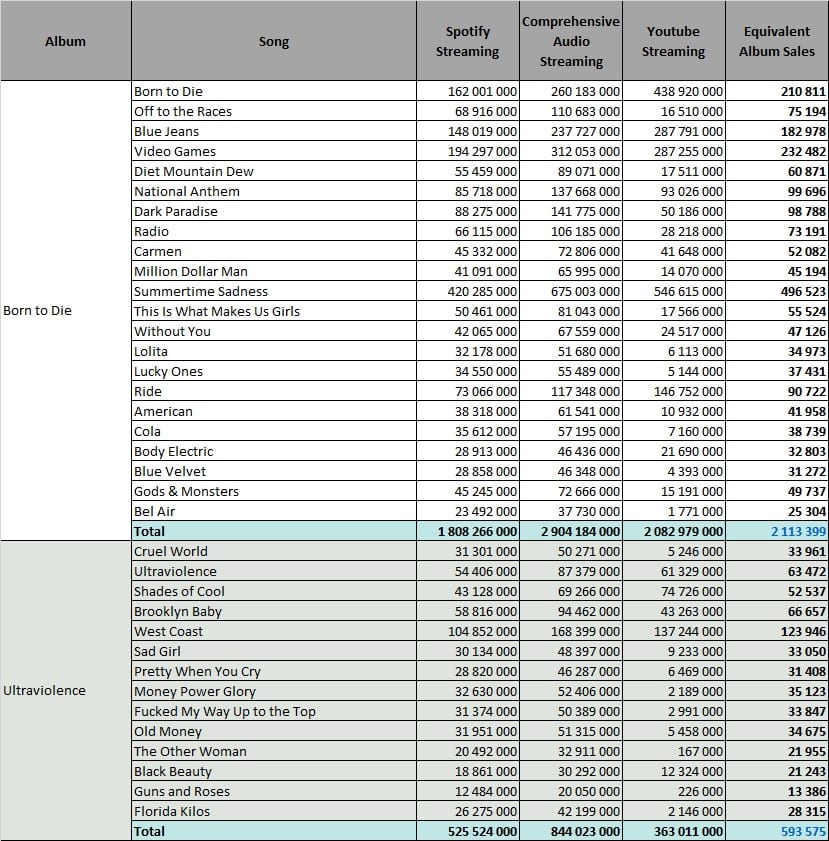 What can we say about Born to Die streams? It has it all. The huge hit, Summertime Sadness, up to nearly 1 billion streams combined with Spotify and YouTube. Very solid singles are there too with Video Games, Blue Jeans and the title track on 150-200 million Spotify streams, and 285-440 million YouTube plays each. It also had tremendous streaming figures for the album tracks as well. The extensive 18 additional songs from the Paradise Edition of the album average an incredible 49 million streams on Spotify.
This superb all round performance is worth more than 2,1 million equivalent album sales, more than Coldplay's Mylo Xyloto and One Direction's Take Me Home combined, two of the biggest 2011-2012 albums on streaming platforms.
At 594,000 equivalent album sales, Ultraviolence can't compare to its illustrious predecessor. That tally is very good on its own though. The most positive sign is the large total of 526 million Spotify streams in spite of the biggest song, West Coast, barely scratching over 100 million. The album clearly had no stand out hit, but the following Lana remained strong.