Mariah Carey CAREER CSPC RESULTS
So, after checking all the figures, how many overall equivalent album sales has each Mariah Carey album achieved? Well, at this point we don't need to add up all the figures found in this article.
In the following table, all categories display figures that way, e.g. in equivalent album sales. For example, Merry Christmas singles released in digital format sold the equivalent of 1,800,000 albums – 12,000,000 downloads with a 10 to 1,5 weighting.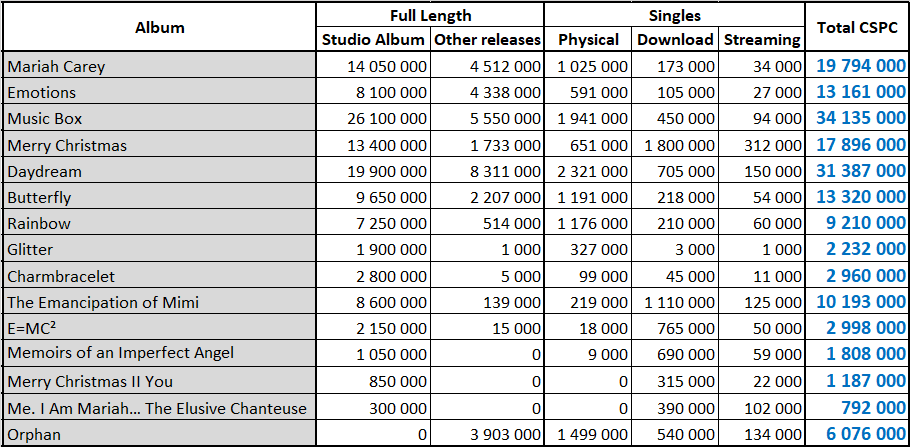 Studio Album: sales of the original album
Other Releases: sales of compilations generated thanks to the album
Physical Singles: sales of physical singles from the album (ratio 3/10)
Download Singles: sales of digital singles from the album (ratio 1/10)
Streaming: equivalent album sales of all the album tracks (ratio 1/1500)
Big albums by themselves in their original form, Mariah Carey's studio albums do not enjoy a massive boost from compilation sales generated. This is even more true since those compilations sold on the back of many hits with no original album having a truly dominant contribution. Both Music Box and Daydream still get the needed extra push to jump over 30 million equivalent album sales from all formats combined. The former still has the lead but a lead likely not as big as expected.
Each of Mariah's first six albums are on 13 million or more perfectly summarizing the immense popularity of the artist during the 90s. At 9 million plus each, Rainbow and The Emancipation of Mimi results will create their share of frustration. However, those numbers are still very good by anyone's standards.
A real gap separates those albums from the rest as no other record passes even 3 million overall equivalent album sales. The fall is brutal for each release since in the last decade. Will one new record ever be able to reverse this trajectory?
Anyway, Mariah Carey sold a total of 167,15 million equivalent albums. More than 140 million have been generated by her 90s outputs alone, more than 10 million short of the value created by Celine Dion's records in that same time frame. Nevertheless, both totals are utterly gigantic. The following page lists Mariah's most successful songs.
Do not forget to check our amazing lists posted inside the CSPC: Data Collector which includes the full listing of all CSPC results compiled so far to better gauge her position in the history of the music industry.
As usual, feel free to comment and / or ask a question!
Sources: IFPI, Spotify, Chartmasters.org.