PART iv: New power generation 1991-1993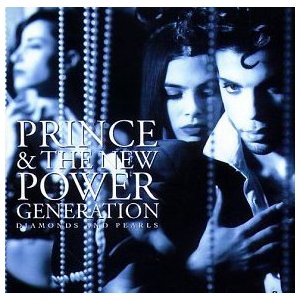 Diamonds And Pearls (1991) Era
Diamonds And Pearls album was the first to officially credit his backing band The New Power Generation, although just like The Revolution backing band this one was already working with him on past albums.
In terms of charts and sales, this album mirrored 1986 Parade album. Both times Prince got big, with Purple Rain and Batman, he flopped with follow up release, Around The World In A Day and Graffiti Bridge. Both times, Prince immediately rebounded, first with Parade, second with Diamonds And Pearls.
While Gett Off was a big hit in various countries, the lead single in France was the second one elsewhere, Cream. The song peaked at #5 in December tieing the artist best career result previously obtained by Batdance. Naturally, the album sold well too with a #8 peak and a resisting inside the Top 20 during the entire 1991 holiday season despite a massive competition. The album sold 213,000 units in 1991 despite the October release.
The title track went #20 in early 1992 while in the summer of that year Money Don't Matter 2 Night peaked at #26. All those songs plus Gett Off received heavy rotations on various popular radios like NRJ. The album responded incredibly well with an impressive 46 weeks Top 30, by far the longest running album of Prince career in France. Calculated sales for 1992 are up to 252,000 units, then shipping up to half a million units by 1993. The album was certified Platinum that year.
Love Symbol (1992) Era
Even though both Sexy MF and My Name Is Prince went Top 30, Prince continued to follow big selling albums with much more modest sellers. Love Symbol debuted at #4, had three weeks inside the Top 10 and went Gold quickly, but failed to attract by itself relevant amounts of buyers. The album still sold a calculated 160,000 units by the end of 1993.
The Hits (1993) Era
From 1978 to 1992 Prince released a body of work incredibly rich and extensive. Some 14 studio albums got properly released, without counting the two Madhouse albums nor all bootlegs and aborted projects. Over 60 singles got released here and there, various EPs and 4 movies. He was so prolific that his label Warner never managed to issue a greatest hits type album despite the 18 Top 10 hits he got in the period.
The problem was fixed in 1993 with the release of not one, not two but three compilation records. It wasn't that Prince had no material to release as Goldnigga album was ready, but ended up never being issued due to those compilation sets. Packages released were The Hits 1, The Hits 2 and The Hits & B-Sides, a 3CD set containing previous two albums plus one disc of B-sides.
Charts in France at the time were a real mess with compilations getting excluded-allowed from one week to an other. Official results are that the 3CD package entered at #10, climbed to #3 on week 2 then dropped out. On that same week, both stand alone albums entered at #8 and #12 respectively. All three runs are just wrong. All albums got released in the same week actually, and the 3CD set was still selling after its first two weeks. If we rely on charts, both The Hits 1 and The Hits 2 sold from 40,000 to 50,000 units. Fact is The Hits 2 went Gold, highlighting the fact first two weeks of those two sets were excluded from charts.
As this compilations era represents both the end of Prince career as a popular artist and the natural decrease of studio albums catalog sales, it is time to sum up copies sold by his complete album catalog up to the end of 1993.
1978 For You – 25,000
1979 Prince – 40,000
1980 Dirty Mind – 40,000
1981 Controversy – 40,000
1982 1999 – 65,000
1984 Purple Rain Soundtrack – 340,000
1985 Around The World In A Day – 70,000
1986 Parade – 235,000
1987 Sign 'O' The Times – 230,000
1988 Lovesexy – 190,000
1989 Batman Soundtrack – 535,000
1990 Graffiti Bridge – 105,000
1991 Diamonds & Pearls – 505,000
1992 Love Symbol – 160,000
1993 The Hits/The B-Sides – 80,000
1993 The Hits 1 – 90,000
1993 The Hits 2 – 100,000