Streaming Sales
Below table lists Spotify streaming of all songs from the five albums we are studying. The Comprehensive Streaming is reached by multiplying Spotify figures by 212/132. In fact, as shown in IFPI 2016 Report, Spotify represents 132 million of the 212 million users of streaming platforms.
The equivalent album sales is the division of the comprehensive streaming figure by 1500 as it is now the norm in the new industry model.
Streaming Part 1 – Studio Albums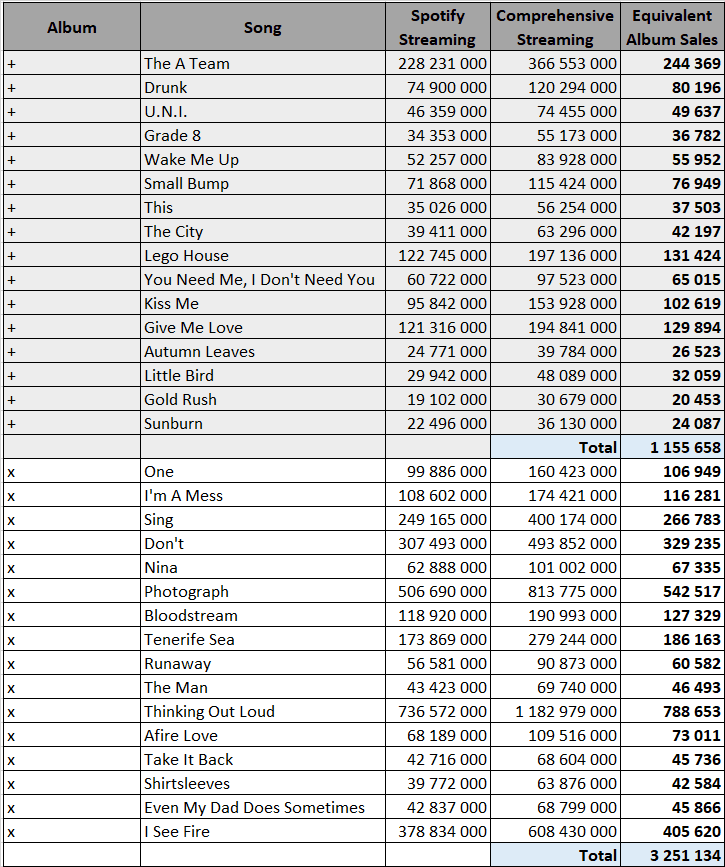 The respective weakest tracks from + and x are on their way to cross 20 million and 40 million streaming plays, both unreal achievements. An other unbelievable milestones is managed by Tenerife Sea, One and I'm A Mess, album tracks at 100 million or more. Then, there is hits like The A Team, Sing, Don't and I See Fire all well past 200 million. Plus, Thinking Out Loud results are just absurd at 737 million plays.
To resume, every track from Ed Sheeran two albums have been incredibly successful proportionally to its status. This is very visible in terms of album equivalent sales as + streams represent nearly 1,16 million sales while x is out of this world at almost 3,25 million!