Streaming Part 2 – Consolidation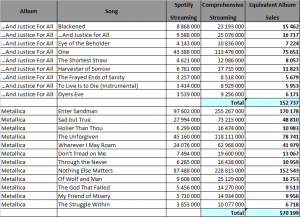 The band broke the medium success achieved by the late eighties, and became massive all over the world, with both of these titles: …And Justice For All and Metallica, their fourth and fifth albums. Considering that …And Justice For All sold more than both Ride The Lightning and Master Of Puppets, it is a relative disappointment to see its equivalent album sales barely passing the 150,000 mark, and more if we also add that one of their most regarded tracks, One, is included here.
Metallica -the album- shines among their catalogue with a massive 570,000 equivalent sales, mostly thanks to Enter Sandman and Nothing Else Matters, that are both approaching the 100 million mark on Spotify and have already surpassed that milestone when other online platforms are taken into account.