Streaming Sales
Below table lists Spotify streaming of all songs from the five albums we are studying. The Comprehensive Streaming is reached by multiplying Spotify figures by 68/26. In fact, as shown in IFPI 2015 Report, there were 68 million paying subscribers to all streaming platforms by the end of 2015. While the exact count of Spotify paying subscribers by the end of 2015 is unknown, that figure reached 20 million in June 2015 and 30 million in March 2016, thus an estimated 26 million is used as of the end of 2015.
The equivalent album sales is the division of the comprehensive streaming figure by 1500 as it is now the norm in the new industry model.
Streaming Part 1 – Golden Years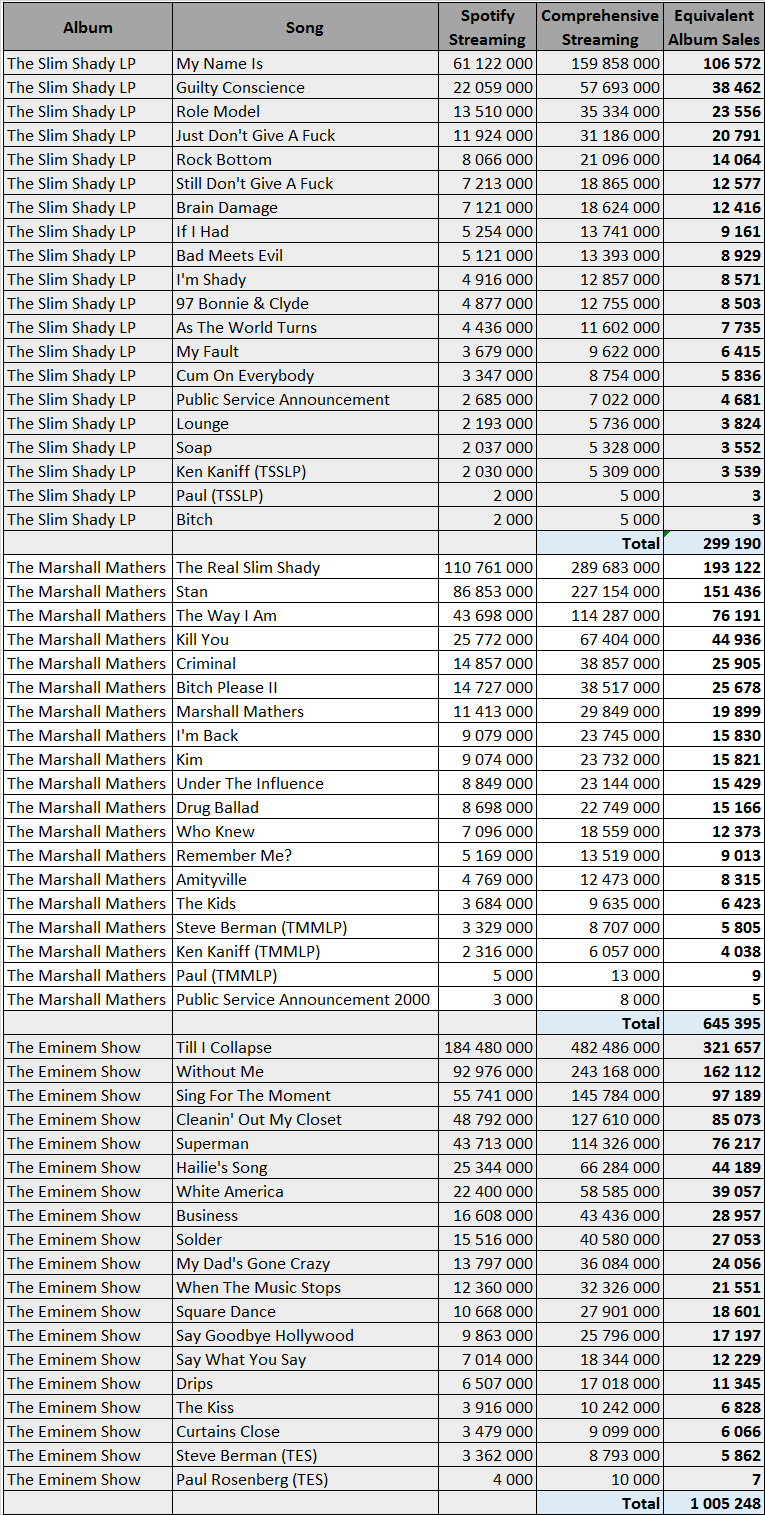 Of course those figures look weak compared to a recently released album by Drake or Justin Bieber. For albums issued some 15 years ago they are absolutely magnificent. Those three records add for 9 songs over 40 million, a criteria managed only by truly iconic hits. Just consider that Like A Prayer is the only Madonna song over 40 million, old and new songs included, to realize how massive of a feat Eminem manages with those albums. In terms of albums equivalent, if the Queen of Pop biggest catalog album was on 132,000 units, the rapper three sets register in this order 299,000 ; 645,000 and 1,005,000 albums equivalent.
Those tremendous results are made possible by the artist huge hits with 'Till I Collapse up to an absurd 184 million, The Real Slim Shady to 111 million or Without Me to 93 million. But they are just as much realized thanks to the incredible contribution of his album tracks as even his very worst performing songs are all over 2 million more than some Madonna's US #1 hits like This Used To Be My Playground is on 1,4 million.