CSPC: The Beatles Popularity Analysis
Remaining Long Format Part 9 – 00s Major Items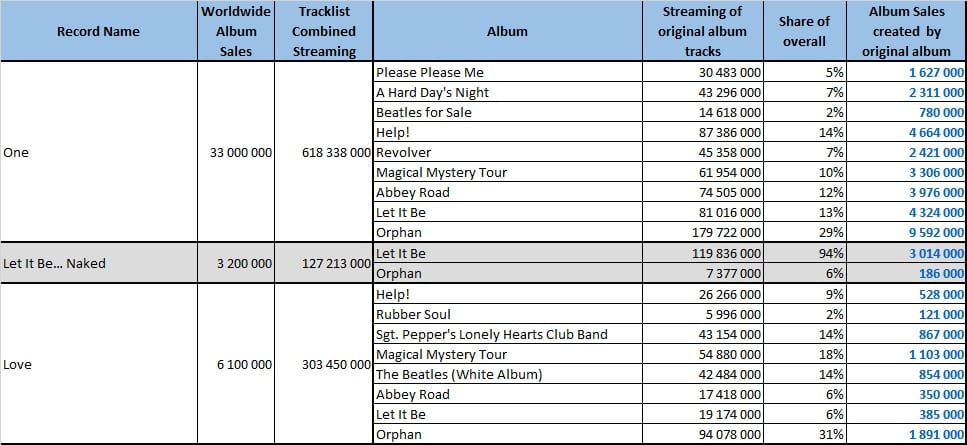 After exploiting studio albums (1963-1970), compilations (1973-1983), CD releases (1987-1993) and side projects (1994-1999), EMI was looking for a way to create one more sales splash with the Beatles catalog.
A awful lot of talks obviously happened in their offices prior to One release. That it was going to sell bucket loads was a safe bet. The market was better than ever, various countries saw their boundaries open and their health improve, the sound quality was at last good and, more than anything, getting all Beatles classics for the price of 1 CD only was the strongest argument one can get. It was basically the most worthy album ever released, at the best moment ever.
But, because there is a but, putting so much value into a unique CD sale is a risky move in the long run. Songs on it are easily strong enough to generate sales of several distinct releases so putting them all into one only will diminish tremendously the interest in the rest of their catalog. The question ends up being will it sell more by itself than it will cost to other releases sales?
They decided that it will. And it happened. Let's compare UK sales of the five years before (1995-1999) and after (2001-2005) that release. The market increased 14,65% between both eras, from 1,01 billion albums sold to 1,16 billion. Nevertheless, Abbey Road shifted 324,946 units in the first time frame against only 128,144 in the second, a drastic 60,6% drop. This illustrates how important it is to re-assign sales of compilations into studio albums, because they are not newly created sales but instead a mere attractiveness transfer from one support to an other.
Impressively, the two leading sales providers of One are Help! and Let It Be. Surprising? Well, not that much. EMI knew what they were doing. The track list axing around #1 hits wasn't only a marketing trick, it was more than anything a way to elude all LPs promoted as pure albums during the 60s. When you pick One, you still have no track at all from Rubber Soul, Sgt Pepper's or the White Album. Thus, in spite of purchasing one best of album, their studio albums still remain absolutely essential records. Then, once you got into picking them, the complete my discography logic is triggered and consumers ultimately buy multiple Beatles records still. This is why One got considered as a positive expected value release.
Let It Be, already a strong item across all compilations, grows even more with the 3-million selling remix album of it.
Are you still really sure about which Beatles albums are the strongest at this point?