CSPC: The Beatles Popularity Analysis
Remaining Long Format Part 5 – Double Compilations #1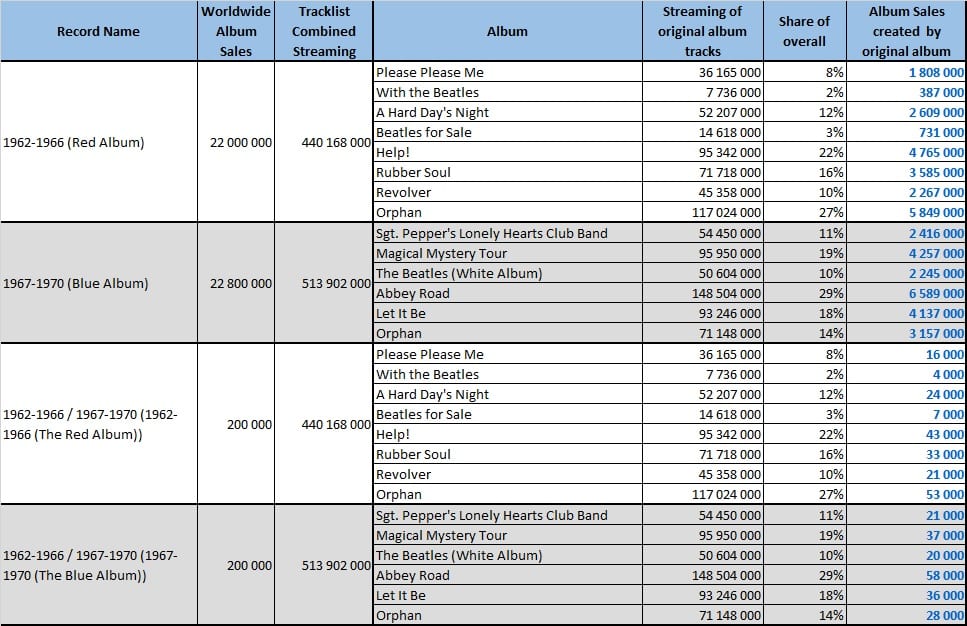 Disbanding in 1970, the Beatles continued to register smash hits as solo artists in 1971/1972. Their catalog was still truly hot and well deserving a comprehensive greatest hits album. There was so much material available that the first one coming out was a double-double LP release, Red and Blue albums, covering respectively 1962-1966 and 1967-1970 periods.
If many people already owned their studio albums, the fact that so many huge hits got issued outside of them made those packages essential, shifting an immense 44,8 million units combined. From the Red album, the leading force is unsurprisingly the orphan tracks which were very numerous in their early days. Maybe not as expected is the strong position Help! album. Owner of widely popular songs like Yesterday, Help! and Ticket to Ride, it contributes greatly to the compilation appeal at 22%.
From the Blue period, the main strength is clearly Abbey Road which has classic tunes like Come Together and Here Comes The Sun. The impressive second is Magical Mystery Tour. Rarely praised at the heights of their other 1967-1970 albums, that is mostly due to the inconsistent releases which corrupted a bit its image as it happens to be often regarded as some kind of a compilation rather than a valid studio effort. In terms of equivalent album sales, we can notice that all five albums covered by 1967-1970 are responsible for over 2 million units each as they all own memorable titles.
The last two lines refer to the 200,000 units selling Red / Blue box issued in 2010, with its sales being granted to each compilation as per CSPC formulas.