CSPC: The Beatles Popularity Analysis
Streaming Part 6 – The Long and Winning Road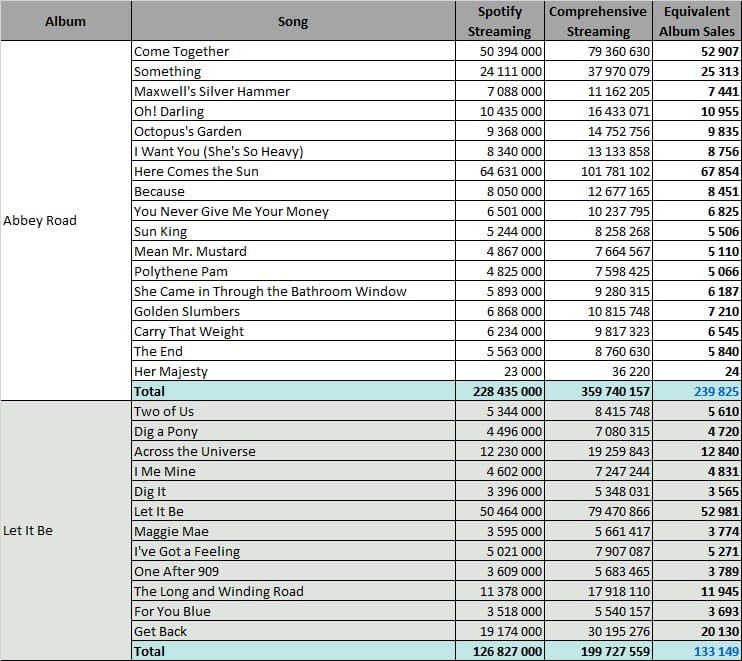 From Abbey Road, you can forget about Her Majesty which runs under 30 seconds and thus doesn't trigger a count when playing it. Just like all those interludes, there is a few streams still displayed, possibly from users with a specific account or with some calculation involved.
Back to proper comments, Abbey Road blockbuster is home of absolutely massive hits, Come Together and Here Comes The Sun. The latter is the most streamed Beatles song. Combined, they account for 115 million Spotify plays. The album as a whole is fairly huge with its weakest songs on their way to break the 5 million mark soon. One more time, we can't elude from commenting on songs length. The last six songs pre-Her Majesty total the minuscule 9 minutes 28 seconds – average of 1:34 – which boosts considerably album tracks. Nevermind, at 240,000 equivalent album sales, its results are pretty healthy.
The lead track of Let It Be is massive on its own too, up to 50 million. An additional 3 more hits are over 10 million while tracks all top 3 million. This puts Let It Be on 133,000 equivalent album sales from streaming, the 3rd highest total of the band.