CSPC: The Beatles Popularity Analysis
Streaming Sales
The Beatles have got a unique relation with each and every format. The last one which emerged more than 40 years after they disbanded still saw them adopting an atypical strategy. Holding out their catalog for years just like they did on download platforms before, they came into the streaming world for 2015 Christmas day.
The 'Beatles are on Spotify!' was a hot news, the last Splash Strategy used by EMI to date. Results have been fairly strong with 1 billion streams reached by June 30 2016 and 2 billion by December 20 2016. As their arrival was extensively marketed along with the Spotify brand and due to success demographics of the group perfectly fitting with the Swedish giant distribution, their plays on that specific platform have been a tremendous part of their overall streams. By the date 2 billion milestone was hit, their Spotify results amounted for 1,27 billion, a notable 63,5% of their total streams. Thus, this proportion will be used on all figures presented on this category to extrapolate their Spotify numbers into global ones.
We will be reviewing streams from all their songs and all their albums, converting each of them into equivalent album sales. The equivalent album sales is the division of the comprehensive streaming figure by 1500 as it is now the norm in the new industry model.
Streaming Part 1 – Breakthrough Albums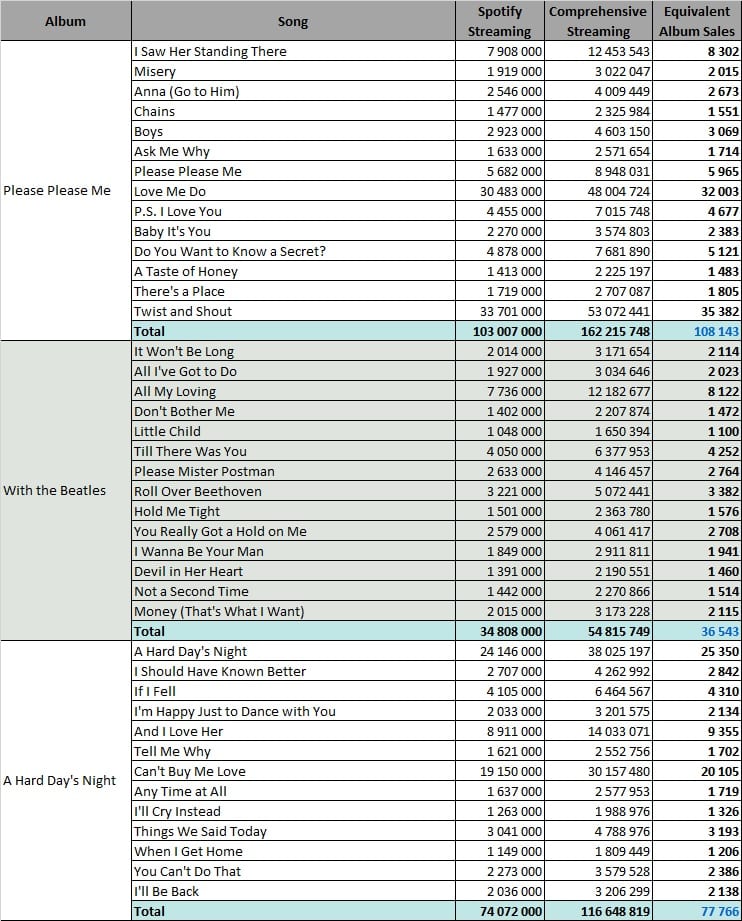 Before getting into big hits, the first striking element from streams of the group first three albums is their consistency. Each and every song on them has at least 1 million plays, a very solid showing, even more considering they have been running for 14 months only.
Still, total equivalent sales show a 3 to 1 lead of Please Please Me over With the Beatles. Streaming make it no different than in the past – it's the big hits that drive sales, whatever format you are talking about. Both Love Me Do and Twist And Shout crack the 30 million barrier while the likes Please Mister Postman and Roll Over Beethoven have 10 times less streams.
Songs from A Hard Day's Night are in-between performance wise. The title track has 24 million streams while Can't Buy Me Love posts a strong 19 million.