CSPC: Shania Twain Popularity Analysis
https://flic.kr/p/fdfgtn
Full Length related record sales
Shania Twain failed to issue a live album when she was at the top – an Unplugged album would have been poised to do wonders – but she still released a large selling compilation with her 2004 Greatest Hits set.
Compilations & Live Albums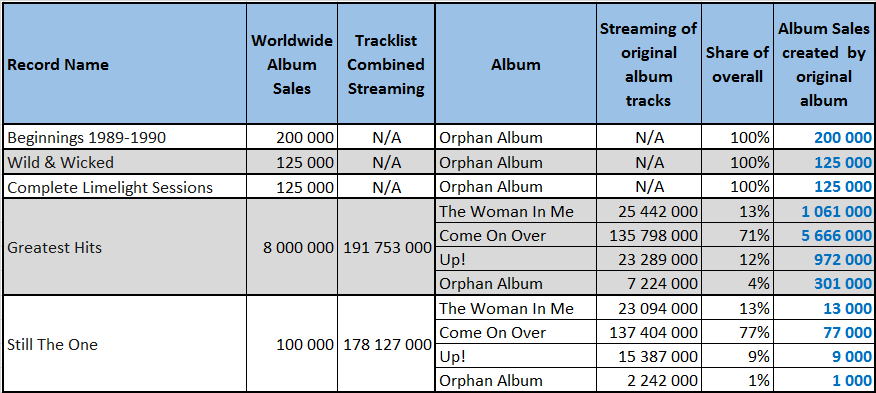 How to understand this table? If you check for example the Greatest Hits compilation album line, those figures mean it sold 8,000,000 units worldwide. The second statistics column means all versions of all songs included on this package add for 192 million streaming plays on Spotify as of December 4th 2016.
The second part on the right of the table shows how many streams are coming from each original album plus the share it represents on the overall package streams. Thus, streaming figures tell us Come On Over songs are responsible for 71% of the Greatest Hits tracklist attractiveness, which means it generated 5,666,000 of its 8,000,000 album sales and so on for the other records.
As shown by this example, Come On Over is expectedly the main driver of the Shania Twain compilation and live albums. The first three low selling albums shown on this table contain some pre-fame recordings from the artist which belong to no album and as such are attributed to the Orphan Album folder.