CSPC: Shakira Popularity Analysis
Streaming Sales
Streaming is made up of audio and video streams. Our CSPC methodology now includes both to better reflect the real popularity of each track. The main source of data for each avenue is respectively Spotify and YouTube. As detailed in the Fixing Log article, Spotify represents 157 million of the 272 million users of streaming platforms, while YouTube is pretty much the only video platform generating some revenue for the industry. Below is the equivalence set on the aforementioned article:
Audio Stream – 1500 plays equal 1 album unit
Video Stream – 11,750 views equal 1 album unit
Equivalent Albums Sales (EAS) = 272/157 * Spotify streams / 1500 + YouTube views / 11750
Streaming Part 1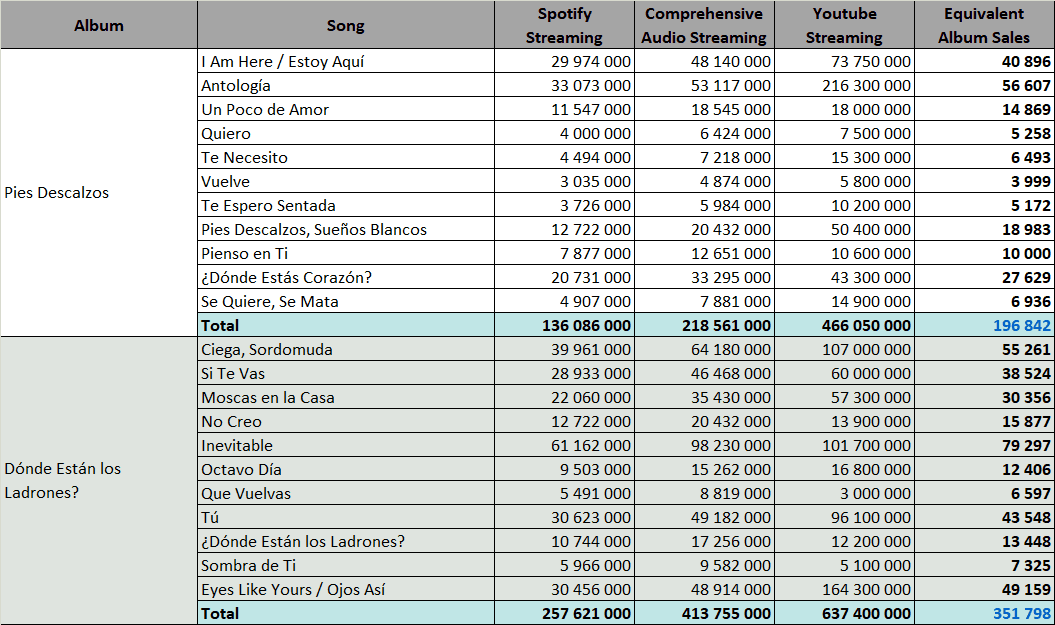 A few days ago, I posted the CSPC article of Alanis Morissette. On it, I mentioned she still does well in streaming with 398,000 equivalent album sales for her juggernaut album Jagged Little Pill. Believe it or not, Shakira's Spanish album from the same era Dónde Están los Ladrones? is quite close from it at 352,000 units.
This is the illustration of how utterly massive it has been in the Spanish world. Very few catalog songs in foreign languages topped the 20 million mark at Spotify so far, yet as many as 6 did it from that album alone. Still not convinced? Those two Spanish records have as many 10+ million songs than Madonna's first 9 albums combined. The lowest album cut from the latter album is also over 5 million Spotify streams.
One more time, these figures show the relevance of the CSPC method. I mentioned during the previous pages how some formats weren't favorable to Spanish-language recordings like physical singles and downloads since their main markets have never consumed a lot these products. The success is always translated somewhere though. Streaming works as the perfect compensation for them. Mexico and Brazil among others are becoming massive streaming markets thanks to their large penetration of internet and their huge populations. If on average they spend less money to buy records, they use much more YouTube and now audio streaming platforms.
Some intriguing fact to take off those mind-blowing results is how Dónde Están los Ladrones? crushes Pies Descalzos by almost 2 to 1 although they sold similar amounts of studio albums. We will be understanding why during the next pages.