CSPC: Prince Popularity Analysis
Full Length related record Sales
It sounds fairly logical to add together weighted sales of one era – studio album, physical singles, downloads, streams – to get the full picture of an album's popularity. For older releases though, they also generate sales of various live, music videos and compilation albums.
All those packaging-only records do not create value, they exploit the value originating from the parent studio album of each of its tracks instead. Inevitably, when such compilations are issued, this downgrades catalog sales of the original LP. Thus, to perfectly gauge the worth of these releases, we need to re-assign sales proportionally to its contribution of all the compilations which feature its songs. The following table explains this method.
Part 1 – Compilations 1993-1996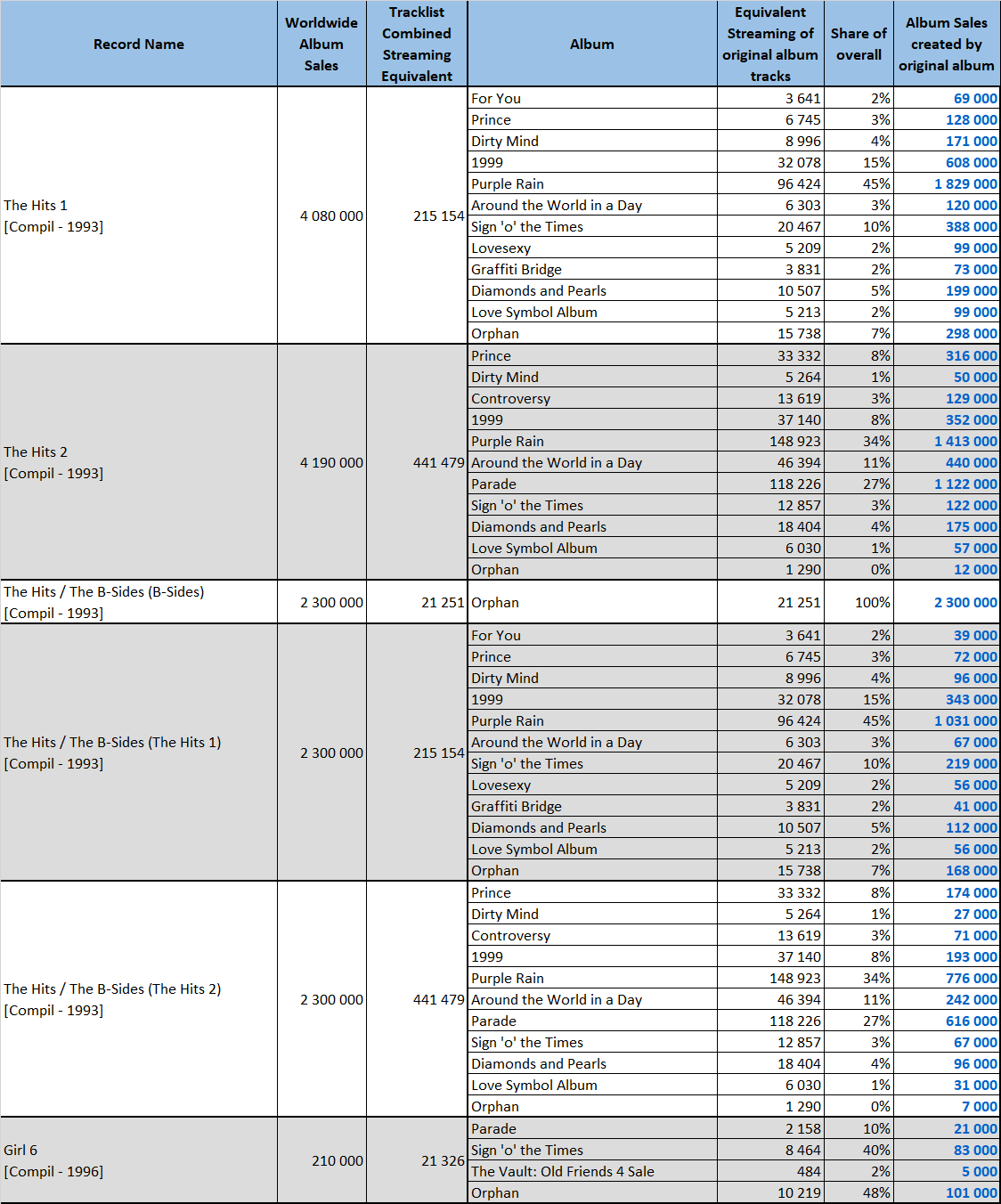 How to understand this table? If you check this example, these figures mean The Hits 1 sold 4,080,000 units worldwide. Then, the second statistics column means streams of all the songs included on this package add for 215,154 EAS.
The second part at the right of the table shows how many streams are coming from each original album as well as the share they represent. Thus, streaming figures tell us Purple Rain songs are responsible for 45% of the Hits 1 tracklist attractiveness. In other words, it generated 1,829,000 of its 4,080,000 album sales. Eventually, we apply this methodology to all compilations.
Sets The Hits 1 and The Hits 2 must be some of the weirdest compilations ever released. They do not follow a specific theme nor the timeline of the artist career. For example, his two biggest hits from Purple Rain, When Doves Cry and the title track, belong to Hits 1 and Hits 2, respectively. A third package which merged both compilations plus a CD of B-Sides also came out at the same time, spreading sales over multiple releases. While their individual numbers do not look impressive for primary compilations of one of the biggest 80s star, they moved well past 10 million copies collectively.
In terms of sales distribution we can see that the appeal of these sets was largely fueled from material issued in albums going from 1999 to Sign 'O' The Times, the golden period of the artist.