CSPC: Pink Floyd Popularity Analysis
https://flic.kr/p/aMGUWV
Controversies – Part 1 – Dark Side of the Moon – UK
As per the official music industry organization of the UK, the BPI, Dark Side of the Moon sold over 4,2 million copies there as of February 2016.
Sadly, official doesn't always mean accurate. The BPI bases their figures on scanned copies since 1994 to date. Everything prior to that date was achieved by requesting awards on the back of an audit. From 2013 though, the BPI started to automatically certify albums on their scanned units. Since that data was incomplete for various all-time top sellers which came out before 1994, the organization decided to certify those biggest albums on sales estimated by Alan Jones in February 2016.
The estimate of Dark Side of the Moon is clearly incorrect though. The set was audited and certified as 9xPlatinum in 2005, representing shipments between 2,7 million and 3 million. Since that date, the album sold close to 750,000 units which sets a roof of possible sales on 3,75 million – nowhere near the 4,2 million plus assumption.
Various chart experts contested that 9xPlatinum award too though, myself included. In fact, the album was 7xPlatinum back in 1993 while there is documented sales of more than 900,000 units between those two awards and more than 1,2 million shipments. How wasn't it certified at least 10xPlatinum in 2005 then? Let's check its yearly sales and shipments for the relevant period. All figures in thousands.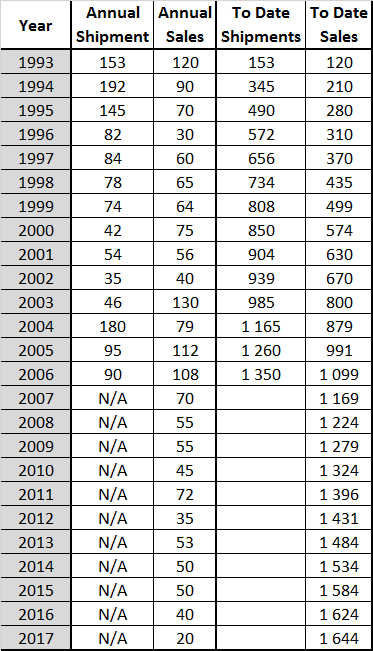 As you can see, adding the 2,1 million units certified in early 1993 to further copies shipped / sold by 2005 brings the total to 3,3 / 3,1 million respectively. These figures are tricky though. Based on royalties, net shipments weren't always factored into the year of sales, often copies shipped were paid to the artist months or even years later! It is very visible in 2004 when it net shipped 180,000 units while most of them were indeed shipped (and sold) in 2003 with the 30th anniversary edition. In the other side, units barely ordered by retailers already have their bills, meaning they can be included into certifications.
The fact that net shipments run well ahead of sales for many years imply that a good portion of copies shipped from 1993 to 1995 most likely happened in reality between the early 90s to March 1993. This was when the 20th anniversary edition came out shooting to #4 in the weekly chart. Assuming a realistic 300,000 units shipped for this reissue, pushing the total to 2,1 million, there is still 865,000 new copies that got shipped up to the end of 2004. Among copies shipped in 2005, most of them occurred in the last part of the year when it reached the Top 50. While the 9xPlatinum award was received in May. Doing the math, the album had shipped 2,1 million + 865,000 + a few early 2005 copies by May 2005, explaining why it fell short of the 3 million copies needed to be 10xPlatinum.
Those 2,975,000 units moved by May 2005 added to the 750,000 units shifted since that date justifies the 3,725,000 estimate to date.