CSPC: Paul Simon Popularity Analysis
Streaming Sales
Streaming is made up of two families – audio and video. Our CSPC methodology now includes both to better reflect the real popularity of each track. The main source of data for each avenue is respectively Spotify and YouTube. As detailed in the Fixing Log article, Spotify represents 157 million of the 272 million users of streaming platforms, while YouTube is pretty much the only video platform generating some revenue for the industry. Below is the equivalence set on the aforementioned article:
Audio Stream – 1500 plays equal 1 album unit
Video Stream – 11,750 views equal 1 album unit
Equivalent Albums Sales (EAS) = 272/157 * Spotify streams / 1500 + YouTube views / 11750
Streaming Part 1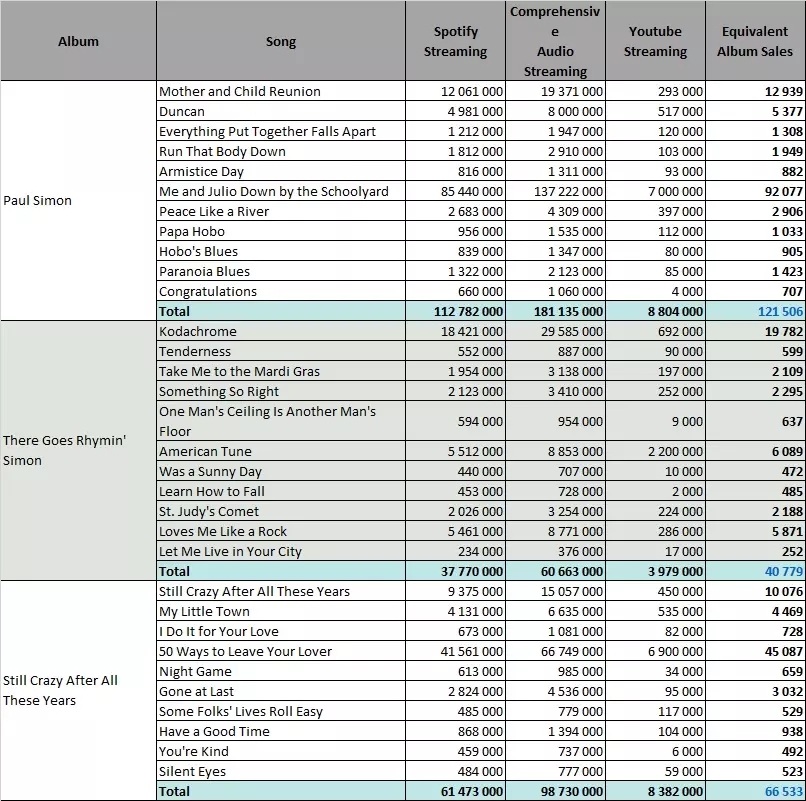 YouTube views are good to represent the hit appeal of a track. We can notice that no song from this table reaches even 10 million, showing the general public, including the youngest of us, doesn't run after Simon's music. The general public does like to listen to his songs time to time. In fact, Me and Julio Down by the Schoolyard registers a healthy 85 million streams on Spotify while 50 Ways to Leave Your Lover is strong too at 42 million. Songs formerly used as singles are all in the multi-million area although they haven't face the test of time as well as the two aforementioned hits.
In terms of equivalent album sales from streams, all 3 albums conclude on decent to good numbers. There Goes Rhymin' Simon stands at 41,000 units, Still Crazy After All These Years at 67,000 and Paul Simon at 122,000.