CSPC: Michael Jackson Popularity Analysis
Streaming Sales
Streaming is made up of two families – audio and video. Our CSPC methodology now includes both to better reflect the real popularity of each track. The main source of data for each avenue is respectively Spotify and YouTube. As detailed in the Fixing Log article, Spotify represents 132 million of the 212 million users of streaming platforms, while YouTube is pretty much the only video platform generating some revenue for the industry. Below is the equivalence set on the aforementioned article:
Audio Stream – 1500 plays equal 1 album unit
Video Stream – 11,750 views equal 1 album unit
Equivalent Albums Sales = 212/132 * Spotify streams / 1500 + YouTube views / 11750
Streaming Part 1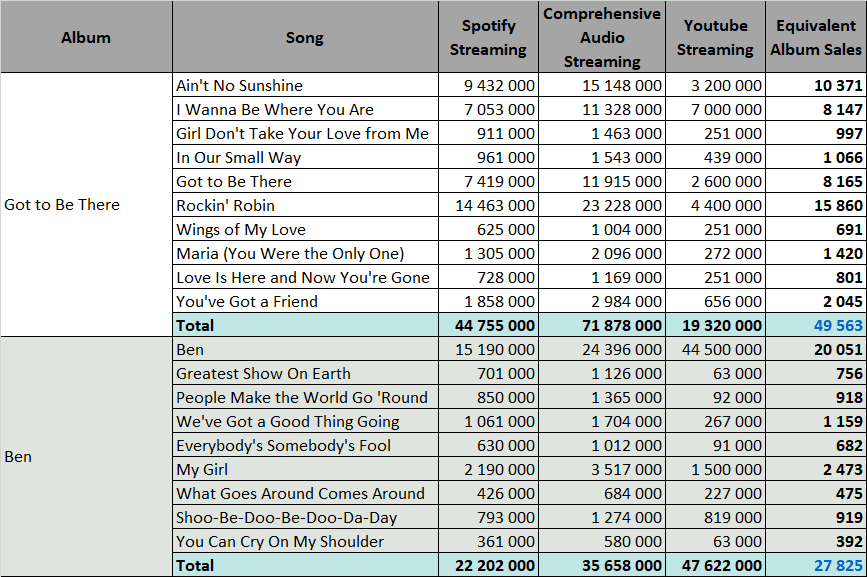 Many would have expected Michael Jackson's albums to be monster sellers and his post-Off The Wall records to have done wonders in various formats as they did. The expectations were fairly low on his early Motown albums though, especially on the streaming front. Got to be There is quite impressive with album tracks over 1 million on Spotify and 4 songs at 7 million or more. The album has a total of 50,000 equivalent album sales from streaming.
Ben is solid too at 28,000 equivalent album sales thanks to the 15 million streams on Spotify of the title track.