CSPC: Madonna Popularity Analysis
Streaming Part 7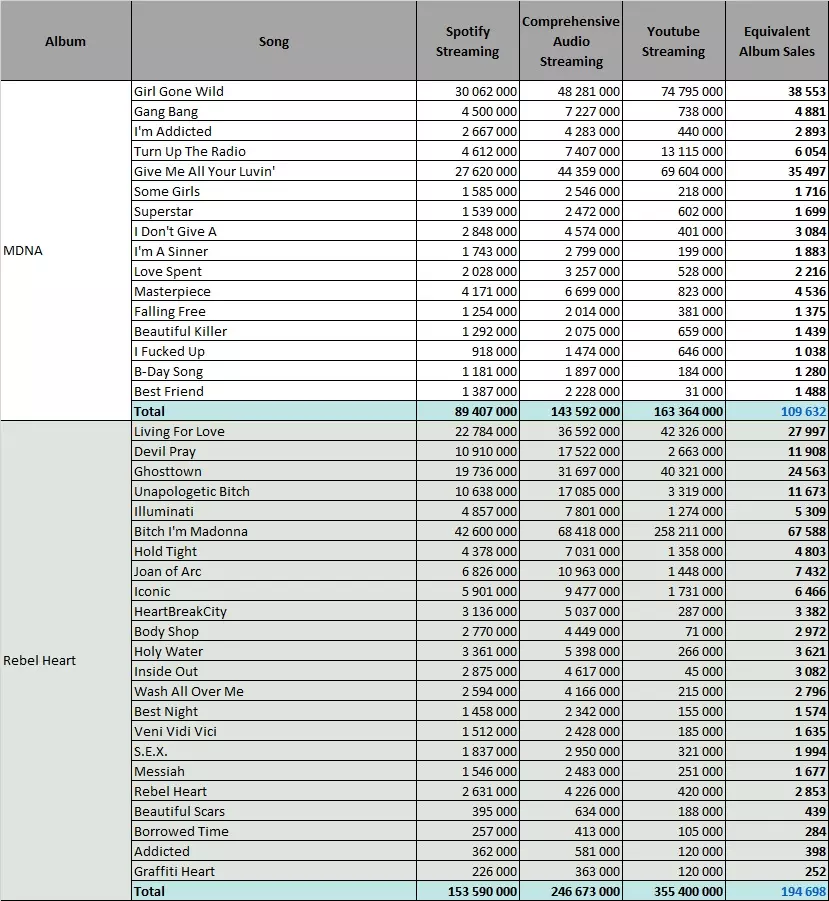 One the first version of this article was posted slightly more than one year ago, Hung Up had 25,1 million streams on Spotify while Girl Gone Wide had 25,6 million and Give Me All Your Luvin' was up to 24,1 million. It means that while the former amassed 32,5 million new streams, those last two songs added a dreadful 4,4 million and 3,5 million streams respectively.
MDNA has a total of 110,000 equivalent album sales from streams, almost as much as its two predecessors. The reason is obviously completely different though as it mostly benefited from a booming streaming market. By now, the album already lost all its strength.
Rebel Heart album bombed, so did its singles. Despite being issued in 2015 with streaming numbers being massive, its three main tracks add for only 85 million, about a tenth of 2015 biggest hits did as stand-alone songs. Their current rate is also truly bad as Living For Love for example added a mere 3,6 million plays.
Bitch I'm Madonna used to death the presence of Nicki Minaj to amass strong YouTube views as they stand at 258 million. Still, even if during the streaming world those results are not good, they represent the equivalent of 195,000 units, a sizable addition to an album that sold only 900,000 units by itself.