CSPC: Linkin Park Popularity Analysis
Streaming Sales
Streaming is made up of two families – audio and video. Our CSPC methodology now includes both to better reflect the real popularity of each track. The main source of data for each avenue is respectively Spotify and YouTube. As detailed in the Fixing Log article, Spotify represents 132 million of the 212 million users of streaming platforms, while YouTube is pretty much the only video platform generating some revenue for the industry. Below is the equivalence set on the aforementioned article:
Audio Stream – 1500 plays equal 1 album unit
Video Stream – 11,750 views equal 1 album unit
Thus…
Equivalent Albums Sales = 212/132 * Spotify streams / 1500 + YouTube views / 11750
Streaming Part 1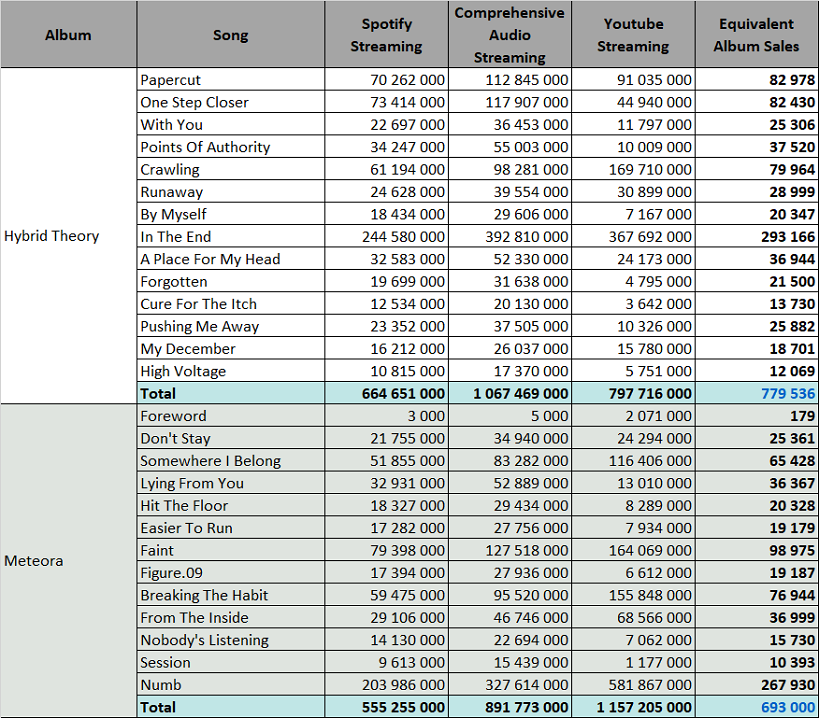 In a Coldplay-like way, both Hybrid Theory and Meteora have magnificent streams. Each of them contain one blockbuster smash at more than 200 million Spotify streams, In The End and Numb. Please notice this latter song doesn't include the Numb / Encore mash-up, which makes this tally simply unbelieveable.
All album tracks from both albums are impressively strong too, creating equivalent album sales of 780,000 and 693,000 units respectively.