CSPC: Led Zeppelin Popularity Analysis
Full Length related records Sales
While it mostly happened later into their career, Led Zeppelin have put out a string of compilations and live albums over the past two decades. All of them propelled by the inclusion of their biggest classic songs, which will make up for the vast majority of their subsequent sales. Once again, let's check all figures.
Full Length Migration Part 1 – Live Albums & Music Videos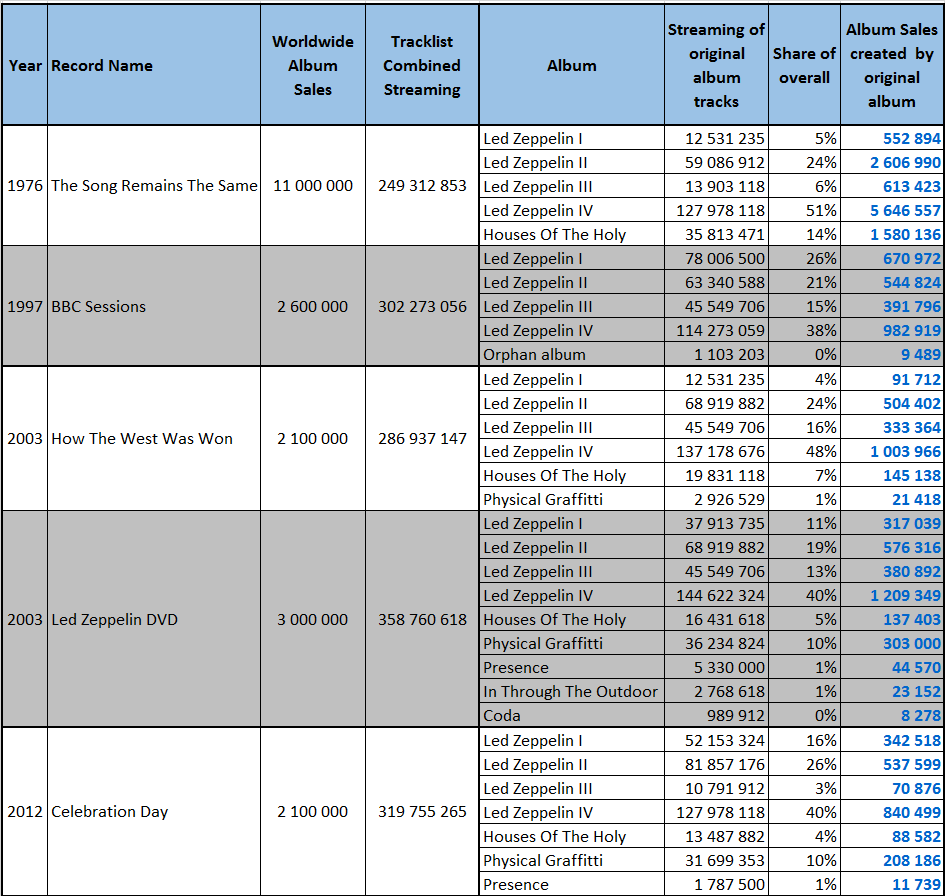 If you read carefully, you will notice how it works. Celebration Day, for example, sold 2,25 million copies in its multiple formats and combinations released, some of which were DVD/Blu Ray only. All versions of its tracklisting achieved nearly 320 million stream on Spotify platform.
The second part of the table shows, at the right side, how many streams are coming from each original studio album, the respective percentage and the final generated sales to be added to each one of those original studio albums.
It is no surprise to see Led Zeppelin 4 as their dominant album for all those records, with a share around 40% of the total streams and therefore a massive 9,5 million sales generated out of the near 21 million those sets sold combined. Led Zeppelin I, Led Zeppelin II and Physical Graffiti all get a decent share in the final percentages. All albums issued in the latter part of their career represent a fairly weak source of sales among those releases.
As an overall note it must be highlighted those figures are especially strong. Led Zeppelin DVD is one of the biggest selling music DVD ever, same for The Song Remains The Same in the live album category.