CSPC: Led Zeppelin Popularity Analysis
Streaming Part 2 – Their finest hour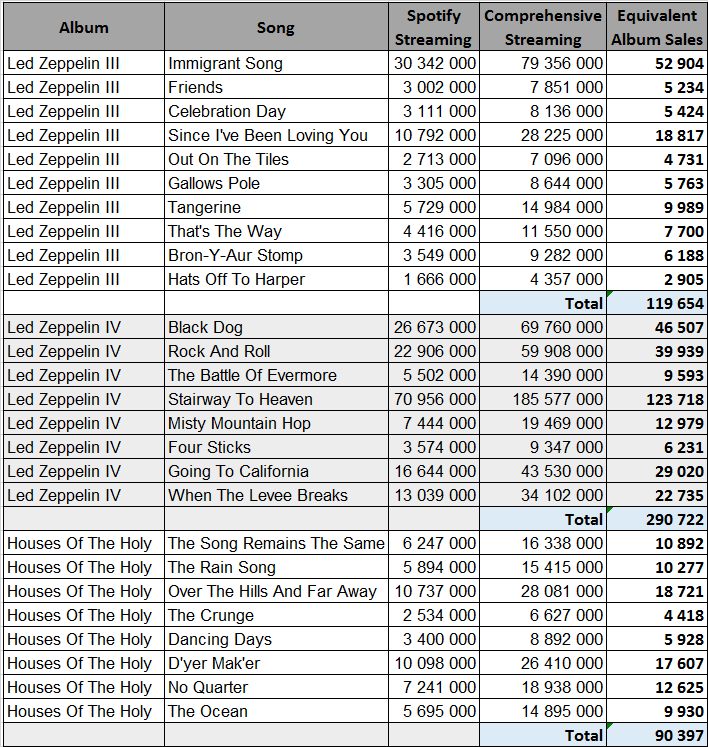 Streaming numbers confirm what we knew about Led Zeppelin discography. Their first three albums have always been close sales-wise with the second volume leading the pack. It does so because it owns two big hits while I and III have one each – Immigrant Song for this latter album. Just like the first two albums, III entire track list gets relevant plays.
The band big hit yet fits into IV album. Stairway To Heaven is one of the very biggest 40+ years old tracks from Spotify at over 70 million listening's. Four more IV songs are well over 10 million despite the album containing only 8 songs in total. Within' a few weeks the album sales equivalence of IV streams will reach the 300,000 units barrier.
Houses Of The Holy desperately misses a large hit but all its songs are still quite relevant. This concludes on a very rare pattern of an album having a ratio of only 4 between its biggest track and its weakest.