CSPC: Kelly Clarkson Popularity Analysis
Streaming Sales
Streaming is made up of audio and video streams. Our CSPC methodology now includes both to better reflect the real popularity of each track. The main source of data for each avenue is respectively Spotify and YouTube. As detailed in the Fixing Log article, Spotify represents 157 million of the 272 million users of streaming platforms, while YouTube is pretty much the only video platform generating some revenue for the industry. Below is the equivalence set on the aforementioned article:
Audio Stream – 1500 plays equal 1 album unit
Video Stream – 11,750 views equal 1 album unit
Equivalent Albums Sales (EAS) = 272/157 * Spotify streams / 1500 + YouTube views / 11750
Streaming Part 1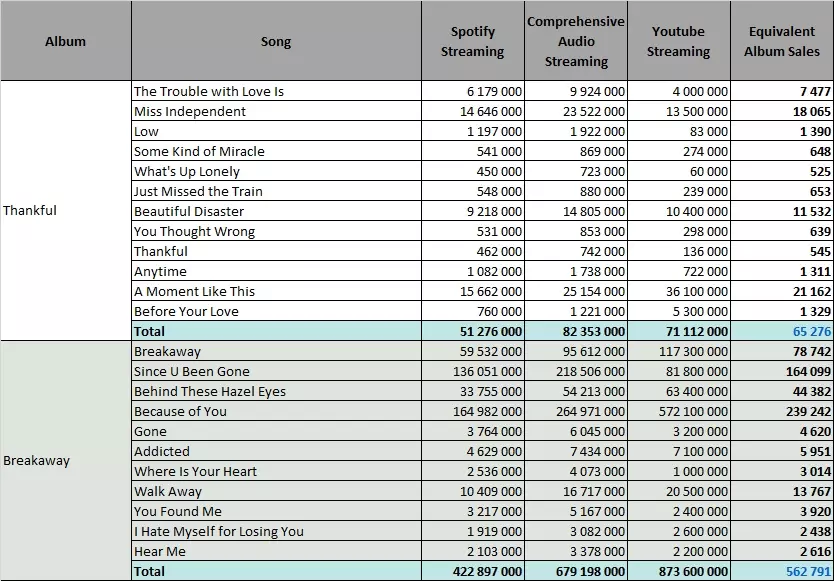 Unsurprisingly, hits from Breakaway remain much more popular than those of Thankful. The teen pop early hits are mostly ignored nowadays. A Moment Like This and Miss Independent register 15 million streams on Spotify each, a very modest number for 2003 hits. The album totals 65,000 EAS from streams.
The sophomore era is a completely different story. Because of You and Since U Been Gone combine for a stunning 300 million streams on Spotify. The former is also a monster at YouTube with more than 572 million views. Breakaway and Behind These Hazel Eyes lost ground lately but they remain solid at 60 million and 34 million, respectively. Furthermore, albums cuts also perform well with streams ranging from 2 to 5 million. The album closes its streaming count at 563,000 EAS.