CSPC: Imagine Dragons Popularity Analysis
Streaming Sales
Streaming is made up of audio and video streams. Our CSPC methodology now includes both to better reflect the real popularity of each track. The main source of data for each avenue is respectively Spotify and YouTube. As detailed in the Fixing Log article, Spotify represents 157 million of the 272 million users of streaming platforms, while YouTube is pretty much the only video platform generating some revenue for the industry. Below is the equivalence set on the aforementioned article:
Audio Stream – 1500 plays equal 1 album unit
Video Stream – 11,750 views equal 1 album unit
Equivalent Albums Sales (EAS) = 272/157 * Spotify streams / 1500 + YouTube views / 11750
Streaming Part 1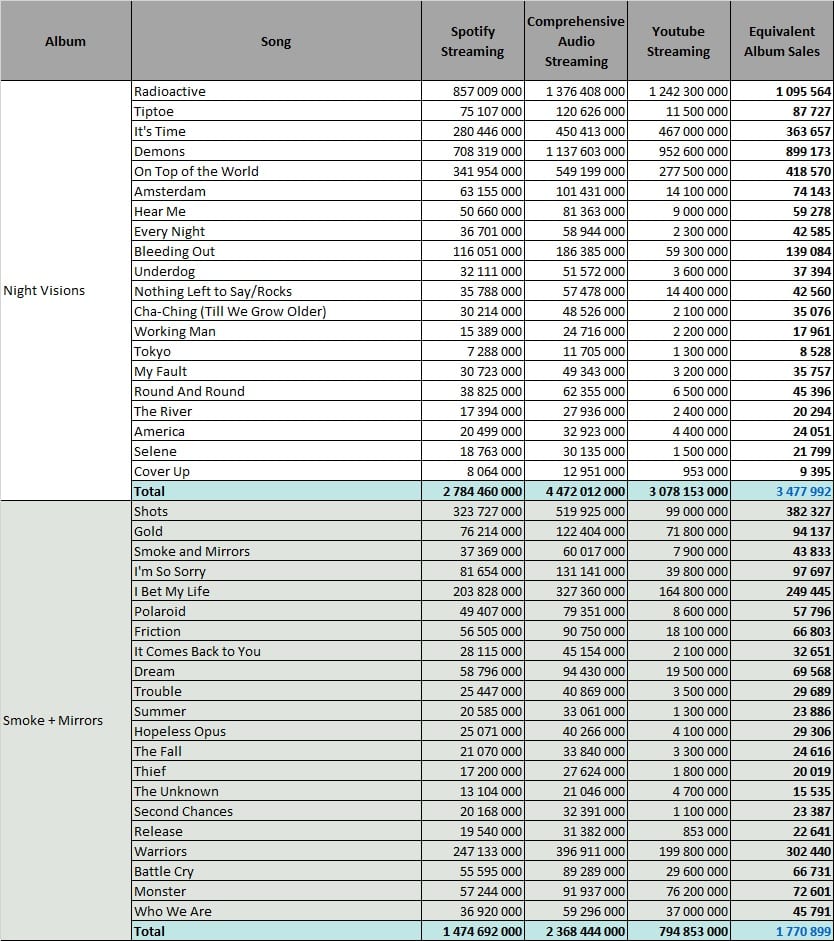 EAS of nearly 3,5 million units from streams is immense for any album, even recent ones that enjoyed the boost of the format. To register that figure with an album released in 2012 is thus absolutely insane. No other pre-2014 era came even close to 3 million, not even Adele's 21.
This total is made possible by two bigger than life songs, Radioactive and Demons. With monster numbers from both Spotify and YouTube, they add for nearly 2 million EAS together. If it wasn't for these two songs, On Top of the World and It's Time, around 400,000 EAS each, would look like monsters too. In all fairness, the entire album performs incredibly well. The album cut Bleeding Out is well over 100 million on Spotify and 9 more tracks are over 30 million.
Surprisingly, I Bet My Life comes only third among Smoke + Mirrors' tracks. The relation to League of Legends provided a consistent source of exposure to Warriors while Shots has been gaining popularity through the years. In total the album adds for 1,8 million EAS from streams, a figure fairly healthy considering its relative poor reception at first.