CSPC: Eagles Popularity Analysis
Streaming Part 3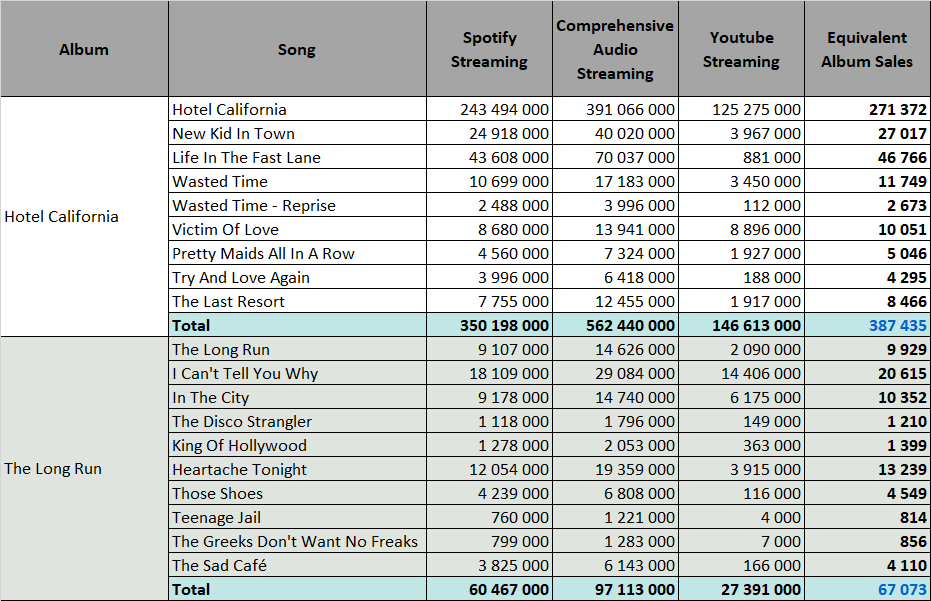 The song Hotel California is an unstoppable beast. With 243 million streams on Spotify it ranks among the very biggest hits of the last century. It is only topped by Queen's Bohemian Rhapsody and Don't Stop Me Now, Bob Marley's Three Little Birds and Earth, Wind & Fire's September among 70s hits.
New Kid In Town and Life In The Fast Lane are both strong too with a combined 68 million on Spotify. All album tracks are impressive too with 4-10 million streams each. This stunning showing provides the album Hotel California some 387,000 EAS.
Results of The Long Run would be fairly decent for most strong artists but they really pale in comparison to its immediate predecessor. It has four tracks in the 9-18 million range but nothing higher, not even the former smash hit Heartache Tonight. Its total from streams is worth 67,000 EAS.