CSPC: Eagles Popularity Analysis
Streaming Sales
Streaming is made up of two families – audio and video. Our CSPC methodology now includes both to better reflect the real popularity of each track. The main source of data for each avenue is respectively Spotify and YouTube. As detailed in the Fixing Log article, Spotify represents 132 million of the 212 million users of streaming platforms, while YouTube is pretty much the only video platform generating some revenue for the industry. Below is the equivalence set on the aforementioned article:
Audio Stream – 1500 plays equal 1 album unit
Video Stream – 11,750 views equal 1 album unit
Equivalent Albums Sales (EAS) = 212/132 * Spotify streams / 1500 + YouTube views / 11750
Streaming Part 1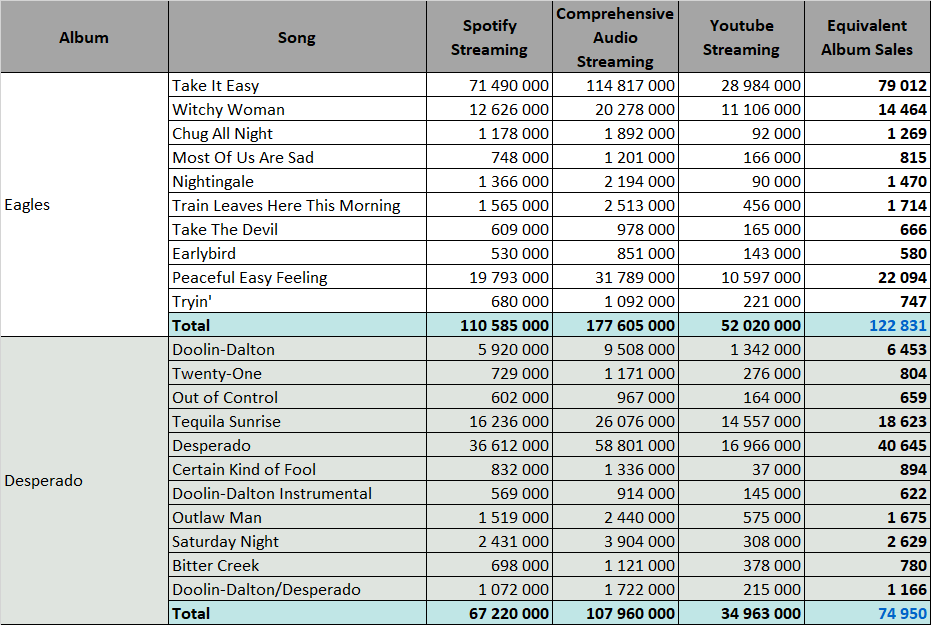 Take It Easy may not be as global as Hotel California but its streams are huge at 71 million on Spotify. The remaining two songs used as singles back in the day, Witchy Woman and Peaceful Easy Feeling, crack 10 million each on both Spotify and YouTube. Album cuts aren't strong but this is still enough for a great 123,000 equivalent album sales for Eagles.
Desperado's title track does wonders for a former album-cut. At 36 million the song is responsible for more than half of Spotify's streams for the album which totals 75,000 EAS. Outlaw Man is forgotten nowadays with a mere 1,5 million streams.