CSPC: Celine Dion Popularity Analysis
Streaming Sales
Below table lists Spotify streaming of all songs from the five albums we are studying. The Comprehensive Streaming is reached by multiplying Spotify figures by 68/26. In fact, as shown in IFPI 2015 Report, there were 68 million paying subscribers to all streaming platforms by the end of 2015. While the exact count of Spotify paying subscribers by the end of 2015 is unknown, that figure reached 20 million in June 2015 and 30 million in March 2016, thus an estimated 26 million is used as of the end of 2015.
This being said, those figures are valid for English songs. In France, the dominating streaming service is the national platform Deezer with roughly 50% of all Streaming revenues generated. In the other side, Spotify represents only 11% of France Streaming market. From its 38% globally to 11% locally, it is difficult to weight properly Celine Dion French songs. In fact, while they are mostly known in France-speaking countries, their appeal is larger thanks to the artist global popularity. Thus, for all her French songs, I'm going to cut the share halfway between both figures at 24,5%.
The equivalent album sales is the division of the comprehensive streaming figure by 1500 as it is now the norm in the new industry model.
Streaming Part 1 – Early Material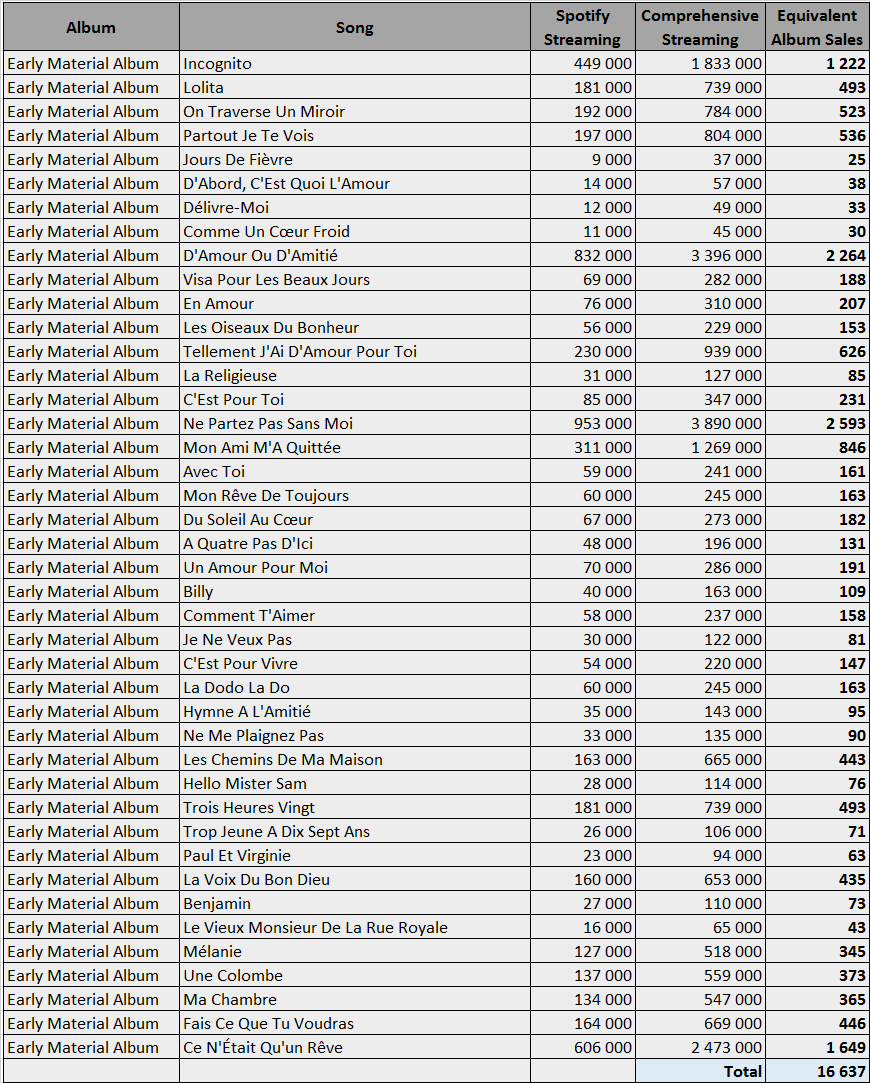 I won't lie – those figures aren't impressive. From her Quebec years, no Celine Dion song reached even 1 million at Spotify. The closest one is Ne Partez Pas Sans Moi, the song that enable the artist to win the Eurovision song contest in 1988.