CSPC: Carrie Underwood Popularity Analysis
https://flic.kr/p/23LyBib
Streaming Sales
Streaming is made up of audio and video streams. Our CSPC methodology now includes both to better reflect the real popularity of each track. The main source of data for each avenue is respectively Spotify and YouTube. As detailed in the Fixing Log article, Spotify represents 157 million of the 272 million users of streaming platforms, while YouTube is pretty much the only video platform generating some revenue for the industry. Below is the equivalence set on the aforementioned article:
Audio Stream – 1500 plays equal 1 album unit
Video Stream – 11,750 views equal 1 album unit
Equivalent Albums Sales (EAS) = 272/157 * Spotify streams / 1500 + YouTube views / 11750
Streaming Part 1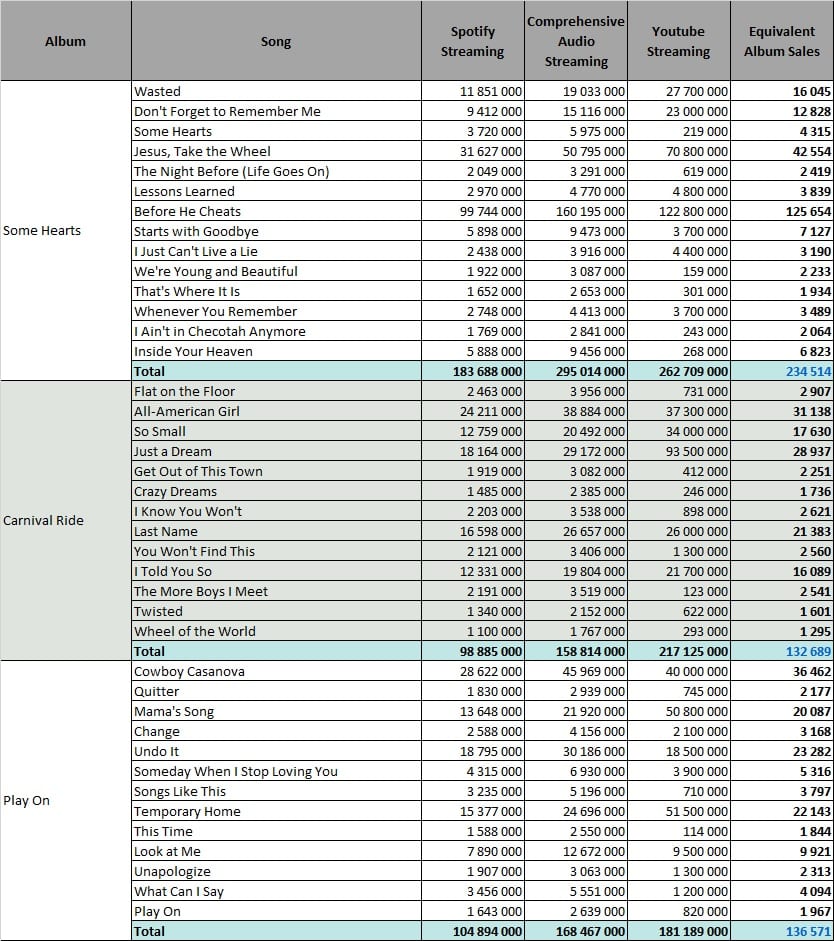 At 100 million streams on Spotify and 123 million on YouTube, Before He Cheats doesn't look like an US-only hit. Its lasting appeal is impressive. This song accounts for 126,000 EAS out of Some Hearts' total of 235,000 units.
It goes on to show that apart from that single, all these albums have been equally successful, all with 100,000+ EAS to date. The norm is that every former single stands at more than 10 million streams on both Spotify and YouTube. Jesus, Take the Wheel is the biggest of them with over 30 million and 70 million on these platforms, respectively.