CSPC: Bob Dylan Popularity Analysis
Streaming Part 5 – Side Projects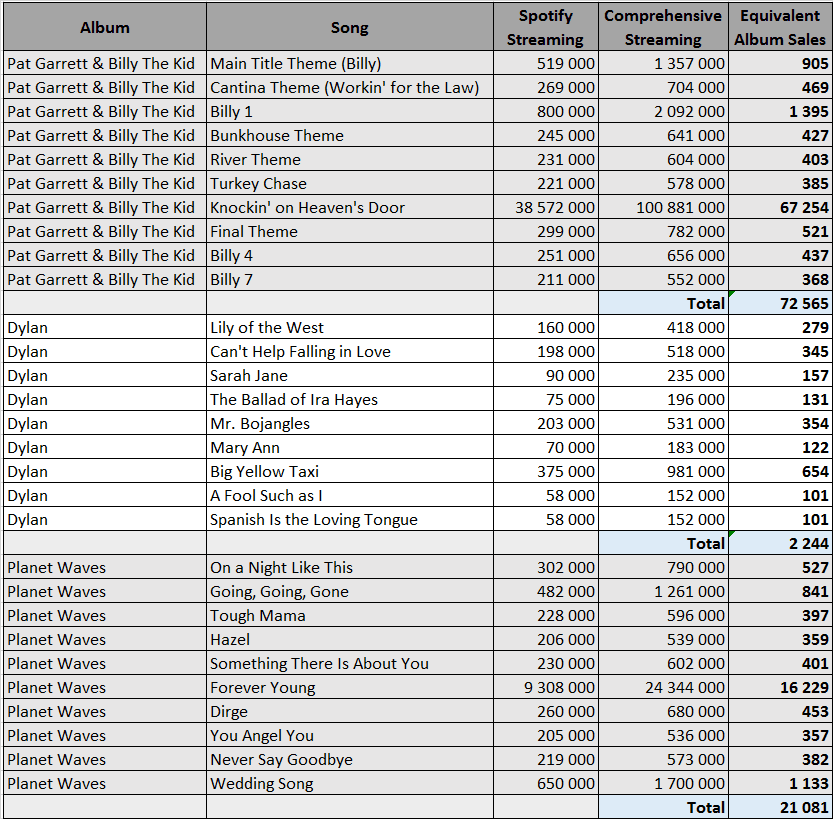 Enjoying family days after being exhausted by heavy touring and recording during the 60s – 11 albums within' 8 years -, Bob Dylan had a break in 1971-1972. For nearly three years, he released no album at all.
In 1973, he returned by acting in the western movie Pat Garrett & Billy The Kid. He was also responsible for the Soundtrack, which featured mostly instrumentals. It also featured one single, Knockin' On Heaven's Doors, a song made cult two decades later by the Guns N' Roses when they successfully covered it. If the hard rock band version topped the 70 million mark recently, Bob Dylan one has nothing to be ashamed of at an impressive 39 million.
With the artist deciding to quit Columbia, the label issued Dylan, a collection of outtakes from Self Portrait and New Morning recording sessions. Although marketed as a proper new album, the public wasn't fooled and largely ignored this record. Its two thousands album sales equivalent through streaming speak by themselves.
Recording Planet Waves with The Band group to support their reunion tour, this album met some success, notably including Forever Young. Recently noticed for being the first single of UK X Factor 2015 winner Louisa Johnson, the song was also a hit for Rod Stewart in 1989.