CSPC: Billy Joel Popularity Analysis
Full Length related records Sales
As someone who has such a prolific career, Billy Joel has been no stranger to the world of other Full Length releases, in every possible format. He released numerous of live albums, compilations and also music videos. And some of them -I don't need to even say it- have been huge. Time to go through them and see what the outcome is.
Part 1 – Live albums I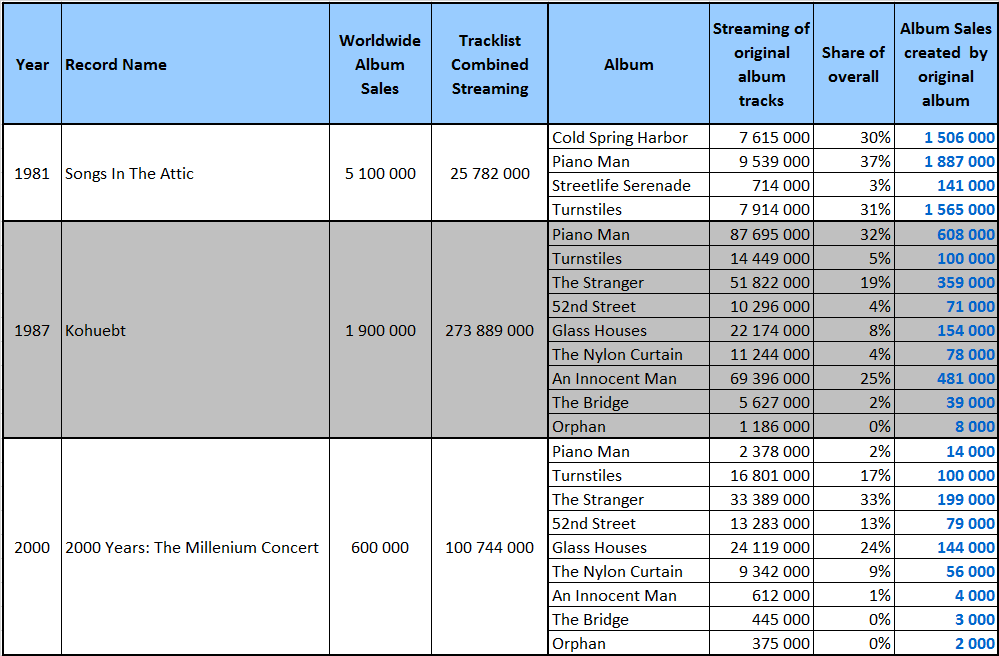 How to understand this table? If you check for example Songs In The Attic live album line, those figures mean it sold 5,100,000 units worldwide. The second statistics column means all versions of all songs included on this package add for 26 million streaming plays on Spotify.
The second part at the right of the table shows how many streams are coming from each original album plus the share it represents on the overall package streams. Thus, streaming figures tell us Piano Man songs are responsible for 37% of the Songs In The Attic tracklist attractiveness, which means it generated 1,887,000 of its 5,100,000 album sales and so on for the other records.
This first section opens with three live albums, where we see some of the already noted trends. Two albums appear to be the strongest sales generators of those full length releases. Piano Man, boosted by the song of the same name, and The Stranger, which performs very well due to a more evenly spread amount of tracks.
To a lesser extent, Turnstile shows a good shape. Remaining albums have mixed results and figures.