CSPC: AC/DC Popularity Analysis
Streaming Part 4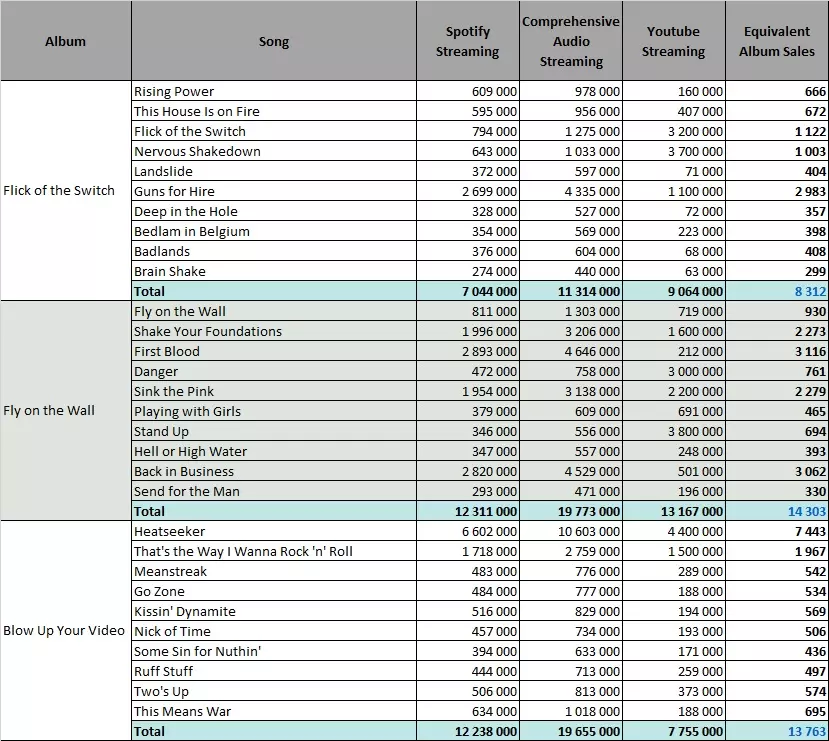 Commercially, the mid to late 80's were meagre years for AC/DC. For the 1983 LP Flick of the Switch, the Young brothers decided to end their partnership with hit producer "Mutt" Lange and started producing themselves. As a result this multi-platinum band suddenly struggled to reach platinum in the US. Spotify reflects this too. With little more than 7 million total streams, this is easily AC/DC's weakest LP. For the first time we see tracks struggling to reach 300,000 plays. Only the semi-classic Guns for Hire tops 1 million.
Fly on the Wall followed the same path. Self-produced, barely making platinum, and tracks struggling to top 300,000 streams. Always more Rock than Metal, their heaviest of albums does perform better than Flick of the Switch though. There are 4 tracks in the 2-3 million region led by the two album tracks First Blood and Back in Business. I wonder if the latter is helped by sharing its initials with a certain other AC/DC track? People searching for Back in Black could end up listening to Back in Business, no?
I recall Heatseeker getting a fair amount of airplay on MTV, the single pushed Blow Up Your Video to the Top 5 in some countries and #12 in the US, their best showing since For Those About to Rock. Heatseeker is indeed the strongest track from these three albums on Spotify with 6.5 million streams. And the 2nd single, That's the Way I Wanna R'n'R, is close to 2 million, but the rest of Blow Up Your Video is forgotten by most.
Combined EAS for these three albums are just 36,000. The most memorable track from these years are not listed here though. Who Made Who, the title track of the soundtrack to the 1986 Stephen King movie Maximum Overdrive, tops all of these. It is listed in the Orphan section.