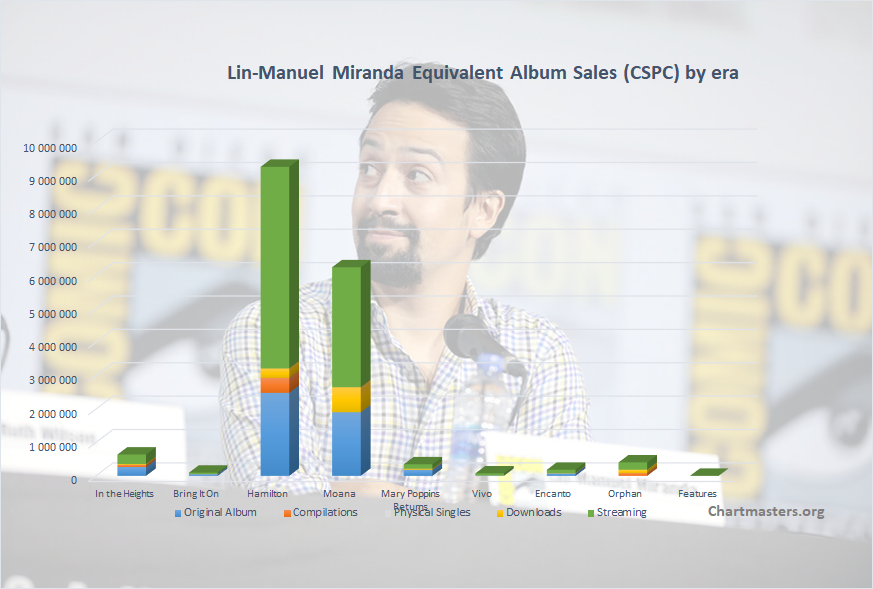 Although you possibly never heard about him, Lin-Manuel Miranda is one of the most decorated artists of our day.
Responsible for smash cast recording Hamilton as well as Moana's soundtrack, he will impact 2022 with another big album from Disney's roster, Encanto.
Today we wonder if his commercial live up to the hype of his resume which is filled with Grammy Awards, Tony Awards, Emmy Awards, Pulitzer Prizes, and more prestigious honors?
Read more about the CSPC methodology
Lin-Manuel Miranda Albums Sales
Figures listed in this section reflect pure sales of long playing formats, either albums, compilations or videos. Streams are excluded.

Lin-Manuel Miranda Songs Sales
Figures listed in this section reflect all metrics of songs' sales, these are audio streams, video streams, and sales (physical singles, downloads, ringtones).
These numbers are converted into Equivalent Albums Sales (EAS), formula below.
( Spotify streams * 310/207 + Genie streams * 3.05*2 + AWA streams * 100/5.5 ) / 1500 + ( QQ views* 50(or 5) + YouTube views ) / 11750 + Digital sales (DL+RT) * 0.15 + Physical sales * 0.30
NB: for Hamilton, MRC data has been used for the US in order to account for its disproportionate success in a market where Apple Music dominates.
Search for up to date Spotify streams of the artist
Lin-Manuel Miranda CSPC Results
In the following results table, all categories display figures in equivalent album sales. If different, pure sales are listed between parentheses.
#
Cover
Album
Total CSPC
Sales*
Streams
Total CSPC
Studio Albums
Other LPs
Physical Singles
Digital Singles
Last verified
Auto update
Daily Increase
1
In the Heights
638,000
265,000
63,000
0(0)
23,000(160,000)
287,000 (12/30/21)
287,000 (12/30/21)
Av.: 0LD: 262,990
638,000
2
Bring It On
100,000
53,000
0
0(0)
3,000(20,000)
40,000 (12/30/21)
44,000 (06/24/22)
Av.: 20LD: 20
100,000
3
Hamilton
9,747,000
2,488,000
446,000
0(0)
282,000(1,880,000)
6,043,000 (12/30/21)
6,531,000 (06/24/22)
Av.: 2,780LD: 2,580
9,747,000
4
Moana
6,535,000
1,905,000
0
2,000(8,000)
749,000(4,990,000)
3,595,000 (12/30/21)
3,879,000 (06/24/22)
Av.: 1,610LD: 1,550
6,535,000
5
Mary Poppins Returns
354,000
183,000
0
0(0)
28,000(190,000)
135,000 (12/30/21)
143,000 (06/24/22)
Av.: 40LD: 40
354,000
6
Vivo
103,000
10,000
0
0(0)
6,000(40,000)
57,000 (12/30/21)
87,000 (06/24/22)
Av.: 170LD: 120
103,000
7
Encanto
1,855,000
73,000
0
0(0)
12,000(80,000)
97,000 (12/30/21)
1,770,000 (06/24/22)
Av.: 9,500LD: 3,310
1,855,000
8
Orphan
402,000
0
82,000
0(0)
99,000(660,000)
221,000 (12/30/21)
N/A
N/A
402,000
*Pure sales figures updated on 12/30/21. 'Av.' stands for Average, 'LD' for Last Day.
As a reminder:
Studio Album: sales of the original album
Other Releases: sales of compilations generated thanks to the album
Physical Singles: sales of physical singles from the album (ratio 3/10)
Download Singles: sales of digital singles from the album (ratio 1,5/10)
Streaming: equivalent album sales of all the album tracks (ratio 1/1500 for Audio stream and 1/6750 for Video stream)
See where the artist ranks among remaining singers
With Lin-Manuel Miranda, we see a situation that we never met, where the album which contains his top hits is not his biggest.
It's down to the phenomenal consistency of Hamilton, both through all its tracks and through the years. Issued in 2015, in the US the album has been the 10th biggest album of 2016, 9th of 2017, 21st of 2018, 29th of 2019, 12th of 2020 and 25th of 2021.
Made of 46 songs, each track has at least 50 million streams on Spotify, a unique achievement, especially considering its success came almost exclusively from the US only, which also happens to be a market not so good relatively speaking for Spotify.
Since the premiere of the live stage film on Disney+ in July 2020, it has also been enjoying great success elsewhere, like in the Netherlands or the UK.
The album also gets an extra influx of sales thanks to the 460,000-units seller The Hamilton Mixtapes. It adds up inside the column Other releases. along with the 15,000-units seller The Hamilton Instrumentals.
It is up to 9.3 million units, and seems poised to hit 10 million in a relatively soon.
Lin-Manuel Miranda isn't already the main character / singer of the cast. He is the composer, the lyricist, and the executive producer as well as having written a book version. No wonder why the New York artist of Puerto Rican descent is widely regarded as a genius.
Then comes Moana. Also composer, songwriter, and producer on it, he created the main theme How Far I'll Go. Following the tradition of Disney, the song got a version from the movie voice (Auli'i Cravalho), another from a pop singer (Alessia Cara), and local versions with translated lyrics made for the most relevant markets.
Combined, the song is nearing 1.2 billion streams on Spotify, and twice as much on YouTube. The OST was another smash project for Miranda, with total sales of 6 million to date. Over 550,000 of these units come from songs with no involvement from the artist, these aren't added to his personal total.
In The Heights is up to a more modest 600,000 plus units so far, but with the 2021 movie version, which sold over 60,000 copies, it's now growing much faster.
Bring It On, where he is lyricist and composer, had less success, just like Mary Poppins Returns where the artist is part of the cast but wasn't involved in the creation part.
Vivo sold next to nothing to date. It's one of these movies that never got a theater release due to the Covid-19 pandemic. Who knows if the project will get a second (first) chance later on.
More recently, Encanto was released. Since it premiered on Disney+, it has been growing like crazy. The main track We Don't Talk About Bruno is currently #1 on US Spotify, something unseen before from a kids song. The soundtrack is also topping the Billboard ranking this week, so expect sales of this release to climb very fast from now on.
Without ever making the news, Lin-Manuel Miranda stands at 16.6 million equivalent album sales, including more than 98% since the fall of 2015.
Singles CSPC results
The list is compiled in album equivalent sales generated by each song. Therefore, these figures are not merged units of singles formats. Instead, it includes weighted sales of the song's physical single, download, ringtone and streaming as well as its share among sales of all albums on which it is featured.
1. 2016 – Auli'i Cravalho / Alessia Cara – How Far I'll Go [Moana] – 2,560,000
2. 2016 – Dwayne Johnson – You're Welcome [Moana] – 1,050,000
3. 2016 – Lin-Manuel Miranda & Opetaia Foa'i – We Know The Way [Moana] – 490,000
Dynamic Spotify Key Performance Indicators
Please note that numbers below are retrieved automatically, so they will evolve day by day unlike previously listed data which is valid as of the publication date of the article.
Lin-Manuel Miranda
Current followers count: 523,710
500,000 followers have been reached on 02/05/22 400,000 followers have been reached on 11/12/20
>> Daily breakdown
Current streams count: 3,488,880,175
3,000,000,000 streams have been reached on 05/18/21 1,000,000,000 streams have been reached on 07/20/20
>> Daily breakdown
Lin-Manuel Miranda is #335 among the most streamed artists of all-time Popularity Rating: 71/100
>> Visit our Top 1,000 most streamed artists ranking
>> Visit our Top 20 highest rated artists ranking
Current monthly listeners: 15,738,425
(Trend:
-1,605,307
)
Global chart position: #285
The artist top 50 cities come from
19 distinct countries
>> Global impact breakdown