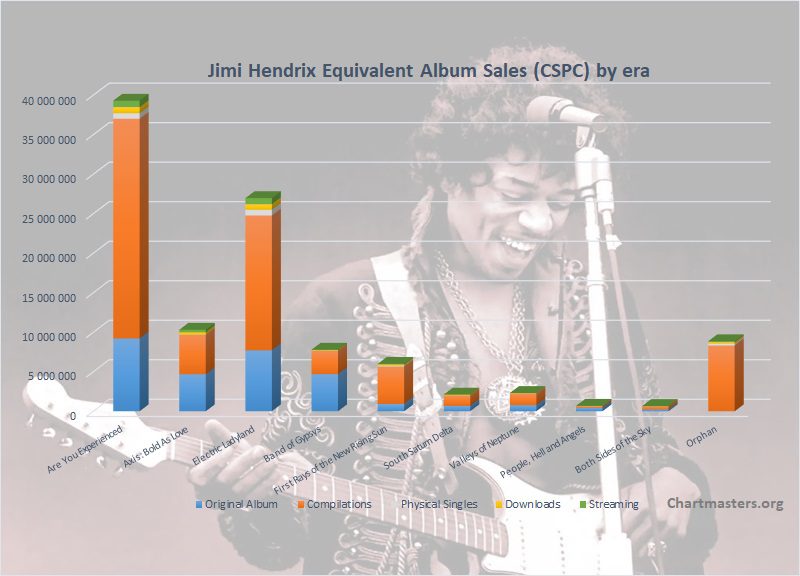 Breaking through the US main audience in 1967 and releasing his last studio album in 1968, Jimi Hendrix was a flying star in the rock music scene of his time.
In spite of his very short career, passing away at 27 in 1970, his imprint is indelible in the history of music. He brought guitar play to another dimension while dropping multiple classic tunes in the making.
As every new musician goes through a Hendrix phase during their learning process, his commercial success is also far greater than one might expect given his apparent small output.
Apparent is the key word there though. The main strength of Hendrix was his lack of conventional training. This led him to try everything by himself, ending up mastering things others barely ever tried.
Wah-wah or Octavia pedals, stereophonic effects, amplifiers' distortion and feedback, all of it was good to create new sounds.
Ultimately, a random jam session from him constitutes a gold mine for many guitar players, old and new.
To benefit from this situation, labels started issuing countless recordings after his death, flooding the market with cheap releases.
Copyrights of this kind of recordings, many of which were made pre-fame, are often unclear, so many local budget labels sold Hendrix LPs. This is how a catalog made of 3 studio albums grew to over 500 compilations.
His main recordings were also subject to dispute until the 90s when a court gave their copyrights to his family. This concluded with a new run of posthumous 'studio' albums from 1997 onwards, after a first one that went from 1971 to 1995.
Since the second run is more loyal to the guitarist plans and to his current estate owners, we decided to define his studio recordings as his main 3 living studio albums, the live recording Band of Gypsys that is made of new tracks, plus new studio albums issued since 1997, starting with First Rays of the New Rising Sun.
This automatically moves albums like 1971's The Cry of Love, initially marketed as a fresh new album, to the compilation section.
Another technicality, and with due respect to the late Noel Redding and Mitch Mitchell, who formed with Jimi Hendrix the band the Jimi Hendrix Experience, we will combine in this article all sales related to him, no matter if the record was credited to him as a solo artist or to the band name.
If the Hendrix' catalog is pretty messy, what's safe to say is that his results are mind-blowing.
As usual, I'll be using the Commensurate Sales to Popularity Concept in order to relevantly gauge his results. This concept will not only bring you sales information for all Jimi Hendrix's albums, physical and download singles, as well as audio and video streaming. In fact, it will also determine their true popularity.
If you are not yet familiar with the CSPC method, below is a nice and short video of explanations. I fully recommend watching it before getting into the sales figures. Of course, if you are a regular visitor feel free to skip the video and get into the numbers directly.
The Commensurate Sales to Popularity Concept (CSPC)
There are two ways to understand this revolutionary concept. In the first place, there is this Scribe video posted below. If you are unaware of the CSPC method, you will get the full idea within just a pair of minutes.
If you are a mathematical person, and want to know the full method as well as formulas, you can read the full introduction article.
Now let's get into the artist's sales figures in detail in order to apply this concept and define the act's true popularity!
Jimi Hendrix Album Sales

Original Album Sales – Comments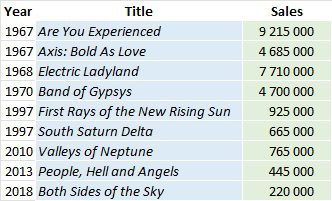 With album sales so low during the 60s, when singles still used to dominate the market, and compilations that flooded the market almost instantly, sales of the original albums are very solid.
Are You Experienced is up to 9.2 million units, selling over 100,000 copies in 2021 alone, on its way to 10 million sales at some point in the future.
Axis: Bold as Love lacks hits, it still sold nearly 4.7 million pure copies, the same as Band of Gypsys.
Electric Ladyland was supported by the iconic rendition of All Along the Watchtower. This gave the album a #1 peak in the US, and final sales to this day of 7.7 million across the world.
Obviously, later posthumous efforts sold less.
Released decades after his passing, and made of recordings often widely available through other releases, they still moved healthy numbers.
First Rays of the New Rising Sun, which keeps selling decently, is approaching 1 million sales. Both South Saturn Delta and Valleys of Neptune average 700,000 units.
Along with the market, sales of the most recent releases went down with People, Hell and Angels moving 445,000 units and Both Sides of the Sky doing half of this number, which is actually good by 2018 standards.

Jimi Hendrix Songs Sales

Physical Singles

As a reminder, the weighting is done with a 10 to 3 ratio between one album and one physical single.
Issuing 8 US singles during his life and 7 in the UK, Hendrix claims a group of collectors significant enough to see this very large list of releases through the years.
Obviously, the original releases are the strongest songs.
It all started in late 1966, in the UK, when Hey Joe became a #6 hit. The song was released 6 months later in the US, failing to enter the Billboard Hot 100.
Thanks to good results in Europe and plenty of reissues, it still added 670,000 units sold.
Follow up Purple Haze did even better, hitting #3 in the UK and climbing to #65 in the US. The latter chart performance is still incredibly low considering the iconic status of this song.
This single too had various reissues, coming close to a million sales combined.
The Wind Cries Mary, peaking at #6, became the singer's 3rd UK top 10 in just under 4 months. It wasn't as strong elsewhere, selling a third of a million in total.
The next big one was All Along the Watchtower, released in the last quarter of 1968. It charted at #5 in the UK and #20 in the US, while also doing well across Europe. This remains his lone million seller under the physical single format.
More than two years after the release of Electric Ladyland, when Hendrix passed away, a shorter version of Voodoo Chile (the original is 15 minutes long) came out along with Hey Joe and All Along the Watchtower in a 3-tracks single.
This made Voodoo Chile an official UK #1 hit, although one may say the death of the artist should have been at least enough to promote back the original albums instead of a mere single.
During the next couple of years, many singles flooded the market to low success, including Freedom, Dolly Dagger, Gypsy Eyes, Johnny B. Goode, Angel and Hear My Train A Comin'.
The physical format still has a minor role on Hendrix catalog, with all releases adding for 6.2 million units sold.

Digital songs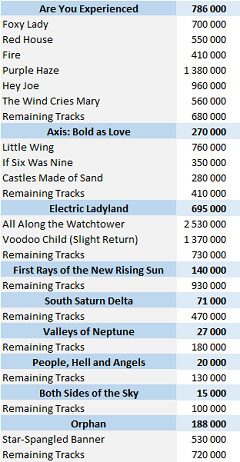 As a reminder, the weighting is done with a 10 to 1,5 ratio between one album and one digital single.
At the peak of the download era, Hendrix was able to shift a million units per year in the US alone in this format.
His best seller is All Along the Watchtower. At 2.5 million downloads and ringtones, it is his main classic, performing very well in most markets, including of course in the US and in the UK.
The guitarist isn't a one-hit wonder yet. Many more tracks moved relevant numbers.
Both Purple Haze and Voodoo Child (Slight Return) stand close to 1.4 million sales.
Next up is Hey Joe at almost a million.
Little Wing and Foxy Lady top 700,000 units, while Red House and The Wind Cries Mary are over half a million.
If the density of his proper studio albums is impressive, not much remains very popular among the rest of his discography, except his famous version of Star-Spangled Banner that made him a legend in Woodstock.
Cumulatively, he cracks 15 million digital sales.

Streaming
Streaming is made up of audio and video streams. Our CSPC methodology now includes both to better reflect the real popularity of each track. The main source of data for each avenue is respectively Spotify and YouTube.
To factor in the growing impact of multiple Asian countries where these platforms aren't always the go-to site for music streaming, more sources have been added.
In order to account for their real popularity in each relevant country, the below sources have been used along with the mentioned ratios that reflect the market share of each area.
Audio Streams
– South Korea : Genie streams * 3.05 (consistent with Gaon streaming numbers)
– Japan : AWA streams * 100/5.5 (AWA has 5.5% of the Japanese streaming market)– Elsewhere : Spotify streams * (370 – 8.5 – 9.5 – 33 – 9) / 207 (370 million global subscribers minus 8.5 million from South Korea minus 9.5 million from Japan minus 33 million from China divided by the number of Spotify only users minus 9 million more Asian users) + Genie streams * 3.05 (uses Genie rather than Spotify to extrapolate markets like Taiwan, Thailand and Vietnam)
Video Streams– China* : QQ video streams * 50 if the song is available for audio stream, QQ video streams * 5 elseway (scale built based on known figures for several major artists)– Elsewhere : Youtube views
*since 96.4% of Chinese streaming platforms are free users, that paid-for users pay less than $2 a month and that they are also used as video streaming platforms, their streams are weighted on par with YouTube streams.
Audio Stream value – 1500 plays equal 1 album unit
Video Stream value – 11,750 views equal 1 album unit
Equivalent Albums Sales (EAS) = ( Spotify * 310/207 + Genie * 3.05*2 + AWA * 100/5.5 ) / 1500 + ( QQ views* 50(or 5) + YouTube ) / 11750
Top Hits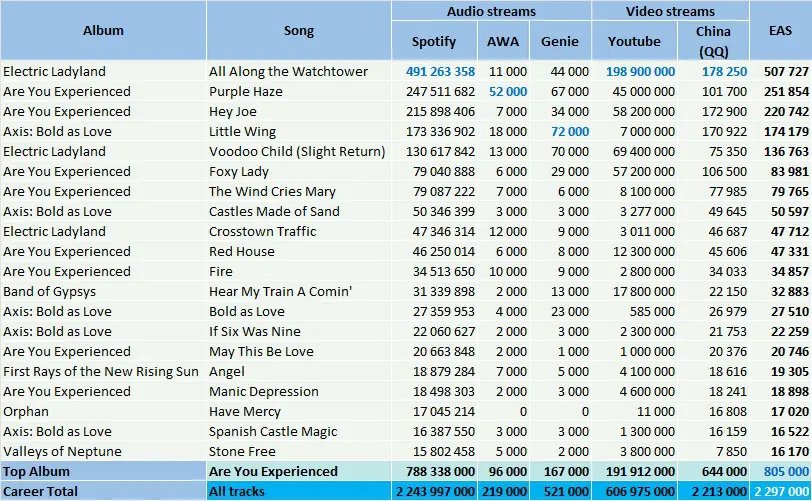 The terrific guitar riff of All Along the Watchtower continues to seduce the masses decades on, with nearly 500 million streams at Spotify and 200 million at YouTube. It tops 500,000 equivalent album sales from streams.
Voodoo Child (Slight Return) gives more strength to Electric Ladyland, with 137,000 EAS on its own, but this is still not enough to dislodge Are You Experienced from the throne.
In fact, the density of the debut album is stunning.
Of course, it owns a fantastic pair of hits with Purple Haze and Hey Joe. Both stand over 200,000 units, with a great showing at Spotify.
There are much more popular tracks on this album yet. Foxy Lady and The Wind Cries Mary sit around 80,000 units apiece, Red House and Fire average 40,000, and May This Be Love and Manic Depression record about 20,000 sales each.
The album total is over 800,000 units, one of the most streamed 60s album, with Electric Ladyland just behind at 775,000.
Elsewhere, Little Wing is up to 173 million Spotify plays with a great showing at Asian platforms as well, it leads on South Korean service Genie.
Full catalog breakdown
If you are familiar with the artist's catalog and want to check details of each and every song, you can access to all of them right here.
Keep yourself up to date
Our website provides you a fantastic tool which fetches updated Spotify streams as you request them, use it to watch these results grow day after day!
Jimi Hendrix compilations sales
It sounds fairly logical to add together weighted sales of one era – studio album, physical singles, downloads, streams – to get the full picture of an album's popularity. For older releases though, they also generate sales of various live, music videos and compilation albums.
All those packaging-only records do not create value, they exploit the value originating from the parent studio album of each of its tracks instead. Inevitably, when such compilations are issued, this downgrades catalog sales of the original LP.
Thus, to perfectly gauge the worth of these releases, we need to re-assign sales proportionally to its contribution of all the compilations which feature its songs. The following table explains this method.
The distribution process

How to understand this table? In the example of Experience Hendrix, these figures mean it sold 7,130,000 units worldwide. The second statistics column means all versions of all the songs included on this package add for 1,774,318 equivalent album sales from streams of all types.
The second part on the right of the table shows how many equivalent streams are coming from each original album, plus the share it represents on the overall package.
Thus, streaming figures tell us songs from the Are You Experienced album are responsible for 42% of the Experience Hendrix appeal. This means it generated 2,963,000 of its ,7130,000 album sales and so forth for the other records. We then apply this process to all compilations present on below table.
Compilations sales figures listing

Unbelievable. The list of side products released with the name of Jimi Hendrix on it has no end.
This table contains 682 lines, with 32 products shifting at least half a million units.
There are several kind of releases. Firstly, the traditional best of compilations. A trio of them moved a combined 20 million sales, these are 1968's Smash Hits, 1992's The Ultimate Experience and 1997's Experience Hendrix.
This trio is no more than the tip of the iceberg with many more good sellers like The Essential (1 & 2), Kiss the Sky, Cornerstones 1967, Voodoo Child (The Jimi Hendrix Collection), etc.
Secondly, the list contains albums promoted as posthumous studio albums. The largest seller was the first to come out, The Cry Of Love at 2.5 million.
Rainbow Bridge, War Heroes, Crash Landing also moved about a million each.
Thirdly, plenty of live albums have been released. The career of Hendrix was so short that most of his live performances are very well documented, and since he was known to perform improvisations, fans are willing to purchase every live product to hear all the variations of his biggest songs.
His performances at Woodstock, Monterey, Isle of Wight, Winterland, the BBC, the Fillmore East, Berkeley are all legendary for some reason. They all led to great sales of live products, both albums and music videos.
The lode is so profitable that labels even dropped compilations of live takes like Hendrix in the West, The Jimi Hendrix Concerts or Stages.
To finish, a fourth category of products is early recordings, a continuous stream of cheap releases have been going on ever since the artist broke through, starting with Get That Feeling from 1967.
All in all, these albums add for the ridiculous amount of 70 million units.
As a bonus, below is the breakdown of the top selling records.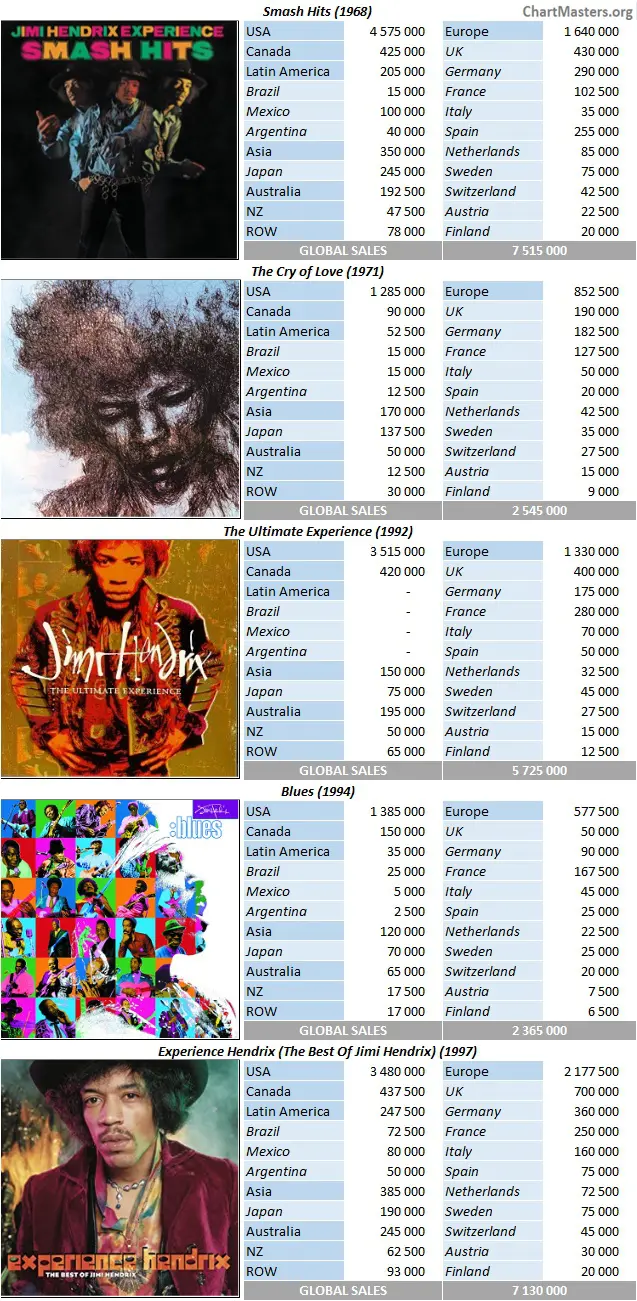 Full Length related records Sales – Summary

Here is the most underestimated indicator of an album's success – the amount of compilation sales of all kinds it generated. Due to the dependency of sales of the original studio albums on these releases, they are a key piece of the jigsaw.
These numbers are obtained by applying the method from the section The distribution process to all packages listed under Compilation sales figures listing category.
Totals are incredible, with Are You Experienced smashing at 27.8 million sales powered thanks to its songs. Electric Ladyland is many millions behind but its total is amazing as well at 17 million.
Both Axis: Bold as Love and First Rays of the New Rising are close to 5 million, with significant numbers for most of the remaining albums as well.
Total Album (all types) Sales per Country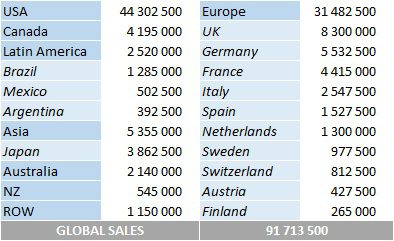 Please note country-specific numbers may miss sales of a few minor releases, although totals are complete.
Jimi Hendrix Career CSPC Results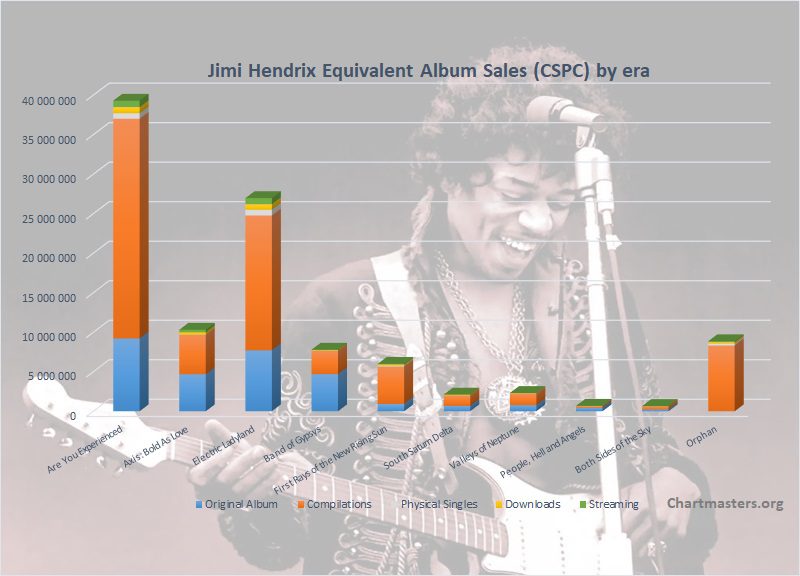 So, after checking all the figures, how many overall equivalent album sales has each album by Jimi Hendrix achieved? Well, at this point we hardly need to add up all of the figures defined in this article!
Albums CSPC results
In the following results table, all categories display figures in equivalent album sales. If different, pure sales are listed between parentheses.
#
Cover
Album
Total CSPC
Sales*
Streams
Total CSPC
Studio Albums
Other LPs
Physical Singles
Digital Singles
Last verified
Auto update
Daily Increase
1
Are You Experienced
39,351,000
9,215,000
27,802,000
686,000(2,285,000)
786,000(5,240,000)
805,000 (12/21/21)
862,000 (05/18/22)
Av.: 390LD: 400
39,351,000
2
Axis: Bold As Love
10,339,000
4,685,000
4,985,000
36,000(119,000)
270,000(1,800,000)
336,000 (12/21/21)
363,000 (05/18/22)
Av.: 180LD: 180
10,339,000
3
Electric Ladyland
27,020,000
7,710,000
17,056,000
729,000(2,428,000)
695,000(4,630,000)
775,000 (12/21/21)
831,000 (05/18/22)
Av.: 380LD: 380
27,020,000
4
Band of Gypsys
7,791,000
4,700,000
2,926,000
19,000(63,000)
81,000(540,000)
61,000 (12/21/21)
65,000 (05/18/22)
Av.: 30LD: 30
7,791,000
5
First Rays of the New Rising Sun
6,006,000
925,000
4,746,000
112,000(370,000)
140,000(930,000)
79,000 (12/21/21)
84,000 (05/18/22)
Av.: 30LD: 30
6,006,000
6
South Saturn Delta
2,116,000
665,000
1,337,000
10,000(33,000)
71,000(470,000)
31,000 (12/21/21)
33,000 (05/18/22)
Av.: 10LD: 10
2,116,000
7
Valleys of Neptune
2,313,000
765,000
1,466,000
25,000(84,000)
27,000(180,000)
29,000 (12/21/21)
30,000 (05/18/22)
Av.: 10LD: 10
2,313,000
8
People, Hell and Angels
689,000
445,000
189,000
9,000(30,000)
20,000(130,000)
25,000 (12/21/21)
26,000 (05/18/22)
Av.: 10LD: 10
689,000
9
Both Sides of the Sky
677,000
220,000
384,000
3,000(10,000)
15,000(100,000)
51,000 (12/21/21)
55,000 (05/18/22)
Av.: 30LD: 30
677,000
10
Orphan
8,857,000
0
8,328,000
238,000(790,000)
188,000(1,250,000)
104,000 (12/21/21)
N/A
N/A
8,857,000
*Pure sales figures updated on 12/21/21. 'Av.' stands for Average, 'LD' for Last Day.
As a reminder:
Studio Album: sales of the original album
Other Releases: sales of compilations generated thanks to the album
Physical Singles: sales of physical singles from the album (ratio 3/10)
Download Singles: sales of digital singles from the album (ratio 1,5/10)
Streaming: equivalent album sales of all the album tracks (ratio 1/1500 for Audio stream and 1/6750 for Video stream)
See where the artist ranks among remaining singers
Over 39 million sales for Are You Experienced through all sales avenues. Outstanding. To put things into perspective, the album tops the Beatles' Sgt. Pepper's Lonely Hearts Club Band in its annual ranking, although it still faces a strong challenge from the Doors' debut for the top spot.
These 3 albums from 1967 are all top 6 inside the most successful albums of the 60s.
On this list, Electric Ladyland ranks close to the top 10 thanks to its superb score of 27 million sales. Only the Beatles can claim a duo of 60s albums with higher combined sales than Are You Experienced and Electric Ladyland, which effectively outdid the leading pairs for the decade from Simon & Garfunkel, aforementioned the Doors and Led Zeppelin.
Even if it lacks hits, Axis: Bold As Love posts an 8-digits total, while Band of Gypsys at 7.8 million and First Rays of the New Rising Sun at over 6 million do very well given their nature.
Logically, later albums are weaker although not doing bad by any means. South Saturn Delta and Valleys of Neptune are over 2 million each, while the last two are at about 700,000 units.
Many early recordings and jam sessions fuel the orphan folder to nearly 9 million sales too.
Add everything together, and you get one of the most shocking CSPC total out of all artists we studied so far: Jimi Hendrix moved over 105 million equivalent album sales. Not bad for a guitarist who passed away 3 years after getting noticed.
Singles CSPC results
The list is compiled in album equivalent sales generated by each song. Therefore, these figures are not merged units of singles formats. Instead, it includes weighted sales of the song's physical single, download, ringtone and streaming as well as its share among sales of all albums on which it is featured.
1. 1968 – Jimi Hendrix Experience – All Along the Watchtower [Electric Ladyland] – 17,330,000
2. 1967 – Jimi Hendrix Experience – Purple Haze [Are You Experienced] – 13,950,000
3. 1966 – Jimi Hendrix Experience – Hey Joe [Are You Experienced] – 9,900,000
4. 1967 – Jimi Hendrix Experience – Little Wing [Axis: Bold as Love] – 6,200,000
5. 1968 – Jimi Hendrix Experience – Voodoo Child (Slight Return) [Electric Ladyland] – 5,390,000
6. 1970 – Jimi Hendrix – Hear My Train A Comin' [Band of Gypsys] – 4,910,000
7. 1967 – Jimi Hendrix Experience – Red House [Are You Experienced] – 4,470,000
8. 1967 – Jimi Hendrix Experience – Foxy Lady [Are You Experienced] – 4,130,000
9. 1967 – Jimi Hendrix Experience – The Wind Cries Mary [Are You Experienced] – 3,000,000
10. 1967 – Jimi Hendrix Experience – Fire [Are You Experienced] – 1,790,000
11. 1966 – Jimi Hendrix – Stone Free [Valleys of Neptune] – 1,670,000
12. 1970 – Jimi Hendrix – Angel [First Rays of the New Rising Sun] – 1,630,000
12. 1968 – Jimi Hendrix Experience – Crosstown Traffic [Electric Ladyland] – 1,630,000
14. 1967 – Jimi Hendrix Experience – Castles Made of Sand [Axis: Bold as Love] – 1,380,000
15. 1970 – Jimi Hendrix – Freedom [First Rays of the New Rising Sun] – 1,120,000
If you feel inspired by this list, we just created this CSPC Jimi Hendrix playlist on Spotify!
Discography results
Thanks to our new ASR (Artist Success Rating) concept, we know that his sales represent 34.56 million times the purchase of his entire discography. Coupled with his total sales, it translates into an ASR score of 341.
It is similar to the score of artists like Creedence Clearwater Revival and Bryan Adams. The ranking of all artists studied so far is available too at this link.
Records & Achievements
At 81.6 million EAS, the 60s catalog of Jimi Hendrix is among the top 10 most successful discographies of the decade.
At 39,294,000 EAS, Are You Experienced is the 2nd most successful album from 1967.
At 10,312,000 EAS, Axis: Bold As Love is among the 15 most successful albums from 1967.
At 26,964,000 EAS, Electric Ladyland is the 3rd most successful album from 1968.
At 39,294,000 EAS, Are You Experienced is the 2nd most successful album from 1967.
At 17,330,000 EAS, All Along the Watchtower is among the 3 most successful songs from 1968.
At 17,330,000 EAS, All Along the Watchtower is among the 10 most successful songs from the 60s.
At 13,950,000 EAS, Purple Haze is among the 5 most successful songs from 1967.
At 9,900,000 EAS, Hey Joe is among the 10 most successful songs from 1966.
NB: EAS means Equivalent Album Sales.
You may be interested in…
… best-selling artists, albums, and singles
To improve your navigation we created several amazing cross-artists lists posted inside the CSPC: Data Collector article. Click on it to see the full listing of all CSPC results compiled so far!
… similar artists
To put figures from this article into perspective, click on the images below to reach career breakdowns of similar artists: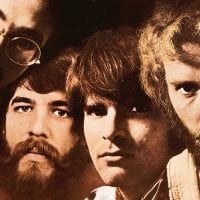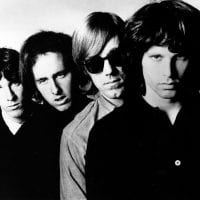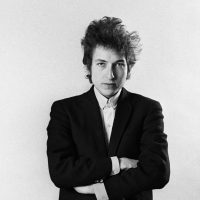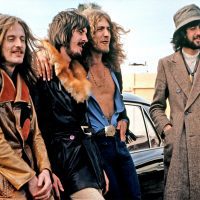 As usual, feel free to comment and / or ask a question!
Sources: IFPI, Spotify, YouTube, Discogs.