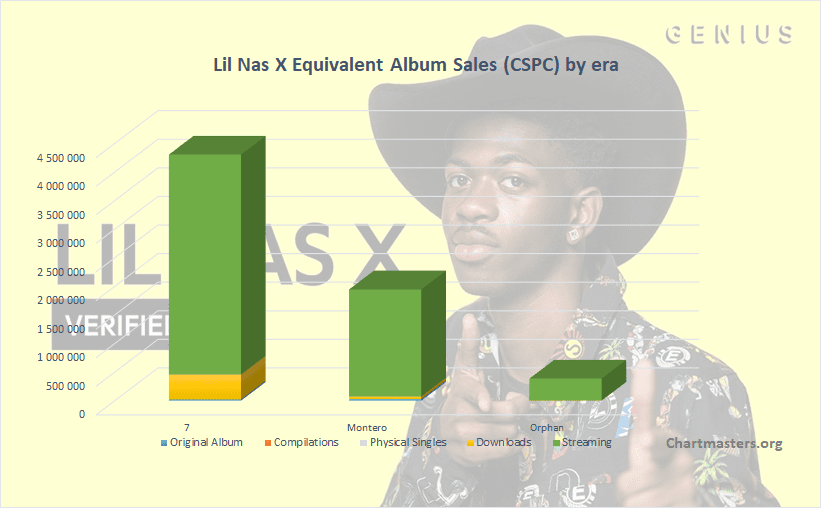 Lil Nas X will forever be this breakthrough artist who logged 19 weeks at #1 on the Hot 100 with Old Town Road, the longest chart topper of all-time.
A hit of this magnitude is virtually impossible to follow up, but the singer has been flooding airwaves and streaming playlists anew in 2021. How well is he doing?
Read more about the CSPC methodology
Lil Nas X Albums Sales
Figures listed in this section reflect pure sales of long playing formats, either albums, compilations or videos. Streams are excluded.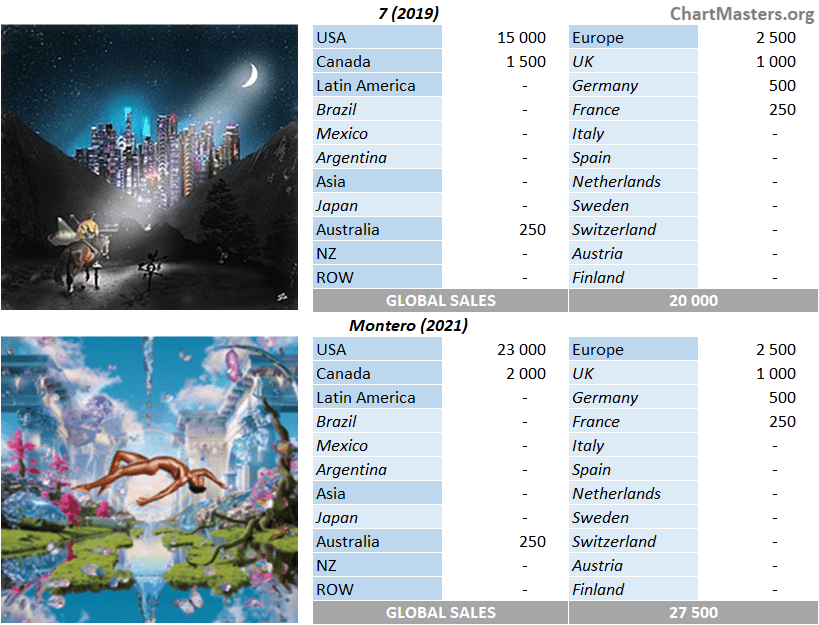 Lil Nas X Songs Sales
Figures listed in this section reflect all metrics of songs' sales, these are audio streams, video streams, and sales (physical singles, downloads, ringtones).
These numbers are converted into Equivalent Albums Sales (EAS), formula below.
( Spotify streams * 310/207 + Genie streams * 3.05*2 + AWA streams * 100/5.5 ) / 1500 + ( QQ views* 50(or 5) + YouTube views ) / 11750 + Digital sales (DL+RT) * 0.15 + Physical sales * 0.30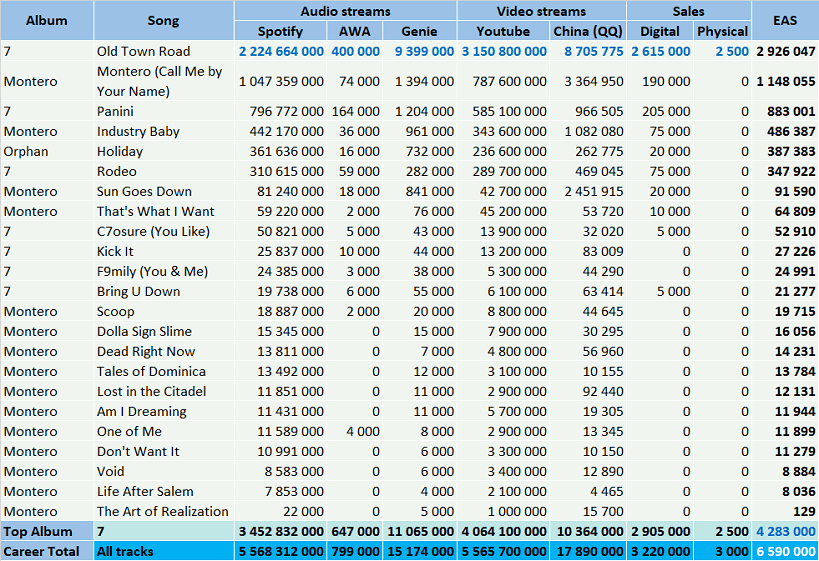 Search for up to date Spotify streams of the artist
Lil Nas X CSPC Results
In the following results table, all categories display figures in equivalent album sales. If different, pure sales are listed between parentheses.
#
Cover
Album
Total CSPC
Sales*
Streams
Total CSPC
Studio Albums
Other LPs
Physical Singles
Digital Singles
Last verified
Auto update
Daily Increase
1
7
4,664,000
20,000
0
1,000(3,000)
436,000(2,910,000)
3,847,000 (09/29/21)
4,207,000 (06/29/22)
Av.: 1,320LD: 1,320
4,664,000
2
Montero
4,495,000
28,000
0
0(0)
44,000(300,000)
1,875,000 (09/29/21)
4,423,000 (06/29/22)
Av.: 9,330LD: 9,330
4,495,000
3
Orphan
387,000
0
0
0(0)
3,000(20,000)
384,000 (09/29/21)
N/A
N/A
387,000
*Pure sales figures updated on 09/29/21. 'Av.' stands for Average, 'LD' for Last Day.
As a reminder:
Studio Album: sales of the original album
Other Releases: sales of compilations generated thanks to the album
Physical Singles: sales of physical singles from the album (ratio 3/10)
Download Singles: sales of digital singles from the album (ratio 1,5/10)
Streaming: equivalent album sales of all the album tracks (ratio 1/1500 for Audio stream and 1/6750 for Video stream)
See where the artist ranks among remaining singers
Numbers of Old Town Road are phenomenal. Over 2.2 billion on Spotify, 3.15 billion on YouTube, top results in Asian platforms, and 2.6 million downloads, a terrific number by 2019 standards.
Yet, Lil Nas X managed to avoid the one-hit wonder tag. Panini and Montero (Call Me by Your Name) add for 2 million equivalent album sales, while Industry Baby and That's What I Want are currently #2 and #9 globally on Spotify.
Don't rule out Holiday returning to charts this winter.
With a tiny catalog and next to no physical record released, the hip hop star records 6.6 million equivalent album sales to date.
Singles CSPC results
The list is compiled in album equivalent sales generated by each song. Therefore, these figures are not merged units of singles formats. Instead, it includes weighted sales of the song's physical single, download, ringtone and streaming as well as its share among sales of all albums on which it is featured.
1. 2017 – Lil Nas X (ft. Billy Ray Cyrus) – Old Town Road [7] – 2,940,000
2. 2018 – Lil Nas X – Montero (Call Me by Your Name) [Montero] – 1,160,000
3. 2018 – Lil Nas X – Panini [7] – 890,000
Dynamic Spotify Key Performance Indicators
Please note that numbers below are retrieved automatically, so they will evolve day by day unlike previously listed data which is valid as of the publication date of the article.
Lil Nas X
Current followers count: 11,285,998
11,000,000 followers have been reached on 05/31/22 10,000,000 followers have been reached on 03/20/22
>> Daily breakdown
Lil Nas X is #115 among the most followed artists of all-time
>> Visit our Top 200 most followed artists ranking
Current streams count: 8,341,883,502
8,000,000,000 streams have been reached on 05/05/22 7,000,000,000 streams have been reached on 01/14/22 6,000,000,000 streams have been reached on 10/26/21 5,000,000,000 streams have been reached on 08/31/21 4,000,000,000 streams have been reached on 05/24/21 3,000,000,000 streams have been reached on 12/10/20
>> Daily breakdown
Lil Nas X is #89 among the most streamed artists of all-time Popularity Rating: 82/100
>> Visit our Top 1,000 most streamed artists ranking
>> Visit our Top 20 highest rated artists ranking
Current monthly listeners: 43,905,602
(Trend:
-1,041,909
)
Global chart position: #35
The artist top 50 cities come from
26 distinct countries
>> Global impact breakdown