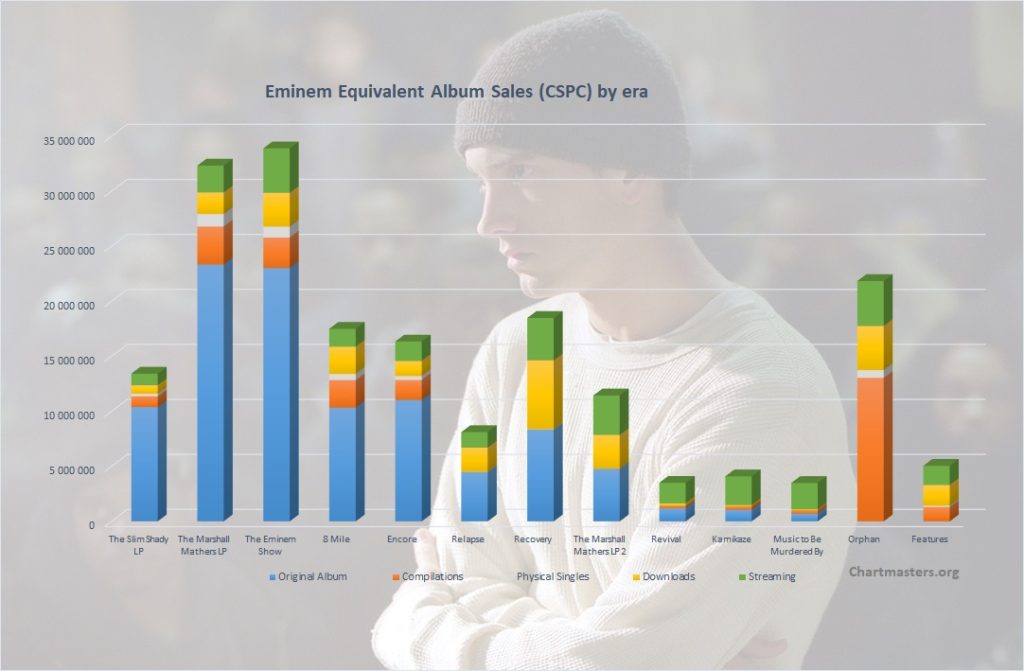 If you wonder how big Eminem is, just think that among the artists who debuted in the last 30 years, he is the obvious #1.
The iconic rapper shaped an entire generation with songs that are still massively popular today, such as The Real Slim Shady, Lose Yourself, Without Me, and Love The Way You Lie.
Before signing to a major record label at the end of the 1990s, Eminem dropped his debut studio album in 1996. The album, released only in cassette and LP formats, remained unnoticed with sales close to zero.
In early 1999 though, the rapper issued his first album with Dr Dre's Aftermath Entertainment, The Slim Shady LP. The set was an immediate success, debuting at #2 in his native US and spawning his first Top 40 hit, My Name Is.
A year later in 2000, the new superstar sold a massive 1.78 million copies in a week with The Marshall Mathers LP. In the US, the record became the fastest-selling album by a solo artist until Adele surpassed it in 2015.
The rapper wasn't showing any signs of slowing down, as his 2002 effort The Eminem Show became another Diamond record in the US. The lead single, Without Me, remains one of the most streamed songs of the 2000s.
Later that year, Eminem starred in a film centered around his life titled 8 Mile. Both the film and its soundtrack were hugely successful, and spawned Lose Yourself, which was the 28th biggest song of the 2000s per Billboard.
But things didn't stop there for the global hit maker, as he continued to be untouchable through the 2000s decade and the beginning of the 2010s with hugely successful records such as Encore, Recovery and The Marshall Mathers LP 2.
How is this amazing run translated into sales? How strong Eminem is in comparison to his peers?
As usual, I'll be using the Commensurate Sales to Popularity Concept in order to relevantly gauge his results. This concept will not only bring you sales information for all Eminem' albums, physical and download singles, as well as audio and video streaming. In fact, it will also determine their true popularity.
If you are not yet familiar with the CSPC method, below is a nice and short video of explanations. I fully recommend watching it before getting into the sales figures. Of course, if you are a regular visitor feel free to skip the video and get into the numbers directly.
The Commensurate Sales to Popularity Concept (CSPC)
There are two ways to understand this revolutionary concept. In the first place, there is this Scribe video posted below. If you are unaware of the CSPC method, you will get the full idea within just a pair of minutes.
If you are a mathematical person, and want to know the full method as well as formulas, you can read the full introduction article.
Now let's get into the artist's sales figures in detail in order to apply this concept and define the act's true popularity!
Eminem Album Sales

Original Album Sales – Comments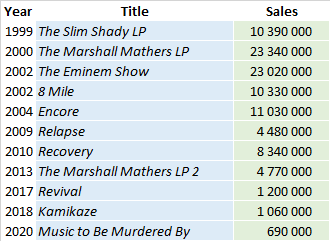 On top of having one of the biggest peaks of all time, Eminem has been incredibly consistent through his career.
At 10.4 million, The Slim Shady LP was a great start for the rapper. Nearly 70% of its sales come from one country, making it his most US-centric album.
The Marshall Mathers LP and The Eminem Show enjoy similar sales and sit comfortably at 23.34 million and 23.02 million, respectively. It goes without saying that both of these albums are among the top sellers ever.
Inside the rap genre, they are quite simply the number one and number two best selling albums of all-time.
The 8 Mile soundtrack was incredibly successful, becoming Eminem's fourth consecutive 10 million seller.
The rapper managed to hit 8 digits for the fifth time with Encore, which pulls a massive 11.03 million and even manages to outsell the 8 Mile soundtrack.
After a four-year break due to personal issues, Eminem returned in 2009 with Relapse. It suffers a massive 60% decline from its predecessor, but still scores a respectable 4.48 million.
Just a year later in 2010, he came back with another massively successful album, Recovery. That's a fitting title, isn't it? At 8.34 million, the record marks a huge 85% increase from its predecessor.
Three years later, Eminem dropped The Marshall Mathers LP 2. This album did not match the success of his previous record, but 4.77 million is certainly a massive figure for 2013.
It happens to everybody at some point, right? Revival was a massive disappointment, only selling 1.20 million to date. While that's not a terrible number by 2017 standards, it certainly looks like it when you used to average 11 million at some point.
Just 8 months later, Kamikaze was surprise-released. The album pulls similar numbers to its predecessor, reaching the 1 million mark. It is now clear that pure sales are only made of purchases from his core fan-base nowadays.
Music to Be Murdered By followed the footsteps of the previous pair of albums, moving 690,000 pure units mostly on the back of his fanbase.
Cumulatively, these studio albums, as well as the 8 Mile soundtrack, have sold a massive 98.65 million copies so far.
Eminem Songs Sales

Physical Singles

As a reminder, the weighting is done with a 10 to 3 ratio between one album and one physical single.
The rapper was big in 1999-2004 years, a period during which physicals were truly dying in the US but still fairly relevant in Europe and Oceania.
In fact, the singer hardly ever got a proper single released in his homeland. He did so only with D12 hit Purple Hills. He got tons of hits elsewhere though.
It all started with My Name Is that shot him to fame. The song was especially strong in the UK, selling 380,000 units while reaching #2.
The Real Slim Shady was even larger in the UK, notably topping charts. It was also a sizable top 10 hit in both Germany and France where the previous single struggled. That led the song to well over a million sales.
Stan was a non-event in the US, reaching #58 inside the Hot 100 thanks to modest airplay. In Europe yet, it was a major hit.
The song was #1 in the UK / Ireland, in Germany / Switzerland / Austria, in Denmark / Finland, and more. It sold over half a million units in each the UK, Germany, and France, en route for 2.2 million sales in total, a tremendous figure with no US release.
From 2002 to 2004, various singles got top 10 placings in most relevant markets. Songs like Cleanin' Out My Closet, Sing For The Moment, Just Lose It, Like Toy Soldier, My Band averaged about half a million physical sales.
The period was marked by two true smashes, Without Me and Lose Yourself. They sold 4 million units combined while going to #1 in most countries. The latter had especially outstanding sales in a few markets, selling in 6 digits in Japan and over a third of a million in Australia.
Apart from Smack That in 2006, following years were quiet. That's also when physical singles disappeared in Europe and Australia. As a consequence, none of his subsequent releases sold even 100,000 copies globally.
All of it is still worth a whopping 14.3 million physical singles which is a rare figure for an artist who debuted at the end of the 90s.

Digital songs

As a reminder, the weighting is done with a 10 to 1,5 ratio between one album and one digital single.
A lot of Eminem's big hits came out before iTunes even existed, thus, as a result, we wouldn't expect the legendary rapper to have outstanding results in this format. But that couldn't be any further from the truth.
Among Eminem's catalog there are several songs that continue to shine as if they were just getting started.
Lose Yourself is the best example of this. The song came out several months before the iTunes store even launched, but somehow has managed to pull a massive 15.5 million in spite of the market limits it faced.
But the rapper is no one-hit wonder and that's not the end of it. Even a song like The Real Slim Shady, released as far back as 2000, manages to pull the extraordinary figure of 5 million.
Other massive catalog hits for Eminem include Without Me at 4.6 million, Stan at 3.8 million, Mockingbird at 2.9 million, Superman at 2.35 million, and Cleanin' Out My Closet, Like Toy Soldiers and My Name Is at 2.1 million each.
Maybe even more incredible are sales of 'Till I Collapse. This 2002 song was never issued as a single, but gained attention through the years until exploding once used on Call of Duty commercials. It sold a tremendous 6.6 million units to date.
The superstar's tremendous digital power isn't limited to old songs, though. His top seller remains the Rihanna infused Love The Way You Lie, which has sold a massive 18.65 million to date. Not Afraid from the same album comes third at 11.8 million.
Remaining tracks of this album, highly popular at the peak of downloads, also did wonders. Some album cuts like Cinderella Man moved more than 1.3 million units. The era total tops 41 million.
Before that, even the less successful Relapse was responsible for a combined 20 million downloads. Each of the 4 singles sold from 3 to 7 million copies.
In 2013 the golden years continued. The Monster, featuring Rihanna too, from The Marshall Mathers LP 2, pulls a huge 8.2 million. Berzerk and Rap God sold over 3 million each.
After this release, downloads dropped drastically. River still sold a very respectable 790,000 units, but this format is now virtually dead.
In the meantime, several orphan songs and features are also huge sellers, such as Akon's Smack That at 9 million, Dr. Dre's I Need a Doctor at 4.4 million, and his own songs like Lighters and Shake That at 4.2 million and 4.7 million, respectively.
All in all, Eminem has sold over 206 million downloads – an outstanding result for a singer who issued half of his discography before the start of this era!

Streaming
Streaming is made up of audio and video streams. Our CSPC methodology now includes both to better reflect the real popularity of each track. The main source of data for each avenue is respectively Spotify and YouTube.
To factor in the growing impact of multiple Asian countries where these platforms aren't always the go-to site for music streaming, more sources have been added.
In order to account for their real popularity in each relevant country, the below sources have been used along with the mentioned ratios that reflect the market share of each area.
Audio Streams
– South Korea: Genie streams * 2.20 (consistent with Gaon streaming numbers)
– Japan: AWA streams * 68 / 4 (AWA has 4% of the Japanese streaming market, and 32% are already considered through Spotify's extrapolation)
– Arabic world: Anghami streams
– Sub-Saharan Africa: Boomplay + Audiomack streams
– Elsewhere: Spotify streams * 649 / 406 (649 million subscribers of global platforms like Spotify, Apple Music, Amazon Music, YouTube Music, Deezer, etc. against 406 million from Spotify itself) + Genie streams * 2.20 (uses Genie rather than Spotify to extrapolate markets like Taiwan, Thailand and Vietnam)
Video Streams
– China* : QQ video streams * 50 if the song is available for audio stream, QQ video streams * 5 elseway (scale built based on known figures for several major artists)
– Elsewhere : Youtube views increased by 10% to account for various local platforms
*since Chinese streaming platforms are mostly video streaming platforms, their streams are weighted on par with YouTube streams.
Audio Stream value – 1,500 plays equal 1 album unit
Video Stream value – 6,750 views equal 1 album unit
Equivalent Albums Sales (EAS) = ( Spotify * 649/406 + Genie * 2.20 * 2 + AWA * 68 / 4 + Anghami + Boomplay + Audiomack ) / 1500 + ( QQ views* 50(or 5) + YouTube * 1.1 ) / 6750
Top Hits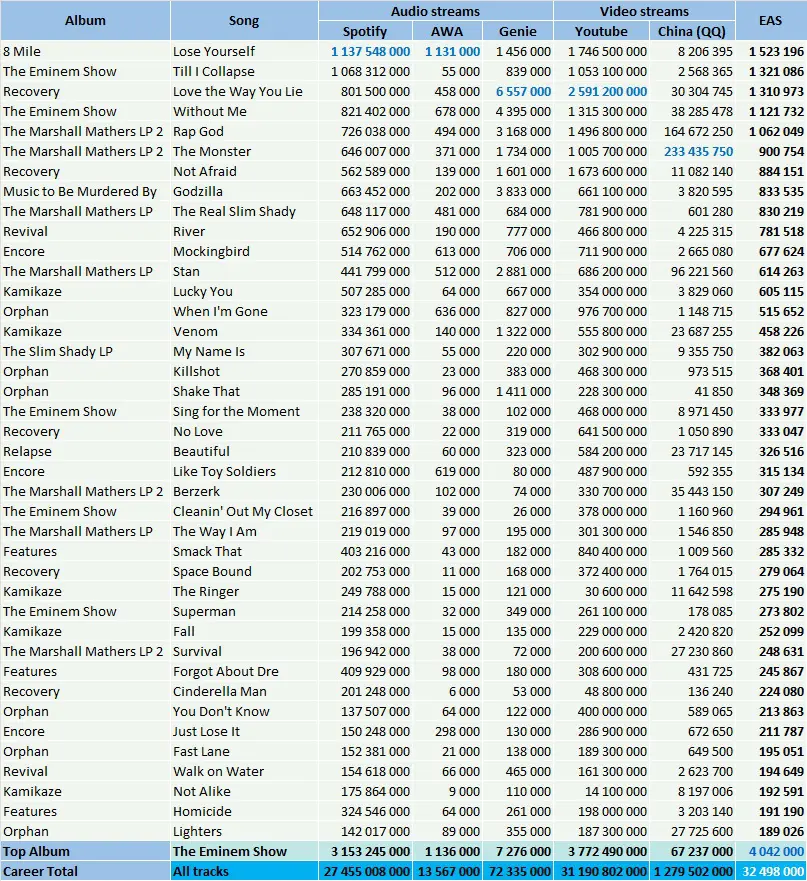 Is there a metric Eminem doesn't excel in? Not many acts can claim they have twelve songs above 500 million streams on Spotify – especially among those who debuted in the 90s!
At 1.3 million EAS, Lose Yourself is the rapper's top track. It has over 1.1 billion streams on Spotify alone, making it the most streamed track of the 2000s.
Despite being released many years before the streaming era, 'Till I Collapse impressively reaches 1.07 billion streams on Spotify and 1.05 billion views on YouTube for a total of 1.16 million EAS.
Love The Way You Lie comes on 3rd place with over 2.5 billion views on YouTube and 802 million Spotify streams.
Without Me proves to be another timeless smash for the icon, reaching 821 million streams on Spotify and 1.3 billion views on YouTube. This track is responsible for 961k EAS.
The Monster and Rap God from The Marshall Mathers LP 2 rack up well over 600 million Spotify streams each. Both are also over a billion views on YouTube. Combined, they are responsible for over 1.6 million EAS for the album.
The Real Slim Shady is the oldest song inside Eminem's Top 10, amassing 648 million Spotify streams and 782 million YouTube views.
At 585k EAS, Mockingbird remains the most revisited from the Encore album.
Full catalog breakdown
If you are familiar with the artist's catalog and want to check details of each and every song, you can access to all of them right here.
Keep yourself up to date
Our website provides you a fantastic tool which fetches updated Spotify streams as you request them, use it to watch these results grow day after day!
Eminem compilations sales
It sounds fairly logical to add together weighted sales of one era – studio album, physical singles, downloads, streams – to get the full picture of an album's popularity. For older releases though, they also generate sales of various live, music videos and compilation albums.
All those packaging-only records do not create value, they exploit the value originating from the parent studio album of each of its tracks instead. Inevitably, when such compilations are issued, this downgrades catalog sales of the original LP.
Thus, to perfectly gauge the worth of these releases, we need to re-assign sales proportionally to its contribution of all the compilations which feature its songs. The following table explains this method.
The distribution process

How to understand this table? In the example of Curtain Call, these figures mean it sold 11,200,000 units worldwide. The second statistics column means all versions of all the songs included on this package add for 6,581,755 equivalent album sales from streams of all types.
The second part on the right of the table shows how many equivalent streams are coming from each original album, plus the share it represents on the overall package.
Thus, streaming figures tell us songs from the Encore album are responsible for 16% of the Curtain Call track list attractiveness. This means it generated 1,745,000 of its 11,200,000 album sales and so forth for the other records. We then apply this process to all compilations present on below table.
Compilations sales figures listing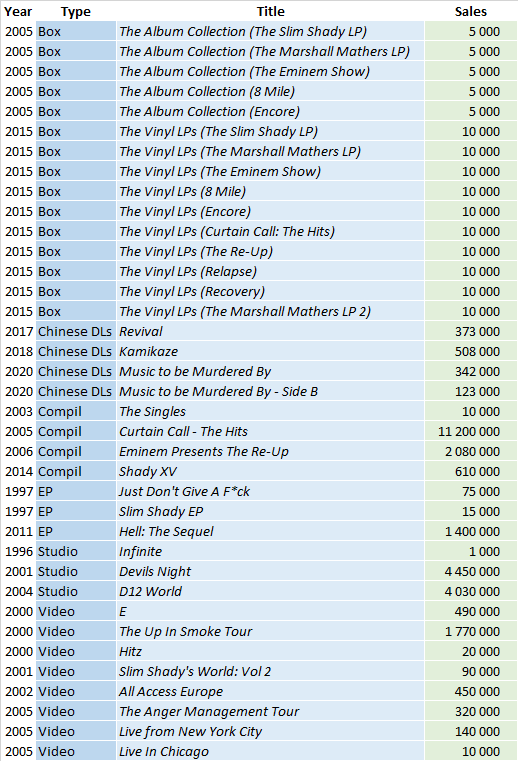 Curtain Call is one of the last major selling compilations. The catalog of the rapper is so popular that it comes as no surprise.
His incredible popularity also led side projects to great sales. We can name The Re-Up and Shady XV projects as well as D12 albums, namely Devil's Night and D12 World.
Eminem belongs to these global stars who sell everywhere. Revival, Kamikaze and Music to Be Murdered By moved great numbers in China for someone who's more than 15 years after his peak.
As a bonus, below is the breakdown of the top selling records.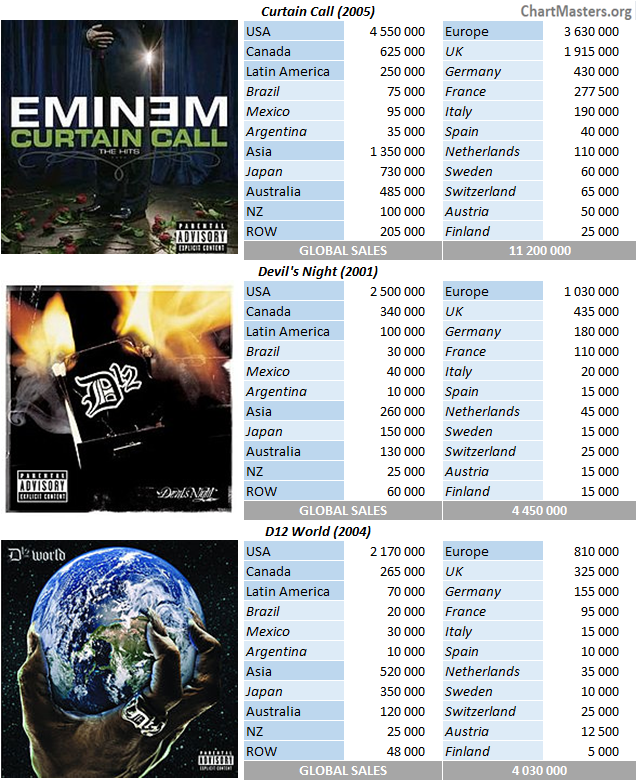 Full Length related records Sales – Summary

Here is the most underestimated indicator of an album's success – the amount of compilation sales of all kinds it generated. Due to the dependency of sales of the original studio albums on these releases, they are a key piece of the jigsaw.
These numbers are obtained by applying the method from the section The distribution process to all packages listed under Compilation sales figures listing category.
Total Album (all types) Sales per Country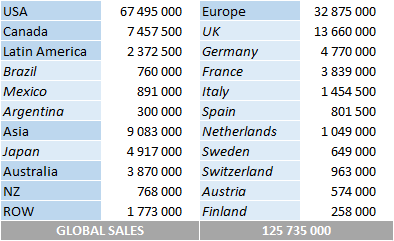 Please note country-specific numbers may miss sales of a few minor releases, although totals are complete.
Eminem Career CSPC Results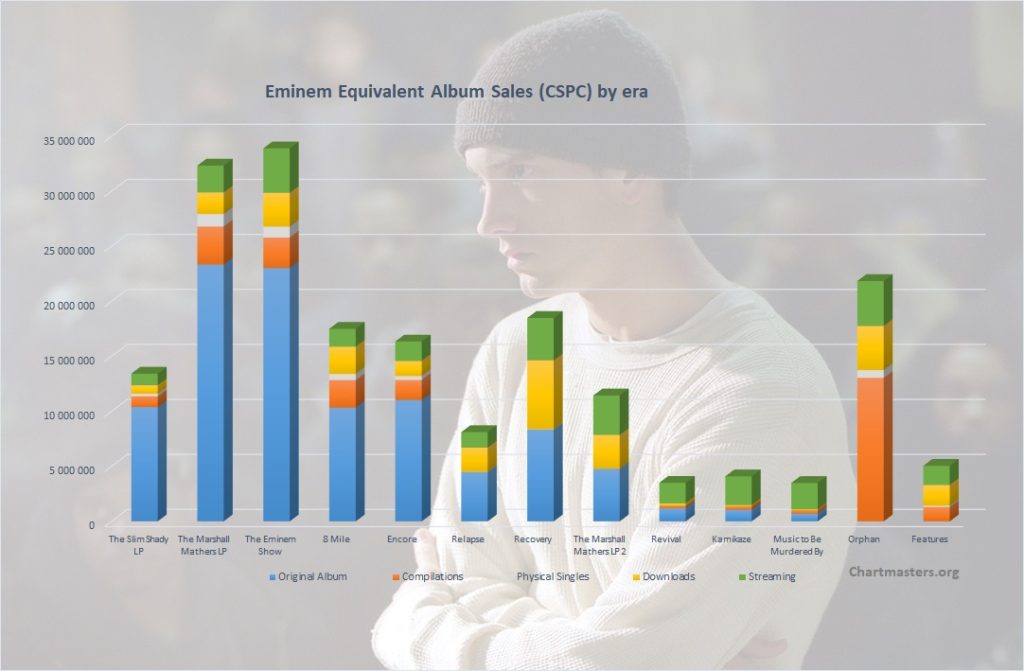 So, after checking all the figures, how many overall equivalent album sales has each album by Eminem achieved? Well, at this point we hardly need to add up all of the figures defined in this article!
Albums CSPC results
In the following results table, all categories display figures in equivalent album sales. If different, pure sales are listed between parentheses.
#
Cover
Album
Total CSPC
Sales*
Streams
Total CSPC
Studio Albums
Other LPs
Physical Singles
Digital Singles
Last verified
Auto update
Daily Increase
1
The Slim Shady LP
13,664,000
10,390,000
976,000
237,000(791,000)
765,000(5,100,000)
1,053,000 (06/22/21)
1,296,000 (06/24/22)
Av.: 660LD: 710
13,664,000
2
The Marshall Mathers LP
33,308,000
23,340,000
3,450,000
1,146,000(3,820,000)
1,953,000(13,020,000)
2,443,000 (06/22/21)
3,419,000 (06/24/22)
Av.: 2,660LD: 3,090
33,308,000
3
The Eminem Show
35,147,000
23,020,000
2,770,000
990,000(3,300,000)
3,075,000(20,500,000)
4,042,000 (06/22/21)
5,292,000 (06/24/22)
Av.: 3,410LD: 4,120
35,147,000
4
8 Mile
17,925,000
10,330,000
2,506,000
566,000(1,885,000)
2,474,000(16,490,000)
1,623,000 (06/22/21)
2,049,000 (06/24/22)
Av.: 1,160LD: 1,350
17,925,000
5
Encore
16,712,000
11,030,000
1,817,000
360,000(1,200,000)
1,368,000(9,120,000)
1,767,000 (06/22/21)
2,137,000 (06/24/22)
Av.: 1,010LD: 1,130
16,712,000
6
Relapse
8,384,000
4,480,000
10,000
23,000(76,000)
3,062,000(20,410,000)
1,407,000 (06/22/21)
1,681,000 (06/24/22)
Av.: 750LD: 770
8,384,000
7
Recovery
19,233,000
8,340,000
10,000
39,000(130,000)
6,245,000(41,630,000)
3,849,000 (06/22/21)
4,599,000 (06/24/22)
Av.: 2,040LD: 2,110
19,233,000
8
The Marshall Mathers LP 2
11,896,000
4,770,000
10,000
8,000(25,000)
3,060,000(20,400,000)
3,594,000 (06/22/21)
4,048,000 (06/24/22)
Av.: 1,240LD: 1,280
11,896,000
9
Revival
3,685,000
1,200,000
224,000
3,000(10,000)
203,000(1,350,000)
1,875,000 (06/22/21)
2,055,000 (06/24/22)
Av.: 490LD: 440
3,685,000
10
Kamikaze
4,698,000
1,060,000
305,000
0(0)
110,000(730,000)
2,617,000 (06/22/21)
3,223,000 (06/24/22)
Av.: 1,650LD: 1,150
4,698,000
11
Music to Be Murdered By
4,425,000
690,000
328,000
0(0)
72,000(480,000)
2,402,000 (06/22/21)
3,335,000 (06/24/22)
Av.: 2,540LD: 1,950
4,425,000
12
Orphan
21,841,000
0
13,045,000
696,000(2,321,000)
4,014,000(26,760,000)
4,086,000 (06/22/21)
N/A
N/A
21,841,000
13
Features
5,045,000
0
1,306,000
228,000(761,000)
4,340,000(28,930,000)
1,742,000 (06/22/21)
N/A
N/A
5,045,000
*Pure sales figures updated on 06/22/21. 'Av.' stands for Average, 'LD' for Last Day.
As a reminder:
Studio Album: sales of the original album
Other Releases: sales of compilations generated thanks to the album
Physical Singles: sales of physical singles from the album (ratio 3/10)
Download Singles: sales of digital singles from the album (ratio 1,5/10)
Streaming: equivalent album sales of all the album tracks (ratio 1/1500 for Audio stream and 1/6750 for Video stream)
See where the artist ranks among remaining singers
If there's something to applaud here besides the gigantic sales for The Marshall Mathers LP and The Eminem Show, it is Eminem's tremendous consistency.
Other than his last three efforts, every album listed here has done no less than 8 million EAS. This is particularly impressive as the global superstar has released a total of 11 studio albums.
The rapper's consistency becomes even clearer thanks to CSPC. As we can see, Recovery is now more successful than Encore in spite of selling 25% less in original album format.
We can also notice that in recent years The Eminem Show has been surpassing The Marshall Mathers LP. The raise in profile of 'Till I Collapse gave it the edge in the long run.
Both Revival, Kamikaze and Music to Be Murdered By stand out like a sore thumb, as they don't match the success of the rapper's previous efforts.
However, we can see that Kamikaze has overtaken its predecessor, and Music to Be Murdered By is catching Kamikaze, which is a good sign for future releases.
These albums are also both fairly new, which means something when comparing them to albums that have been enjoying from 10 to 20 years of strong catalog sales.
It's worth noticing too that while they aren't blockbusters, these recent albums are very decent sellers in general terms and stand as quite successful once you consider the singer will turn 50 in 2022.
Eminem has always been very active with side projects which is perfectly revealed into the monstruous Orphan Album figure. The material he dropped outside of his solo albums sold the equivalent of over 21.8 million, more than the full career of many current stars, plus 5 million from features.
The career total of 189.5 million equivalent album sales of Eminem in 22 years is simply outstanding.
He has already overtaken legendary acts such as Rod Stewart, Mariah Carey, Eagles, Bruce Springsteen, ABBA, Metallica and Bee Gees. It's only a matter of time before the mega successful rapper joins the elusive 200 million club.
Singles CSPC results
The list is compiled in album equivalent sales generated by each song. Therefore, these figures are not merged units of singles formats. Instead, it includes weighted sales of the song's physical single, download, ringtone and streaming as well as its share among sales of all albums on which it is featured.
1. 2002 – Eminem – Lose Yourself [8 Mile] – 16,090,000
2. 2000 – Eminem – The Real Slim Shady [The Marshall Mathers LP] – 11,590,000
3. 2002 – Eminem – Without Me [The Eminem Show] – 10,560,000
4. 2002 – Eminem ft. Nate Dogg – 'Till I Collapse [The Eminem Show] – 9,830,000
5. 2000 – Eminem ft. Dido – Stan [The Marshall Mathers LP] – 8,810,000
6. 2010 – Eminem ft. Rihanna – Love the Way You Lie [Recovery] – 6,980,000
7. 2004 – Eminem – Mockingbird [Encore] – 6,410,000
8. 1999 – Eminem – My Name Is [The Slim Shady LP] – 5,270,000
9. 2010 – Eminem – Not Afraid [Recovery] – 4,590,000
10. 2000 – Eminem – The Way I Am [The Marshall Mathers LP] – 3,880,000
11. 2013 – Eminem ft. Rihanna – The Monster [The Marshall Mathers LP 2] – 3,340,000
12. 2004 – Eminem – Like Toy Soldiers [Encore] – 3,150,000
13. 2002 – Eminem – Sing for the Moment [The Eminem Show] – 3,120,000
14. 2013 – Eminem – Rap God [The Marshall Mathers LP 2] – 2,980,000
15. 2002 – Eminem – Cleanin' Out My Closet [The Eminem Show] – 2,940,000
16. 2004 – D12 – My Band [Orphan] – 2,640,000

If you feel inspired by this list, we just created this CSPC Eminem playlist on Spotify!
Discography results
Thanks to our new ASR (Artist Success Rating) concept, we know that his sales represent 29.56 million times the purchase of her entire discography. Coupled with his total sales, it translates into an ASR score of 423.
It is similar to the score of artists like Bruce Springsteen, The Doors, and Guns N' Roses. The ranking of all artists studied so far is available too at this link.
Records & Achievements
At 189,501,000 EAS, Eminem is the most successful artist who debuted after 1983.
At 189,501,000 EAS, Eminem is far and away the most successful rapper of all-time.
At 32,332,000 EAS, The Marshall Mathers LP is the second most successful album from 2000.
At 33,897,000 EAS, The Eminem Show is the most successful album from 2002.
At 17,499,000 EAS, 8 Mile is the 6th most successful album from 2002.
At 16,342,000 EAS, Encore is the 5th most successful album from 2004.
At 18,483,000 EAS, Recovery is the 3rd most successful album from 2010.
At 15,860,000 EAS, Lose Yourself is the most successful song of the millennium.
At 204,920,000 downloads and ringtones, Eminem is the 2nd highest selling artist of all-time in this format.
At 32,500,000 EAS, Eminem is the 5th most streamed artist of all-time.
At 15,450,000 downloads and ringtones, Lose Yourself is the highest selling pre-iTunes era song in this format.
At 1,137,548,000 streams, Lose Yourself is the 5th most streamed on Spotify which predates the platform.
Released on December 6, 2005, Curtain Call is the last 10-million selling compilation.
In pure sales, The Marshall Mathers LP, The Eminem Show, 8 Mile, Encore, Recovery, The Marshall Mathers LP 2, Revival, and Kamikaze have all been among the top 10 sellers of their year of release.
NB: EAS means Equivalent Album Sales.
You may be interested in…
… best-selling artists, albums, and singles
To improve your navigation we created several amazing cross-artists lists posted inside the CSPC: Data Collector article. Click on it to see the full listing of all CSPC results compiled so far!
… similar artists
To put figures from this article into perspective, click on the images below to reach career breakdowns of similar artists: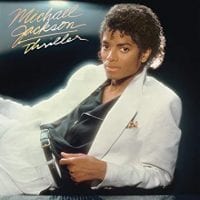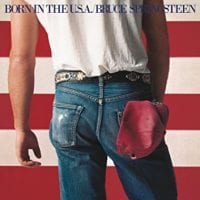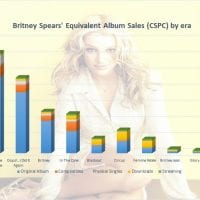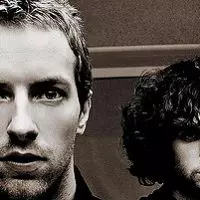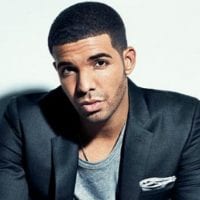 As usual, feel free to comment and / or ask a question!
Sources: IFPI, Spotify, YouTube, Discogs.