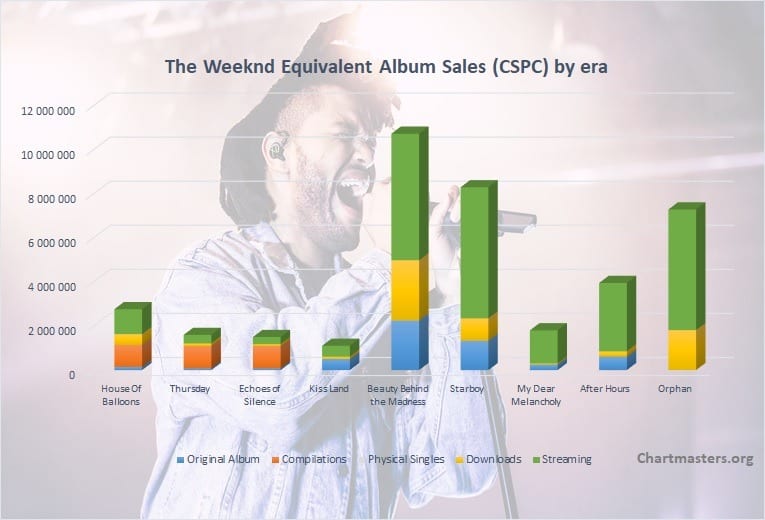 It's been exactly 6 months since we reviewed The Weeknd's career sales and achievements.
His latest effort After Hours is the most streamed English-language album of the year with an insane 3 billion streams on Spotify alone.
Today, we will find out just how much has changed since the release of the R&B superstar's fourth studio album.
Get to know The Weeknd
Who is the Weeknd?
The Weeknd, real name Abel Makkonen Tesfaye, is a Canadian singer born in Toronto in February 16, 1990. His parents came from Ethiopia before his birth.
What's his style of music?
Often listed under Hip Hop columns, the Weeknd is prominently a singer of R&B. His innovative sound and dark themes have been critically acclaimed since his 2011 debut mixtape House of Balloons.

He often mentioned Michael Jackson and Prince as his main sources of inspiration, with songs like I Feel It Coming having real vibes of the former.
Hasn't he debuted around 2015/2016?
While his first cross-over hits came in this period, the singer has been busy releasing material since early 2011. That year, he issued 3 mixtapes.
They were self-released and available for free on his website. Combined, the 3 albums are believed to have been downloaded over 8 million times, building a lot of hype for the artist online. He was quickly noticed by his mentor Drake and later signed by Republic Records.
The label packaged the mixtapes together under the compilation Trilogy. The 160-minutes, $20+ release shocked the industry by selling 86,000 copies in its first week in the US alone.
Some 20 years ago, when divas were everywhere, Canadians were dominating the music industry with the likes of Celine Dion, Shania Twain and Alanis Morissette.
Nowadays, streaming beasts are the real deal. The type of acts and the way music is consumed changed, but Canadians are still doing it best.
If Justin Bieber and Drake are the two flagships of the country, The Weeknd has very little reasons to be envious of them.
#1 in the US, the UK, Australia, France and Germany, among others, Blinding Lights is one of many hits for the artist.
Up to 5 chart toppers in the US as well as 73 Hot 100 charted songs, the new generation icon is no one hit wonder either.
How does he compete against the biggest artists of our era though? And against his elders?
As usual, I'll be using the Commensurate Sales to Popularity Concept in order to relevantly gauge his results. This concept will not only bring you sales information for all Weeknd's albums, physical and download singles, as well as audio and video streaming, but it will also determine their true popularity.
If you are not yet familiar with the CSPC method, the next page explains it with a short video. I fully recommend watching the video before getting into the sales figures. Of course, if you are a regular visitor feel free to skip the video and get into the figures.
The Commensurate Sales to Popularity Concept (CSPC)
There are two ways to understand this revolutionary concept. The first is the Scribe video posted below. If you are unaware of the CSPC method, you will get the full idea within just a few minutes.
If you are a mathematical person, and want to know the full method as well as formulas, you can read the full introduction article.
Now let's get into the artist's sales figures in detail in order to apply this concept and define the act's true popularity!
The Weeknd Albums Sales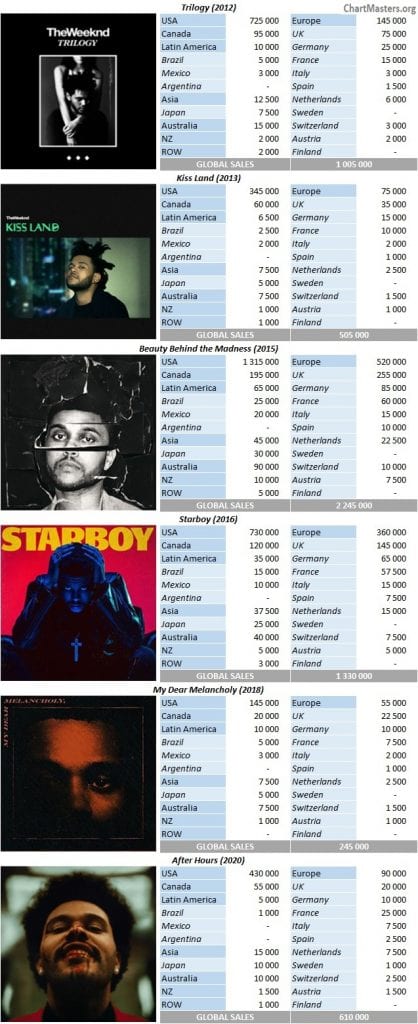 Original Album Sales – Comments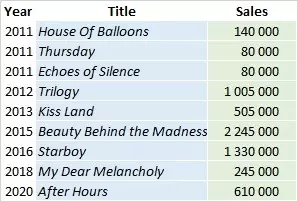 As previously stated, he debuted with 3 mixtapes, House of Balloons, Thursday and Echoes of Silence.
These albums sold effectively no copy back then since they were given away digitally.
In 2015 though, they were released in physical formats at last, enjoying decent catalog sales ever since then, sales which are listed on the second table.
In-between, Trilogy, which packages them, was released. It sold just over a million units.
Once we consider the price of the album, its length, that millions of people got its content for free, and that it was made of 1.5 years old mixtape songs, its sales are amazing.
As this album is effectively a box set of the previous ones, its sales will be assigned to each of the individual efforts.
Kiss Land, technically his debut album and described by the artist as a "horror movie"-like album, failed to appeal the masses, selling half a million copies.
Beauty Behind the Madness was his consecration. The LP sold over 2.2 million in spite of a difficult context for pure sales, and a strong impact in streaming.
The same applies to the 1.3 million seller Starboy.
My Dear Melancholy is listed as well and seems very low at 240,000 copies, even for 2018 standards. As an EP though, it was short lived with only 1 single, naturally not doing as well as its predecessors.
After Hours stands at 610,000 units so far, a great figures nowadays. To put things into perspective, this would have put it inside the Top 20 Global Album chart in 2019.
All in all, the Weeknd has sold over 6.2 million albums, which is a respectable figure for an act that broke into mainstream as late as in 2014, when streaming was starting to take over.
Total solo Album (all types) Sales per Country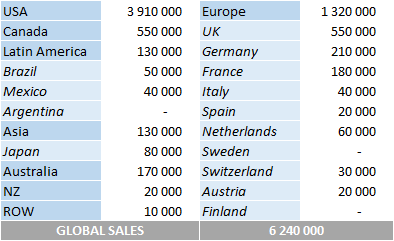 Please note country-specific numbers may miss sales of some minor releases, although continental and global totals are complete.
The Weeknd Songs Sales

Physical Singles Sales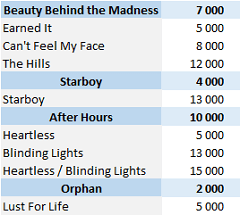 As a reminder, the weighting is done with a 10 to 3 ratio between one album and one physical single.
In the big picture, these numbers have obviously no impact at all.
The fact that an urban singer who debuted well after the collapse of physical singles got 8 releases in this format is telling though.
It means there are collectors for the Weeknd. In a day and age where these collectors represent a bigger and bigger share of physical products consumers, it's an important element.
In fact, he also enjoys significant catalog sales thanks to his LPs selling pretty well.

Digital Songs

As a reminder, the weighting is done with a 10 to 1,5 ratio between one album and one digital single.
None of the songs from the 3 early mixtapes crushed charts since they were given away for quite some time.
Wicked Games is the only song which made the US Hot 100, peaking at #53.
The fact these songs were available for free at first doesn't take off their organic popularity though.
Since these songs became available for sale, they kept getting downloaded continuously.
This led Wicked Games to nearly 1.5 million sales up to date, with songs like High for This, The Morning, Twenty Eight, The Zone, D.D. also getting decent numbers.
Songs from Kiss Land failed to gain traction, adding for 650,000 units combined.
After this release, the Weeknd performed a few much buzzed featurings, this includes Love Me Harder with Ariana Grande and Elastic Heart with Sia.
He then contributed to the Fifty Shades of Grey soundtrack with Earned It. The song was his first lead to go top 10 in both the US and the UK, selling over 4 million units globally in the process.
Both The Hills and Can't Feel My Face were even more successful, both reaching #1 in the US and selling almost 5 million units in spite of a market largely switching to streaming.
Starboy went to #1 in many markets, including the US, selling nearly 3 million copies.
With streaming taking over an ever larger part of the market at each quarter, I Feel It Coming sold a bit below 2 million.
By 2018, downloads were done, and even the My Dear Melancholy EP lead single Call Out My Name couldn't sell more than 250,000 units.
The smash Blinding Lights is up to 1.2 million units so far. While it might not seem like a huge number, seven digit figures are becoming more and more rare in 2020.
Overall, the singer has moved more than 44 million downloads and ringtones.

Streaming
Streaming is made up of audio and video streams. Our CSPC methodology includes both to better reflect the real popularity of each track. The main source of data for each avenue is respectively Spotify and YouTube.
To factor in the growing impact of multiple Asian countries where these platforms aren't always the go-to site for music streaming, more sources have been added.
In order to account for their real popularity in each relevant country, the below sources have been used along with the mentioned ratios that reflect the market share of each area.
Audio Streams
– South Korea : Genie streams * 3.05 (consistent with Gaon streaming numbers)
– Japan : AWA streams * 100/5.5 (AWA has 5.5% of the Japanese streaming market)
– Elsewhere : Spotify streams * (370 – 8.5 – 9.5 – 33 – 9) / 207 (370 million global subscribers minus 8.5 million from South Korea minus 9.5 million from Japan minus 33 million from China divided by the number of Spotify only users minus 9 million more Asian users) + Genie streams * 3.05 (uses Genie rather than Spotify to extrapolate markets like Taiwan, Thailand and Vietnam)
Video Streams
– China* : Xiami streams * 125/6.5 (Xiami has just over 5% of the Chinese streaming market)
– Elsewhere : Youtube views
*since 96.4% of Chinese streaming platforms are free users, that paid-for users pay less than $2 a month and that they are also used as video streaming platforms, their streams are weighted in par with YouTube streams.
Audio Stream value – 1500 plays equal 1 album unit
Video Stream value – 11,750 views equal 1 album unit
Equivalent Albums Sales (EAS) = ( Spotify * 310/207 + Genie * 3.05*2 + AWA * 100/5.5 ) / 1500 + ( Xiami * 125/6.5 + YouTube ) / 11750
Top Hits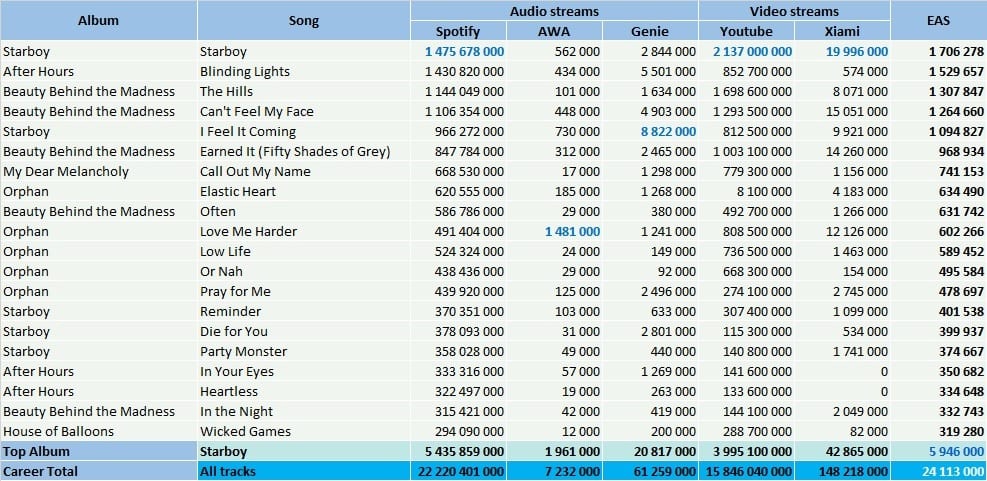 Less than a year after its release, Blinding Lights is on its way to take the crown from 2016 smash Starboy as the Weeknd's top streaming hit on Spotify.
YouTube tells a very different story, however. Starboy still maintains a huge lead at over 2 billion views, therefore remaining at the top spot overall.
Can't Feel My Face and The Hills are on a virtual tie, with barely 40,000 units separating them. The latter is slightly ahead thanks to larger success on Spotify.
I Feel It Coming isn't that far behind, looking at 1 billion Spotify streams in the near future, while Earned It is fairly huge as well to complete the top 5.
The rest of the top 10 is heavily packed too with songs around half a billion streams on Spotify and over 500,000 EAS in total.
This includes the fast growing Blinding Lights. The song is Top 10 still in the World right now with over 3 million daily streams.
We can also mention that songs which haven't sold that much because of the dying download format register very consistent numbers on streams.
This is the case of the likes Reminder and Die For You which add for over 800,000 EAS combined.
Album cuts over his entire discography are very strong too. To illustrate this situation, out of the 18 songs from Starboy, 17 are over 100 million on Spotify and the last one stands at 97 million.
Starboy, the album, adds for 5.4 billion streams on Spotify and 4 billion on YouTube.
At 5.95 million EAS, this is his strongest streaming record with Beauty Behind the Madness close behind.
Full catalog breakdown
If you are familiar with the artist's catalog and want to check details of each and every song, you can access to all of them right here.
Keep yourself up to date
Our website provides you a fantastic tool which fetches updated Spotify streams as you request them, use it to watch these results grow day after day!
The Weeknd Career CSPC Results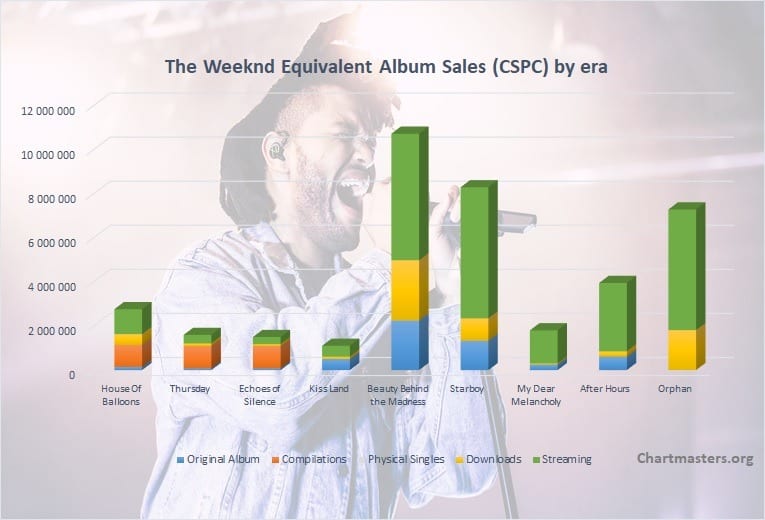 So, after checking all the figures, how many overall equivalent album sales has each album by The Weeknd achieved? Well, at this point we hardly need to add up all the figures defined in this article!
In the following results table, all categories display figures in equivalent album sales. If different, pure sales are listed between parentheses.
#
Cover
Album
Total CSPC
Sales*
Streams
Total CSPC
Studio Albums
Other LPs
Physical Singles
Digital Singles
Last verified
Auto update
Daily Increase
1
House Of Balloons
3,141,000
140,000
1,005,000
0(0)
485,000(3,230,000)
1,133,000 (09/26/20)
1,511,000 (06/24/22)
Av.: 600LD: 690
3,141,000
2
Thursday
1,736,000
80,000
1,005,000
0(0)
123,000(820,000)
387,000 (09/26/20)
528,000 (06/24/22)
Av.: 220LD: 220
1,736,000
3
Echoes of Silence
1,617,000
80,000
1,005,000
0(0)
89,000(590,000)
325,000 (09/26/20)
443,000 (06/24/22)
Av.: 190LD: 180
1,617,000
4
Kiss Land
1,212,000
505,000
0
0(0)
98,000(650,000)
501,000 (09/26/20)
609,000 (06/24/22)
Av.: 170LD: 170
1,212,000
5
Beauty Behind the Madness
12,660,000
2,245,000
2,000
7,000(24,000)
2,628,000(17,520,000)
5,741,000 (09/26/20)
7,676,000 (06/24/22)
Av.: 3,040LD: 3,350
12,660,000
6
Starboy
10,402,000
1,330,000
2,000
4,000(13,000)
1,007,000(6,710,000)
5,946,000 (09/26/20)
8,053,000 (06/24/22)
Av.: 3,310LD: 4,960
10,402,000
7
My Dear Melancholy
2,466,000
245,000
1,000
0(0)
51,000(340,000)
1,503,000 (09/26/20)
2,166,000 (06/24/22)
Av.: 1,040LD: 2,390
2,466,000
8
After Hours
9,151,000
610,000
0
1,000(4,000)
83,000(550,000)
3,104,000 (09/26/20)
8,301,000 (06/24/22)
Av.: 8,170LD: 6,170
9,151,000
9
Dawn FM
0
0
0
0(0)
0(0)
0 (01/07/22)
N/A
N/A
0
10
Dawn FM (Alternate World)
1,747,000
0
0
0(0)
0(0)
0 (N/A)
1,747,000 (06/24/22)
Av.: 0LD: 0
1,747,000
11
Dawn FM (Alternate World)
1,740,000
0
0
0(0)
0(0)
0 (N/A)
1,740,000 (06/24/22)
Av.: 0LD: 0
1,740,000
12
Orphan
7,287,000
0
0
2,000(5,000)
1,803,000(12,020,000)
5,473,000 (09/26/20)
N/A
N/A
7,287,000
*Pure sales figures updated on 09/26/20. 'Av.' stands for Average, 'LD' for Last Day.
As a reminder:
Studio Album: sales of the original album
Other Releases: sales of compilations generated thanks to the album
Physical Singles: sales of physical singles from the album (ratio 3/10)
Download Singles: sales of digital singles from the album (ratio 1,5/10)
Streaming: equivalent album sales of all the album tracks (ratio 1/1500 for Audio stream and 1/6750 for Video stream)
See where the artist ranks among remaining singers
After getting downloaded for free like crazy as mixtapes, House of Balloons, Thursday and Echoes of Silence still racked up a lot of sales.
The most awarded of them, House of Balloons, is up to 2.76 million, with more than 1.1 million coming from streams alone, so expect it to continue its rise in the future.
While not as strong, the following two add for over 3 million combined.
Kiss Land debuted well and then failed to have legs during its promotional campaign. Time is being kind to it though as it's performing well in recurrent streams which now pushes it to more than 1 million sales.
In just 6 months, Beauty Behind the Madness has increased by half a million units. Its total is now a whopping 10.7 million.
While Starboy is not as strong its predecessor, its total of 8.3 million is enough to place it among one of the most successful albums in recent years and will easily reach the 10 million mark at some point.
The EP My Dear Melancholy confirms that anything the singer puts out is a safe bet at nearly 2 million.
After Hours is now nearing 4 million despite being available for a mere 6 months. Could it match its predecessors despite spawning less hits? Well, with Blinding Lights still going strong inside the Top 10 on many global charts, one can expect it does just that.
Through the years, the Weeknd also posted a lot of successful tracks outside of his main releases, tracks which add for 7.3 million units in the orphan folder.
The singer's career total is now up to exactly 39 million equivalent album sales. Having increased by 5.5 million since the last update in March, it is only a matter of months until it cracks 40 million.
Singles CSPC results
The list is compiled in album equivalent sales generated by each song. Therefore, these figures are not merged units of singles formats.
Instead, it includes weighted sales of the song's physical single, download, ringtone and streaming as well as its share among sales of all albums on which it is featured.
1. 2015 – The Weeknd – The Hills [Beauty Behind the Madness] – 2,550,000
2. 2016 – The Weeknd ft. Daft Punk – Starboy [Starboy] – 2,530,000
3. 2015 – The Weeknd – Can't Feel My Face [Beauty Behind the Madness] – 2,480,000
4. 2020 – The Weeknd – Blinding Lights [After Hours] – 2,010,000
5. 2014 – The Weeknd – Earned It (Fifty Shades of Grey) [Beauty Behind the Madness] – 2,000,000
6. 2016 – The Weeknd ft. Daft Punk – I Feel It Coming [Starboy] – 1,630,000
7. 2014 – The Weeknd – Often [Beauty Behind the Madness] – 1,100,000
If you feel inspired by this list, we just created this CSPC The Weeknd playlist on Spotify!
Discography results
Thanks to the ASR (Artist Success Rating) concept, we know that the singer's sales represent 8.94 million times the purchase of his entire discography. Coupled with his total sales, it translates into an ASR score of 106.
Records & Achievements
At 18.0 billion, The Weeknd is the 7th most streamed artist of all-time on Spotify (artist page songs only).
At 10,725,000 EAS, Beauty Behind the Madness is the 5th most successful album of the last 5 years.
At 10,725,000 EAS, Beauty Behind the Madness is the 3rd most successful album from 2015.
At 8,295,000 EAS, Starboy is the 3rd most successful album from 2016.
Starboy was the first album ever to gain over 400 million audio streams in its first week across all platforms.
At 287 days, Blinding Lights owns the longest run ever in Spotify's Top 10 Global chart.
NB : EAS means Equivalent Album Sales
You may be interested in…
… best-selling artists, albums, and singles
To improve your navigation we created several amazing cross-artists lists posted inside the CSPC: Data Collector article. Click on it to see the full listing of all CSPC results compiled so far!
… similar artists
To put figures from this article into perspective, click on the images below to reach career breakdowns of similar artists: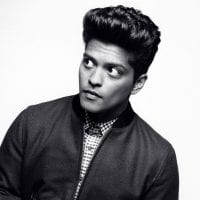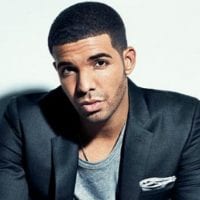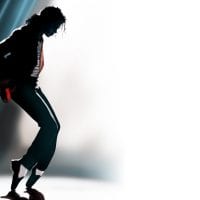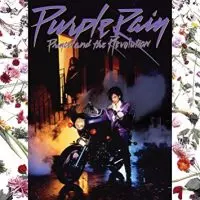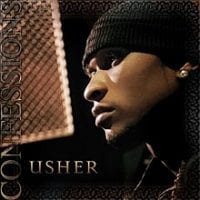 As usual, feel free to comment and / or ask a question!
Sources: IFPI, Spotify, YouTube, Discogs.