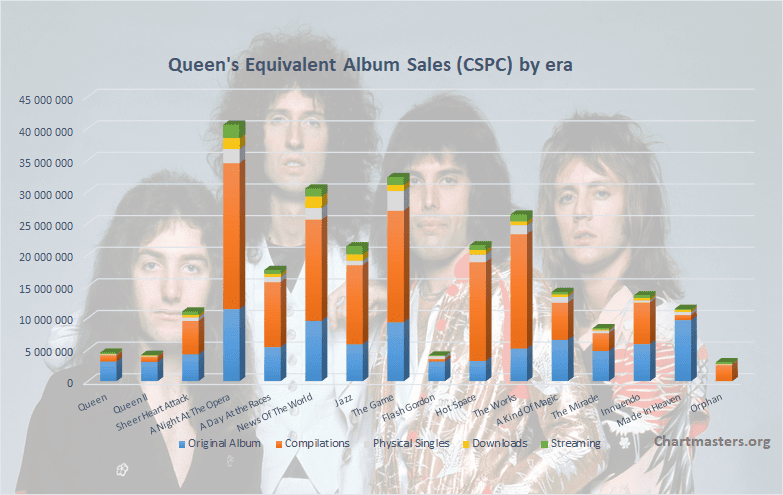 Bohemian Rhapsody, Don't Stop Me Now, Under Pressure, I Want to Break Free, We Will Rock You, We Are The Champions, Another One Bites the Dust, etc. the list of songs by Queen speaks for itself.
The Freddie Mercury-led band from London, UK, shook the world with their iconic hits from 1973 to 1991.
Over 28 years after the passing of their singer, their valuable catalog is as hot as ever.
In fact, their evergreen success has become even more incredible since the Bohemian Rhapsody biopic who led a new generation to discover these classic rock heroes.
Who are Queen?
Queen are a 4-members rock band from the UK, formed at the start of the 70s. From 1971 to 1991, the lineup never changed with Freddie Mercury (lead vocals and piano), Brian May (guitar and vocals), Roger Taylor (drums and vocals), and John Deacon (bass guitar).
Who wrote their songs?
Queen is kinda unique in that all members wrote songs that contributed to their success.
Mercury wrote Bohemian Rhapsody, We Are The Champions, Don't Stop Me Now, among others, May is most notably responsible for We Will Rock You, Fat Bottomed Girls and The Show Must Go On, Deacon is the author of Another One Bites The Dust and I Want To Break Free while Taylor contribution came later on songs like These Are the Days of Our Lives, Innuendo and One Vision.
Is the band still active?
Yes, after dropping some posthumous tracks of their late singer during the 90s, the remaining members of the band decided to recruit a new lead singer in later years. Paul Rodgers was elected from 2004 to 2009. Since 2011, Adam Lambert sings for the band who continues touring.
As much as we are tempted to believe the band was massive from day 1 up to the end, in reality their career wasn't that easy.
They grew album after album until making it big time with their fourth LP, A Night at the Opera in 1975. It contained their breakthrough smash Bohemian Rhapsody.
The follow-up, A Day at the Races, was seen as some kind of disappointment at first, News of the World was huge, Jazz average, The Game huge in some places and weak in others, Flash Soundtrack flopped, as did Hot Space.
During the 80s, they never recovered their success in the US while it took them a long time before selling a noteworthy album figures in France and Italy… You get the picture.
Their career was similar to the song Bohemian Rhapsody with epic moments and others fairly quiet.
Along with the ups and downs, among the Classic Rock groups Queen also never received the immaculate press that accompanied the likes of the Beatles, Pink Floyd, Rolling Stones and Led Zeppelin.
For many years, mostly because of lower sales in the US, their success wasn't rated nearly as high as the success of the previously named rock bands either.
Queen were usually put alongside the likes of U2, the Eagles and AC/DC.
Where do they really rank according to the facts? What are the biggest hits among all their golden tracks? Which albums are the most successful once the sales of compilations they generated are factored in?
As usual, I'll be using the Commensurate Sales to Popularity Concept in order to relevantly gauge their results. This concept will not only bring you sales information for all Queen' albums, physical and download singles, as well as audio and video streaming, but it will also determine their true popularity.
If you are not yet familiar with the CSPC method, the next page explains it with a short video. I fully recommend watching the video before getting into the sales figures. Of course, if you are a regular visitor feel free to skip the video and get into the figures.
The Commensurate Sales to Popularity Concept (CSPC)
There are two ways to understand this revolutionary concept. The first is the Scribe video posted below. If you are unaware of the CSPC method, you will get the full idea within just a few minutes.
If you are a mathematical person, and want to know the full method as well as formulas, you can read the full introduction article.
Now let's get into the artist's sales figures in detail in order to apply this concept and define the act's true popularity!
Queen Albums Sales

Original Album Sales – Comments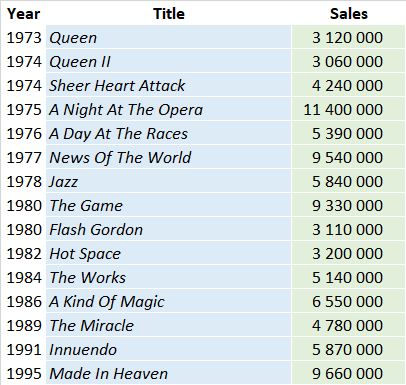 Queen sold 90.23 million studio albums over 15 releases, a solid average of 6 million per effort.
The most surprising fact for an act that registered out-of-this-world smashes, as well as hard core bombs, is to see that every album sold at least half of their average while none of them managed to double it.
How can we explain that every album is so close in spite of singles received very differently?
I often mention two kind of buyers, the regular ones, among which are fans, and the casual ones.
The behaviour of fans is easy to understand, they try to collect the full discography of their favorite artist.
In the other side, the purchase of casual consumers will depend on how the catalog of an act is exploited.
If the artist has no compilation, the album containing their signature song will be purchased, which increases the gap between the most popular and less popular albums as years pass by.
If the artist has tons of hits, a compilation will be favored by the casual buyer when available.
This situation results in regular buyers / fans having a much larger impact on sales of studio albums, which explains the linearity of Queen who clearly belong to this category of artists.
In fact, there are tons of compilations of the band available, their discography is too large anyway to continue pushing their studio sets.
In other words, this already big 90 million figure is only part of the picture, big pieces are still missing from the jigsaw. We are going to study them as well below!
You may notice the absence of The Cosmos Rocks, a studio album from 2008 by Queen + Paul Rodgers.
As it was sold using the trademark of the band, it is included into their total. Considering the absence of Mercury though, we can hardly include it among the traditional studio albums. This 400,000-units selling side project is consequently moved into the Orphan category.
Queen Songs Sales

Physical Singles Sales

As a reminder, the weighting is done with a 10 to 3 ratio between one album and one physical single.
The self titled debut album Queen wasn't a hit. While the band started to build a name from it, the LP failed to enter the album chart in the UK while peaking at #83 in the US.
No single entered the charts in either country although Keep Yourself Alive racked up decent sales from various markets.
In their second era, Seven Seas of Rhye failed to hit the US charts but broke the main audience in their native UK by hitting #10.
Killer Queen was their first true big hit though. Along with it being their first US Hot 100 entry, reaching as high as #12, it peaked at #2 in the UK. All over the world, even in Japan, the song sold well to bring its global total to almost 1.7 million.
With their name now established, Queen returned quickly in 1975 with A Night at the Opera.
The lead single Bohemian Rhapsody was an insane success in the UK, topping the charts for 9 weeks, a very rare achievement during the high years of physical singles sales. Selling more than a million there, the same feat was repeated in the US too although with a much more modest #9 peak.
The hit took its own revenge some 15 years late, by reaching a higher peak when re-entering at #2 in 1991 after the passing of Mercury, while also adding a further 5 more weeks at the top in the UK.
A solid seller on both versions everywhere, plus a few more reissues from time to time, led the song to an incredible total of over 6.1 million. You're My Best Friend adds its million too.
The biggest song of A Day at the Races was Somebody to Love which sold 2.2 million units across two releases.
It must be noted that Queen was releasing albums at a very fast pace, which limited their promotional campaigns to just two singles only along with a few minor ones here and there.
The promotion of News of the World started with the monster double-A single We Are the Champions / We Will Rock You. Incredibly enough, that single wasn't a #1. Nor in the US, nor in the UK, nor in Australia, Germany, Canada, Netherlands, etc.
Singles sales were massive then though, so solid Top 5 runs in most relevant markets was enough to enjoy a strong 5.2 million sales. Various reissues of those two songs have sold very well too.
Don't Stop Me Now is one of the leading tracks from Queen nowadays. It grew over time as it was far from being massive upon release.
The song peaked at #9 in the UK and bombed at #86 in the US. In the end, Jazz ended as their least successful era physical singles-wise since Sheer Heart Attack.
This was only a temporary downtime though as they returned to massive sales instantly.
Another One Bites the Dust was unstoppable in the US shifting 3 million units there while Crazy Little Thing Called Love came close to 2 million.
Those two songs sold 8.8 million copies combined. Adding the remaining singles from The Game bring the tally to more than 10 million, a rare achievement.
If albums of the band faced different fortunes, they all had their share of successful singles. Under Pressure from Hot Space, Radio Ga Ga and I Want to Break Free from The Works along the title track from A Kind of Magic, brought the string of consecutive albums with at least one 1-million selling single to 10!
They managed this in spite of their decreasing success in the US. Body Language sold 5 times less than Another One Bites the Dust in this country, but it still is easily the highest selling song from these albums there.
With the change in the music industry brought by Michael Jackson, albums were now exploited with more singles than one decade earlier. As a result, The Works had #2, #3, #6 and #13 singles in the UK in 7 months.
While their popularity went down in the US it increased in continental Europe. Great sales in countries like Germany and France enable a combined 10 million sales from singles of those albums.
The not-that-big sales of hits like I Want it All, Innuendo and The Show Must Go On can be explained by two main reasons.
The first is the lack of sales from the US. Indeed, in this market songs from these 3 albums combine for sales of less than half a million units.
The second reason is the increasing fan base of the band. In countries like the UK and Germany, fans of Queen were now clearly preferring studio albums to 2-track singles releases.
Despite this, the figures are great still. They are solid enough to top 1 million singles sold for each and every era from Sheer Heart Attack to Made In Heaven, 13 albums in a row spread over more than 20 years.
This outstanding consistency brings their career total just shy of 50 million physical singles sold.

Digital Songs
As a reminder, the weighting is done with a 10 to 1,5 ratio between one album and one digital single.
Interestingly, from the early part of their career the songs which remain popular to this day are the same ones as those who did well during the physical era some 40 years earlier.
Killer Queen thus easily leads this group of songs with a pleasing 2 million downloads and ringtones sold.
For comparison purposes, only one song from Madonna's back catalog sold more downloads than Killer Queen, the 1989 smash Like A Prayer at 2.1 million.
If songs like You're My Best Friend at 1.57 million or Somebody to Love at 2.71 million sold so well, we can wonder how many units the band's truly biggest hits sold.
We get the answer with Bohemian Rhapsody which is now over 9 million copies. No need to say this is the biggest selling 70s single on this format.
We Will Rock You is over 7 million. We Are the Champions stands at 4.68 million barrier, already an elite level for catalog songs.
Both LPs A Night at the Opera and News of the World accumulate more than 10 million downloads from their respective songs.

Fat Bottomed Girls, Another One Bites the Dust and Don't Stop Me Now continue this impressive run of super sellers in digital formats.
Don't Stop Me Now is especially impressive at 3.93 million. Barely known in the US at first, the song is getting bigger and bigger, even outselling Bohemian Rhapsody in the UK!
Does it ever stop? When we think that we have seen it all, there are more and more terrific sellers.
Under Pressure is up to a superb 4.21 million, I Want to Break Free is at 1.75 million, while songs like Radio Ga Ga, A Kind of Magic and Who Wants to Live Forever are great performers as well.
From latter years, two more million sellers emerge with The Show Must Go On and I Was Born to Love You.
Among artists who haven't released material during the digital era, you are hard pressed to find others up to an incredible 59.7 million downloads and ringtones sold to date.
In fact, they rank second only to Michael Jackson who did 67.5 million on his own with his pre-2000 songs

Streaming
Streaming is made up of audio and video streams. Our CSPC methodology includes both to better reflect the real popularity of each track. The main source of data for each avenue is respectively Spotify and YouTube.
To factor in the growing impact of multiple Asian countries where these platforms aren't always the go-to site for music streaming, more sources have been added.
In order to account for their real popularity in each relevant country, the below sources have been used along with the mentioned ratios that reflect the market share of each area.
Audio Streams
– South Korea : Genie streams * 3.05 (consistent with Gaon streaming numbers)
– Japan : AWA streams * 100/5.5 (AWA has 5.5% of the Japanese streaming market)
– Elsewhere : Spotify streams * (370 – 8.5 – 9.5 – 33 – 9) / 207 (370 million global subscribers minus 8.5 million from South Korea minus 9.5 million from Japan minus 33 million from China divided by the number of Spotify only users minus 9 million more Asian users) + Genie streams * 3.05 (uses Genie rather than Spotify to extrapolate markets like Taiwan, Thailand and Vietnam)
Video Streams
– China* : Xiami streams * 125/6.5 (Xiami has just over 5% of the Chinese streaming market)
– Elsewhere : Youtube views
*since 96.4% of Chinese streaming platforms are free users, that paid-for users pay less than $2 a month and that they are also used as video streaming platforms, their streams are weighted in par with YouTube streams.
Audio Stream value – 1500 plays equal 1 album unit
Video Stream value – 11,750 views equal 1 album unit
Equivalent Albums Sales (EAS) = ( Spotify * 310/207 + Genie * 3.05*2 + AWA * 100/5.5 ) / 1500 + ( Xiami * 125/6.5 + YouTube ) / 11750
Top Hits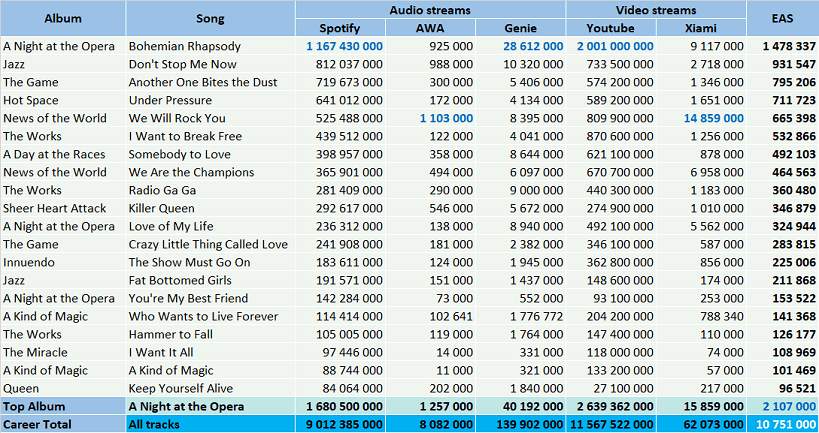 The reputation of Queen being a singles band appears to be clearly wrong with their streaming numbers.
The album Queen, arguably their least remembered, still has all its tracks with 2 million streams or more on Spotify.
On it, Keep Yourself Alive performs the best, their 19th top song with almost 100,000 EAS, which is already an awful lot for a catalog song.
Queen II does well with 120,000 EAS overall although it's not enough to place one of its songs inside the band's top 20.
Sheer Heart Attack lands the strong Killer Queen into the list at #10. With more than 250 million streams on both Spotify and YouTube it enters the league of monster catalog smashes at 347,000 EAS.
If performance from their supposedly weakest albums were already great, massive figures from their top records were to be expected.
A Night at the Opera still impresses. Bohemian Rhapsody has an unreal 1.17 billion streams on Spotify, making it quite simply the most streamed pre-2000 song on the platform.
Its YouTube views are huge too at just 2 billion. The great streams of both You're My Best Friend (#15) and Love of My Life (#11) are completely eclipsed by its domination.
Even the album's deep cuts crack 5 million streams on Spotify. It has 2.1 million EAS from streams, a real madness for a 1975 release.
A Day at the Races is strong too. It's main force is Somebody to Love with more than 1 billion streams combined.
You can hardly start a track list as strong as the one of News of the World. Both We Will Rock You and We Are the Champions are streaming beasts with equivalent album sales on 1.1 million units combined.
The former appear to be surprisingly their biggest song on both Japanese and Chinese platforms.
The album Jazz impresses with 3 solid hits, but more than anything it has Don't Stop Me Now well over 700 million on both Spotify and YouTube.
It is the second biggest song from the 70s, only topped obviously by their own Bohemian Rhapsody. Has someone ever doubted of Queen's organic popularity?
Both albums, News of the World and Jazz, are over 1.2 million equivalent album sales from streams. This strongly outperforms albums like Saturday Night Fever and Grease.
The value of Queen's catalog is definitely outstanding. At nearly 800,000 EAS, Another One Bites the Dust is among the 10 most streamed tracks from the 80s.
As a whole, the album The Game continues the streak of albums topping 1 million equivalent album sales from streams, making it their fourth in total.
No other artist has that many pre-2000 albums topping this mark. In fact, nobody has that many topping even 500,000. However, the Flash Gordon soundtrack is nowhere near these standards.
Here is more evidence that Queen weren't about momentum only. After the flop of Flash Gordon, they released the duet with David Bowie, Under Pressure. At 641 million streams on Spotify, the band adds one more smash that is by far bigger than the signature song of tons of A-League artists.
I Want to Break Free is on 440 million and 871 million on Spotify and YouTube, respectively. Radio Gaga and Hammer To Fall are big too. Their parent album, The Works, does crack the 1 million EAS mark as well.
Even with albums which have no song with incredible streaming figures, the band still finish up with great results.
A Kind of Magic has 5 songs over 30 million streams on Spotify, all of which reach that line on YouTube as well.
The album has over 350,000 equivalent album sales from streams. The Miracle is slightly lower at 209,000, a figure which would be a great result for most artists but appears weak due to the extremely high standards of Queen.
One more smash hit for the road. The Show Must Go On is appropriately titled, up to 184 million streams on Spotify.
It is the main driver of Innuendo which has 430,000 equivalent album sales. Made in Heaven hasn't held as strong as it did upon release with 204,000 equivalent album sales from streams.
We can notice that these 1986-1995 albums are lower than the previous ones.
They do not contain the band's biggest hits, and this period was also not covered by the biopic Bohemian Rhapsody. All considered, their average of 300,000 EAS is incredible.
Unlike most other acts, Queen never really relied on orphan songs. The huge majority of their singles were directly extracted from their albums and their compilations were promoted with reissues of former songs rather than the release of new ones.
That's why the only song with relevant streams from this list is their Christmas tune, Thank God It's Christmas.
Full catalog breakdown
If you are familiar with the artist's catalog and want to check details of each and every song, you can access to all of them right here.
Keep yourself up to date
Our website provides you a fantastic tool which fetches updated Spotify streams as you request them, use it to watch these results grow day after day!
Queen compilations sales
It sounds fairly logical to add together weighted sales of one era – studio album, physical singles, downloads, streams – to get the full picture of an album's popularity. For older releases though, they also generate sales of various live, music videos and compilation albums.
All those packaging-only records do not create value, they exploit the value originating from the parent studio album of each of its tracks instead. Inevitably, when such compilations are issued, it downgrades catalog sales of the original LP.
Thus, to perfectly gauge the worth of these releases, we need to re-assign sales proportionally to its contribution of all the compilations which feature its songs. The following table explains this method.
The distribution process

How to understand this table? If you check this example of Greatest Hits, these figures mean it sold 25,540,000 units worldwide. The second statistics column means all versions of all the songs included on this package add for 6,270,137 equivalent album sales from streams of all types.
The second part on the right of the table shows how many equivalent streams are coming from each original album, plus the share it represents on the overall package.
Thus, streaming figures tell us songs from A Night Of The Opera are responsible for 26% of the Greatest Hits tracklist attractiveness, which means it generated 6,647,000 of its 25,540,000 album sales, and so on for the other records.
Compilations sales figures listing

Full Length related records Sales – Summary

Here is the most underestimated indicator of an album's success – the amount of compilation sales of all kinds it generated. Due to the dependency of sales of the original studio albums on these releases, they are a key piece of the jigsaw
These numbers are obtained by applying the method from the section The distribution process to all packages listed under Compilation sales figures listing category.
Most of these numbers are outstanding. The band sold countless of records in all formats, boxes, compilations, EPs, live albums, music videos, etc.
Their top seller remain 1981's Greatest Hits at 25.5 million sales. This doesn't include the 8.75 million sales of the 1992 US release of the same name.
The former number does include the American disc Greatest Hits: We Will Rock You which is the same album as the 1981 set.
Greatest Hits II from 1991 sold 18.88 million units on its own, again without its US counterpart which moved 4.6 million.
While these are already tremendous figures, their 2-CD package sold 3.72 million and The Platinum Collection, which merged both compilations along with the volume III, sold 8.55 million. It's the best selling triple album of all-time.
In concrete words, the original Greatest Hits has been bought 37.81 million times through its 1, 2 and 3 CD releases. Here too, we aren't factoring in the US release which has a very different tracklist.
Altogether, their long players outside of their studio albums discography moved the magnificent total of 117 million units, with multi-discs packages fueling this figure to 140 million.
Incredibly, a lot of original albums contributed in providing strength to these packages.
A Night At The Opera fueled nothing less than 23 million compilations, but every other 1975-1984 release but Flash Gordon is responsible for over 10 million a piece.
The conclusion is quite clear. Even if studio albums aren't among the very top selling albums ever, it's only because their appeal was replaced very early by tons of compilations. Their real power is reflected over a lot of records, records which add for terrific totals.
As a bonus, please find below the top selling compilations.
Total solo Album (all types) Sales per Country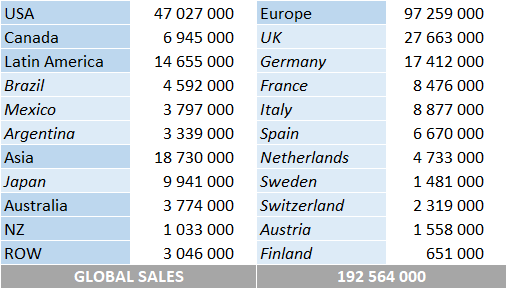 Please note country-specific numbers may miss sales of some minor releases, although continental and global totals are complete.
Queen Career CSPC Results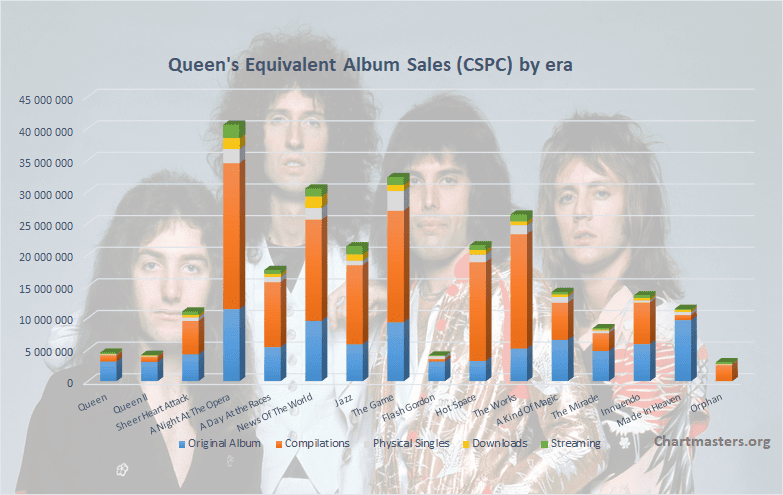 So, after checking all the figures, how many overall equivalent album sales has each album by Queen achieved? Well, at this point we hardly need to add up all the figures defined in this article!
In the following table, all categories display figures that way, e.g. in equivalent album sales. For example, singles from A Night At The Opera released in digital format sold the equivalent of 1,713,000 album albums – 11,420,000 downloads with a 10 to 1,5 weighting.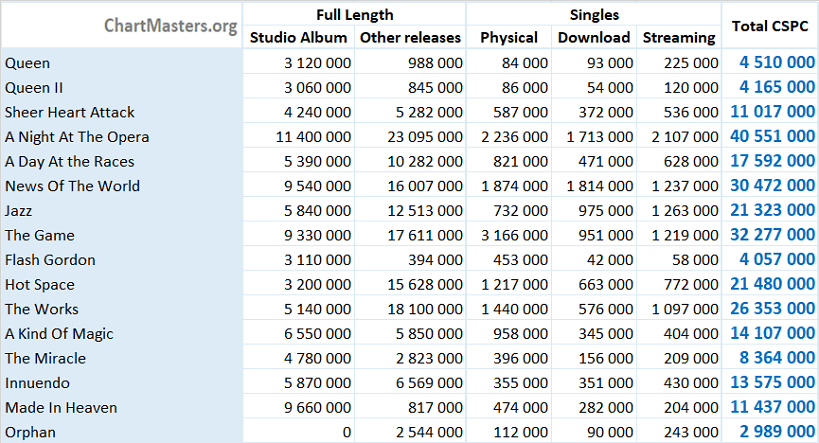 As a reminder:
Studio Album: sales of the original album
Other Releases: sales of compilations generated thanks to the album
Physical Singles: sales of physical singles from the album (ratio 3/10)
Download Singles: sales of digital singles from the album (ratio 1,5/10)
Streaming: equivalent album sales of all the album tracks (ratio 1/1500 for Audio stream and 1/11750 for Video stream)
If the first place of A Night At The Opera was expected, sales weren't supposed to be so high. The LP explodes at more than 40 million EAS!
The more impressive may be its stunning all-around results. Its immense 1.7 million tally from downloads is still its lowest sales avenue.
The Game is a monster runner up at 32.3 million with News Of The World is hot on its wheels at 30.5 million. Both albums are red hot in all fronts too.
The Works, an album that is barely Gold in the US, shocks at 26.4 million. How to explain this figure?
Firstly, it was a much larger success outside of the US. Secondly and most notably, its singles aged perfectly well. Indeed, the album is far and away the larger contributor to Greatest Hits II.
In spite of massive sales of over 21 million, Hot Space and Jazz fight for #5/#6 spots, which illustrates how dense the band's discography is.
A Day At The Races seems a random performer while its numbers are superb at 17.6 million.
A Kind Of Magic and Innuendo are 8th and 9th, respectively, both with more than 13.5 million sales.
Made In Heaven completes the top 10 at 11.4 million. Sheer Heart Attack is relegated to #11 even if it sold nothing less than 11 million.
The Miracle comes next with 8.4 million. The first two albums along with Flash Gordon are the only ones which failed to gain traction although they still post 4 million units a piece.
The figure which sums it all is 264,269,000, the total number of equivalent album sales for Queen.
With this score, they fly over Madonna in the all-time ranking. They move from 2 million behind to 23 million ahead! Even if her get updated, the American diva has little chances of ever catching back the British band.
In fact, the rise of Queen is so spectacular that if we want to see movement in the future we better look higher. Next up is no other than Elvis Presley at 314 million.
50 million is still a very long way to go, especially since the King continues to rack up significant sales year after year, but if the Queen bonanza doesn't go away who knows where they can stop.
Singles CSPC results
The list is compiled in album equivalent sales generated by each song. Therefore, these figures are not merged units of singles formats. Instead, it includes weighted sales of the song's physical single, download, ringtone and streaming as well as its share among sales of all albums on which it is featured.
1. 1975 – Queen – Bohemian Rhapsody [A Night at the Opera] – 32,240,000
2. 1980 – Queen – Another One Bites the Dust [The Game] – 22,170,000
3. 1981 – Queen & David Bowie – Under Pressure [Hot Space] – 20,500,000
4. 1977 – Queen – We Will Rock You [News of the World] – 16,650,000
5. 1978 – Queen – Don't Stop Me Now [Jazz] – 15,660,000
6. 1976 – Queen – Somebody to Love [A Day at Races] – 15,140,000
7. 1984 – Queen – I Want to Break Free [The Works] – 12,960,000
8. 1977 – Queen – We Are the Champions [News of the World] – 12,570,000
9. 1984 – Queen – Radio Ga Ga [The Works] – 9,090,000
10. 1991 – Queen – The Show Must Go On [Innuendo] – 7,980,000
11. 1974 – Queen – Killer Queen [Sheer Heart Attack] – 7,870,000
12. 1980 – Queen – Crazy Little Thing Called Love [The Game] – 7,290,000
13. 1986 – Queen – Who Wants to Live Forever [A Kind of Magic] – 4,890,000
14. 1989 – Queen – I Want It All [The Miracle] – 4,610,000
15. 1986 – Queen – A Kind of Magic [A Kind of Magic] – 4,010,000
16. 1975 – Queen – Love of My Life [A Night at the Opera] – 3,720,000
17. 1978 – Queen – Fat Bottomed Girls [Jazz] – 3,660,000
18. 1980 – Queen – Flash's Theme [Flash Gordon] – 3,310,000
19. 1975 – Queen – You're My Best Friend [A Night at the Opera] – 3,130,000
20. 1995 – Queen – Too Much Love Will Kill You [Made in Heaven] – 3,080,000

If you feel inspired by this list, we just created this CSPC Queen playlist on Spotify!
Discography results
Thanks to the ASR (Artist Success Rating) concept, we know that the group's sales represent 83.82 million times the purchase of their entire discography. Coupled with their total sales, it translates into an ASR score of 843.
With this metric, Queen are the 3rd most successful artist of all-time, only topped by Michael Jackson (who sets the scale at 1000) and the Beatles (915).
This big 3 creates a huge gap over the remaining artists as Elvis Presley is 4th with a score of 696.
Records & Achievements
At 264,269,000 EAS, Queen are the second most successful group of all-time.
At 251,035,000 million EAS, Queen produced more value during their active years (1973-1991) than anyone minus Michael Jackson (261.7 million)
At 129,623,000 EAS, Queen owns the 4th most successful catalog of 70s material.
At 107,789,000 EAS, Queen owns the 5th most successful catalog of 80s material.
Queen are one of only two acts in history to crack 100 million EAS with material from two distinct decades.
At 11, Queen are second among artists with the most albums over 10 million EAS.
At 6, Queen are second among artists with the most albums over 20 million EAS.
At 3, Queen are third among artists with the most albums over 30 million EAS.
At 8, Queen are tied with Michael Jackson to have the most singles over 10 million EAS.
At 13, Queen has the longest streak of all-time of studio albums generating over 1 million physical singles sales combined.
At 10, Queen has the longest streak of all-time of studio albums with at least one million selling physical single.
At 14, Queen have the second most pre-2000 singles over 1 million digital sales.
At 5, Queen have the most pre-2000 albums over 1 million EAS from streams.
At 15,080,000 pure sales, Queen are the second best selling music video act of all-time.
At 9,012,385,000 streams, Queen are the most streamed legacy act on Spotify.
At 59.65 million digital sales, Queen have the second highest selling pre-2000 catalog.
Queen are the only act with two 7-million selling catalog songs in digital format.
At 8,550,000 pure sales, The Platinum Collection is the best selling box set of all-time.
At 97.26 million pure sales, Queen are the highest selling album act of all-time in Europe.
At 4.73 million, Queen are the highest selling international album act of all-time in the Netherlands.
At nearly 150,000 units, Greatest Hits II is the highest selling foreign album ever in Finland.
At 40,551,000 EAS, A Night At The Opera is the 9th most successful album of the 70s, 1st of 1975.
At 32,277,000 EAS, The Game is the 15th most successful album of the 80s, 2nd of 1980.
At 30,472,000 EAS, News Of The World is the 17th most successful album of the 70s, 5th of 1977.
At 26,353,000 EAS, The Works is the 7th most successful album from 1984.
At 21,480,000 EAS, Hot Space is the 2nd most successful album from 1982.
At 21,323,000 EAS, Jazz is the 4th most successful album from 1978.
At 17,592,000 EAS, A Day At The Races is the 4th most successful album from 1976.
At 14,107,000 EAS, A Kind Of Magic is the 7th most successful album from 1986.
At 11,017,000 EAS, Sheer Heart Attack is the 5th most successful album from 1974.
At 32,240,000 EAS, Bohemian Rhapsody is the 5th most successful song of all-time, 2nd of the 70s and 1st of 1975.
At 22,640,000 EAS, Under Pressure is the 19th most successful song of all-time, 8th of the 80s and 3rd of 1981.
At 22,170,000 EAS, Another One Bites The Dust is the 21st most successful song of all-time, 9th of the 80s and 1st of 1980.
At 16,650,000 EAS, We Will Rock You is the 18th most successful song of the 70s, 2nd of 1977.
At 15,660,000 EAS, Don't Stop Me Now is the 19th most successful song of the 70s, 3rd of 1978.
At 15,140,000 EAS, Somebody To Love is the 5th most successful song of 1976.
At 12,960,000 EAS, I Want To Break Free is the 8th most successful song of 1976.
At 12,570,000 EAS, We Are The Champions is the 5th most successful song of 1977.
At 7,870,000 EAS, Killer Queen is the 4th most successful song of 1974.
At 2,001,000,000 views, Bohemian Rhapsody is the most viewed pre-2000 song on YouTube.
At 1,167,430,000 streams, Bohemian Rhapsody is the most streamed pre-2000 song on Spotify.
At 812,037,000 streams, Don't Stop Me Now is the 3rd most streamed pre-2000 song on Spotify.
At 719,673,000 streams, Another One Bites The Dust is the 6th most streamed pre-2000 song on Spotify.
NB : EAS means Equivalent Album Sales
You may be interested in…
… best-selling artists, albums, and singles
To improve your navigation we created several amazing cross-artists lists posted inside the CSPC: Data Collector article. Click on it to see the full listing of all CSPC results compiled so far!
… similar artists
To put figures from this article into perspective, click on the images below to reach career breakdowns of similar artists: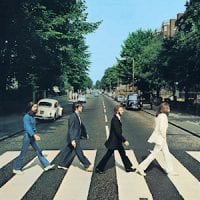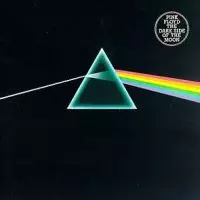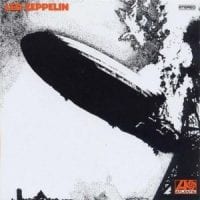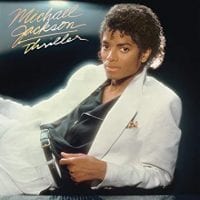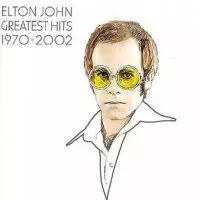 As usual, feel free to comment and / or ask a question!
Sources: IFPI, Spotify, YouTube, Discogs.