Rod Stewart albums and songs sales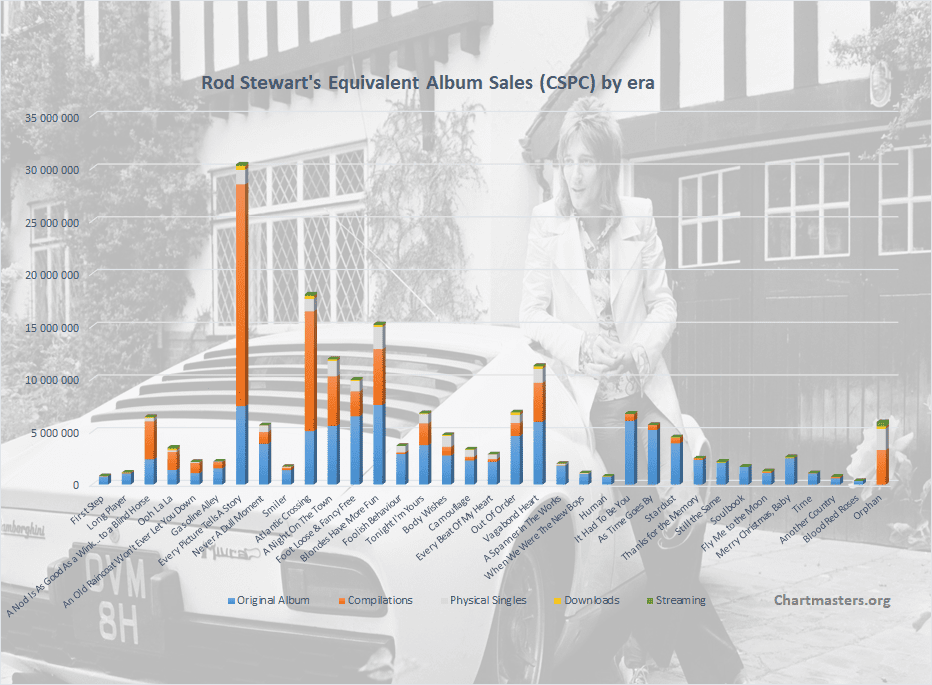 Love him or hate him, Rod Stewart is an absolute legend. In fact, Rod the Mod is up to 5 decades and 47 years of #1 records in major markets.
This week, the release of his compilation You're in My Heart, paired with the Royal Philharmonic Orchestra, will likely extend even more this mind-blowing run.
With his 31 studio albums along with key contributions to several bands, how many records has the British singer sold?
Who is Rod Stewart?
Rod Stewart, born Roderick David Stewart in 1945/01/10 in London, is a British Rock singer famous for his hoarse voice and his chameleon career. You may call him Sir since he was knighted in 2016.
When was he at his peak?
The singer had an extreme popularity flash in 1971 thanks to the song Maggie May and then got several lives, but he was at the top of the music industry during the second half of the 70s. Most notably, Tonight's The Night was the #1 single of 1977 in the US according to the Billboard.
Is he still relevant to this day?
Definitely. While his popularity faded in the last few years in the US, his last 4 albums were all Top 2 hits in his native UK.
How is he regarded by critics?
His reputation is fairly poor nowadays. During his first years, he was very well rated, but his multiple changes of styles along with his commercial success brought negative ratings to his new records for more than 40 years.
Rod Stewart started his musical career way back in 1962. It took a few years to take off, but he ultimately moved from a random harmonica player to global superstar.
His first popular records came while he was part of the Jeff Beck Group and then the Faces. While he was the leader for none of these bands, he was their lead singer.
Thanks to Maggie May's success, his popularity far exceeded the one of his bands, which pushed him to stick to solo recordings in later years.
It was a wise decision since from 1975 onwards his commercial success was confirmed and then replicated again and again.
As he releases one more album which is poised to sell bucketloads in various markets, we review his career from his very first years to now.
As usual, I'll be using the Commensurate Sales to Popularity Concept in order to relevantly gauge his results. This concept will not only bring you sales information for all Rod Stewart's albums, physical and download singles, as well as audio and video streaming, but it will also determine their true popularity.
If you are not yet familiar with the CSPC method, the next page explains it with a short video. I fully recommend watching the video before getting into the sales figures. Of course, if you are a regular visitor feel free to skip the video and get into the figures.
The Commensurate Sales to Popularity Concept (CSPC)
There are two ways to understand this revolutionary concept. The first is the Scribe video posted below. If you are unaware of the CSPC method, you will get the full idea within just a few minutes.
If you are a mathematical person, and want to know the full method as well as formulas, you can read the full introduction article.
Now let's get into the artist's sales figures in detail in order to apply this concept and define the act's true popularity!
Rod Stewart Albums Sales

Original Album Sales – Comments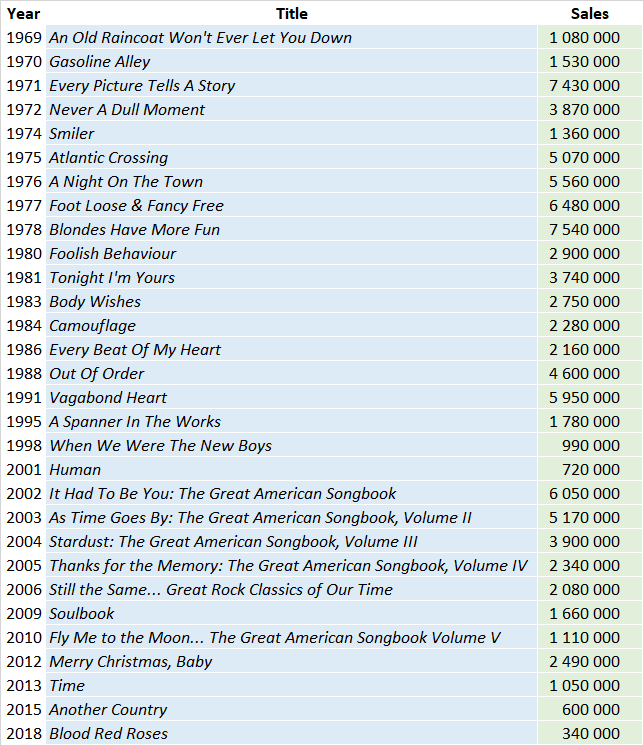 There are several amazing facts in these figures. The first is that despite his immense success, Rod Stewart never moved 10 million units of a unique album.
His top 2 LPs, Every Picture Tells A Story and Blondes Have More Fun, have both been killed quickly by releases of compilations a mere 2 and 1 year, respectively, after the studio outputs.
In the other side of the story is an unbelievable consistency. The singer is up to 6 consecutive decades with million selling studio albums. Outstanding.
His most prolific decades in terms of new albums' pure sales happens to be the 00s where his records added for nearly 22 million units. It's even more incredible considering the millennium started when he was at an all-time low.
This was made possible thanks to the super successful run of covers issued through the Great American Songbook series, with the 5 volumes averaging 3.7 million sales.
If this comeback took everyone by surprise, it wasn't his first one. Atlantic Crossing saved him from remaining a one-album wonder.
Tonight I'm Yours made him rebound after a strong backlash due to his disco years. Out Of Order and then Vagabond Heart made him cool again.
More recently, Merry Christmas, Baby proved he can still pull impressive numbers.
In total, he scores 8 albums at 5 million sales or more, 19 multi-million sellers and basically 27 shifting 1+ million.
That's a tremendous result of 94.6 million sales on the back of his solo studio albums only.
As it wasn't enough, Rod Stewart was also the lead singer of two bands which issued multiple records.
His role was quite different on them yet. The first band was the Jeff Beck Group, obviously led by the iconic guitarist Jeff Beck.
We can see on the group's page on Discogs that references to Rod Stewart are limited. He sang in their first two albums, Truth and Beck-Ola.
He was already way more popular by the time he jumped into the Faces.
The band, named at first the Small Faces, changed its name to welcome the singer along with then bassist Ronnie Wood, well known as the guitarist of the Rolling Stones since 1975.
Rod Stewart dropped a quartet of LPs with them. A search of his name on the band's page will give you as many as 23 results, illustrating the fact that a lot of their records have been credited to Rod Stewart & The Faces rather than the Faces.
In our quest to reflect as accurately as possible the success of an artist, we decided to include sales of the Faces for Rod Stewart, while only his participations on Jeff Beck Group's singles will be considered as he is featured on them rather than leading them.
So, here are these Faces' studio album sales!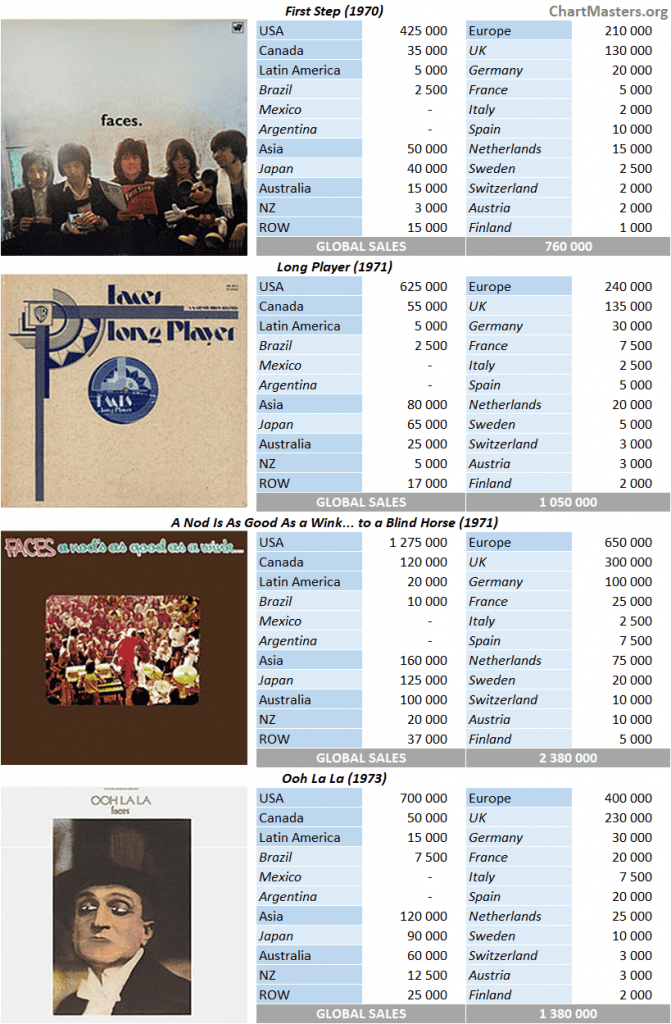 Obviously, the band hasn't sold anywhere as much as the singer's solo efforts. They were notably way more English-speaking markets centric.
They still add for 5.57 million units, with A Nod's As Good As A Wink… To A Blind Horse leading the way at 2.38 million.
Rod Stewart Songs Sales

Physical Singles Sales

As a reminder, the weighting is done with a 10 to 3 ratio between one album and one physical single.
Where do I start? If the album discography of Rod Stewart is immense, what can we say about these singles' releases?
We can count as many as 126 distinct songs issued, many of which were released multiple times.
His breakthrough hit was undoubtedly Maggie May, at first the B-Side of Reason to Believe.
It's the one which gained traction on radio, catapulting the hit to long runs at #1 in the US, Canada, the UK and Australia. It was the second biggest hit of the year in both main markets, the US and the UK.
This epic smash concluded on 3.5 million sales despite more discreet success in non-English speaking countries.
You Wear It Well quickly topped a million sales, but the real successor to Maggie May was Sailing.
A modest #58 hit in the US, the song was massively successful in various countries, including in the UK where it topped charts for 4 weeks in 1975 before going back to #3 one year later.
In Norway, the song led charts for an unreal 18 weeks. It sold 2.5 million units globally, 8 times more than its US sales.
His career was far from over there though. One year later, Tonight's the Night went on to dominate the Hot 100 for 8 weeks, en route for 2.7 million sales in total.
The double A single The First Cut Is The Deepest / I Don't Want To Talk About It was also huge, selling over 1.5 million in total, going to #1 in the UK and in Germany, among others.
You're My Heart then did nearly 2 million in 1977. It was also a #1 hit, in both Canada and Australia.
In-between these hits, many more singles went top 10 here and there, routinely selling from 200,000 to 700,000 units.
It's when Da Ya Think I'm Sexy? was released. We were back in 1978, at the peak of disco music. Rod Stewart, as many more rockers, strongly adapted his sound to this new trend.
This brought him a lot of critics, but also a groundbreaking smash. The song went to #1 in most major markets, including the US and the UK.
It sold well everywhere, even in France, a weak place for him, where it did more than half a million sales. Globally, the initial single sold nearly 5.5 million units, plus 760,000 copies for 1997's remix by N-Trance.
More million sellers continued to pop up. Passion did well in the US in 1980, Tonight I'm Yours was big in Europe in 1981 while that same year Young Turks did well in both parts of the World.
A good 12 years after his first big hit, Baby Jane was another smash at 2.5 million sales, most of which came from Europe where the song was #1 in many markets although it missed the top 10 in the US.
Infatuation did get there, selling over a million globally in the process, his last single to do so before quite some time.
In fact, the rest of the 80s was filled with half million sellers like Some Guys Have All The Luck, Love Touch, Every Beat Of My Heart, Lost In You, Forever Young, My Heart Can't Tell You No and Crazy About Her.
Most of these songs did very well in some markets, but none managed to be successful in both the US and Europe.
The era Vagabond Heart surprisingly brough the singer a pair of million sellers, Rhythm Of My Heart and Have I Told You Lately, with Downtown Train coming close as well.
In 1993, the superstars collaboration All For Love with Bryan Adams and Sting shifted nearly 2.5 million units.
After that, he never did much in this format anymore. His career, full of hits, still add for more than 55 million sales of physical singles.

Digital Songs

As a reminder, the weighting is done with a 10 to 1,5 ratio between one album and one digital single.
While his physical sales are immense, it would be lying to say that Rod Stewart is a digital force. Still, looking at which songs remain popular is very interesting.
There are two songs from the Faces which perform quite well, Stay With Me and Ooh La La, which combine for 1.3 million.
It's still less than the tally of Maggie May at 1.7 million. Expectedly, this remains his strongest asset to this day.
I Don't Want to Talk About It retains a decent popularity as well, same as Sailing which moved more than 1 million downloads.
Tonight's The Night, The First Cut Is The Deepest, and You're My Heart, at 1.2 million combined, are still known, but they someway disappoint considering how well they were received back then.
Often listed among the most irritating songs of all-time, that even the singer hates singing live, Da Ya Think I'm Sexy? continues to appeal with 1.1 million digital sales on its own.
Young Turks continues to do ok, while Baby Jane suffers from its lack of popularity in the US.
On the contrary, Forever Young is a winner in the US, topping even Maggie May there with over a million sales in this country alone. At 1.55 million worldwide, it's his second highest selling download.
With a healthy total of 800,000 sales, Have I Told You Lately comes 5th among his biggest solo tracks.
A few more songs register decent numbers, like Rhythm Of My Heart, the solo version of Ooh La La, or popular renditions like What A Wonderful World and Tom Traubert's Blues.
Several former hits are mostly forgotten though. Ain't Love a Bitch, Passion, Tonight I'm Yours, Passion and Infatuation are some of them.
Even if individually numbers aren't impressive, the discography of the rock star is so extensive that these downloads and ringtones still add for 17.3 million units.

Streaming
Streaming is made up of audio and video streams. Our CSPC methodology includes both to better reflect the real popularity of each track. The main source of data for each avenue is respectively Spotify and YouTube. To factor in the growing impact of multiple Asian countries where these platforms aren't always the go-to site for music streaming, more sources have been added.
In order to account for their real popularity in each relevant country, the below sources have been used along with the mentioned ratios that reflect the market share of each area.
Audio Streams
– South Korea : Genie streams * 3.05 (consistent with Gaon streaming numbers)
– Japan : AWA streams * 100/5.5 (AWA has 5.5% of the Japanese streaming market)
– Elsewhere : Spotify streams * (370 – 8.5 – 9.5 – 33 – 9) / 207 (370 million global subscribers minus 8.5 million from South Korea minus 9.5 million from Japan minus 33 million from China divided by the number of Spotify only users minus 9 million more Asian users) + Genie streams * 3.05 (uses Genie rather than Spotify to extrapolate markets like Taiwan, Thailand and Vietnam)
Video Streams
– China* : Xiami streams * 125/6.5 (Xiami has just over 5% of the Chinese streaming market)
– Elsewhere : Youtube views
*since 96.4% of Chinese streaming platforms are free users, that paid-for users pay less than $2 a month and that they are also used as video streaming platforms, their streams are weighted in par with YouTube streams.
Audio Stream value – 1500 plays equal 1 album unit
Video Stream value – 11,750 views equal 1 album unit
Equivalent Albums Sales (EAS) = ( Spotify * 310/207 + Genie * 3.05*2 + AWA * 100/5.5 ) / 1500 + ( Xiami * 125/6.5 + YouTube ) / 11750
Top Hits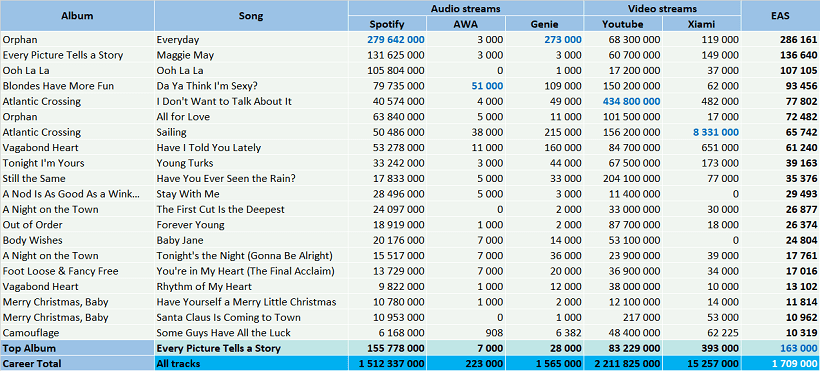 Here comes a shocker! In fact, the most streamed song involving Rod Stewart is… Everyday. The singer, along with Miguel and Mark Ronson, featured on this 2015 hit by A$AP Rocky, scoring 280 million streams on Spotify to date.
Maggie May is the natural leader among his solo songs. It has 132 million streams on Spotify. It's especially weak in Asian platforms, a sign of the English-centric world we were on by 1971.
In the other side, both Da Ya Think I'm Sexy? and Sailing are way more global. They are lower combined than Maggie May on Spotify still. Sailing is especially disappointing at 50 million only.
Both songs are topped by Faces' Ooh La La, it totals 106 million streams on Spotify, which more than offset the near non-existent streams in Asia.
I Don't Want To Talk About It is surprisingly strong on YouTube at 435 million, while Have I Told You Lately is a good all-around performer.
Besides these songs, numbers go down quickly, with nothing else cracking even 50,000 EAS from streams.
Full catalog breakdown
If you are familiar with the artist's catalog and want to check details of each and every song, you can access to all of them right here.
Keep yourself up to date
Our website provides you a fantastic tool which fetches updated Spotify streams as you request them, use it to watch these results grow day after day!
Rod Stewart compilations sales
It sounds fairly logical to add together weighted sales of one era – studio album, physical singles, downloads, streams – to get the full picture of an album's popularity. For older releases though, they also generate sales of various live, music videos and compilation albums.
All those packaging-only records do not create value, they exploit the value originating from the parent studio album of each of its tracks instead. Inevitably, when such compilations are issued, it downgrades catalog sales of the original LP.
Thus, to perfectly gauge the worth of these releases, we need to re-assign sales proportionally to its contribution of all the compilations which feature its songs. The following table explains this method.
The distribution process

How to understand this table? If you check this example of Greatest Hits, these figures mean it sold 9,850,000 units worldwide. The second statistics column means all versions of all the songs included on this package add for 457,871 equivalent album sales from streams of all types.
The second part on the right of the table shows how many equivalent streams are coming from each original album, plus the share it represents on the overall package.
Thus, streaming figures tell us songs from Every Picture Tells A Story are responsible for 30% of the Greatest Hits tracklist attractiveness, which means it generated 2,939,000 of its 9,850,000 album sales, and so on for the other records.
Compilations sales figures listing

As a bonus, please find below the breakdown of multi-million sellers.
Full Length related records Sales – Summary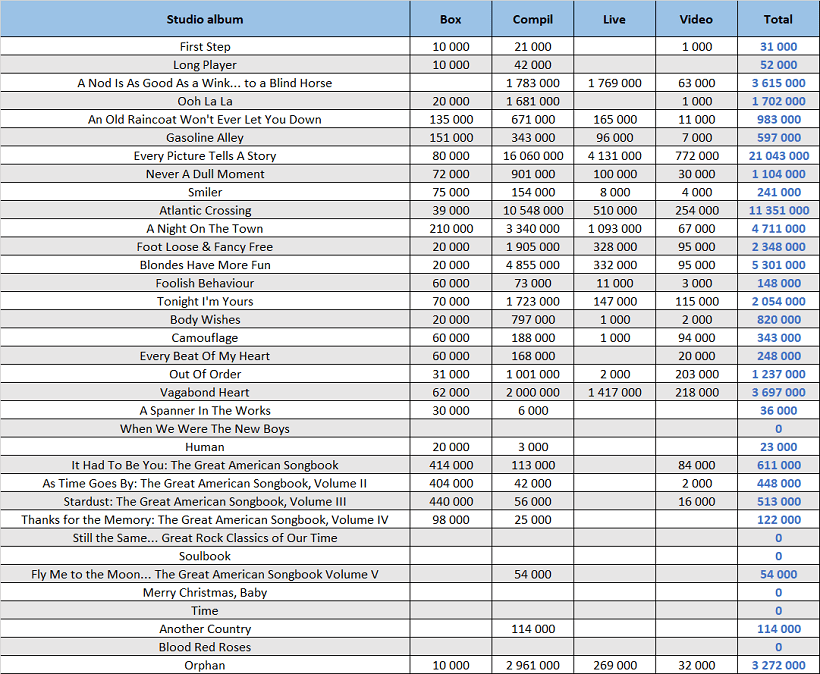 Here is the most underestimated indicator of an album's success – the amount of compilation sales of all kinds it generated. Due to the dependency of sales of the original studio albums on these releases, they are a key piece of the jigsaw
These numbers are obtained by applying the method from the section The distribution process to all packages listed under Compilation sales figures listing category.
We notice how much of a beast Every Picture Tells A Story is. Through the years, it powered millions and millions of sales of compilations. The total adds for 21 million which is absolutely amazing.
Atlantic Crossing is also a strong contributor to compilations' sales at more than 11 million. Blondes Have More Fun is a distant but relevant third at over 5 million.
Cumulatively, these compilations, videos, lives and boxes total a whopping 66.8 million sales.
Total solo Album (all types) Sales per Country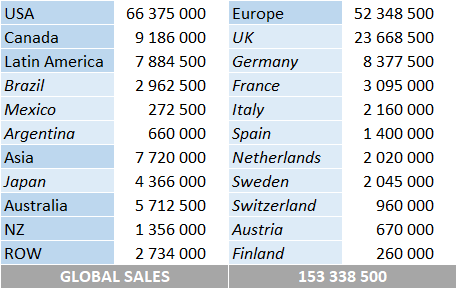 Please note country-specific (especially Mexico and Argentina) numbers may miss sales of some releases, although continental and global totals are complete.
Rod Stewart Career CSPC Results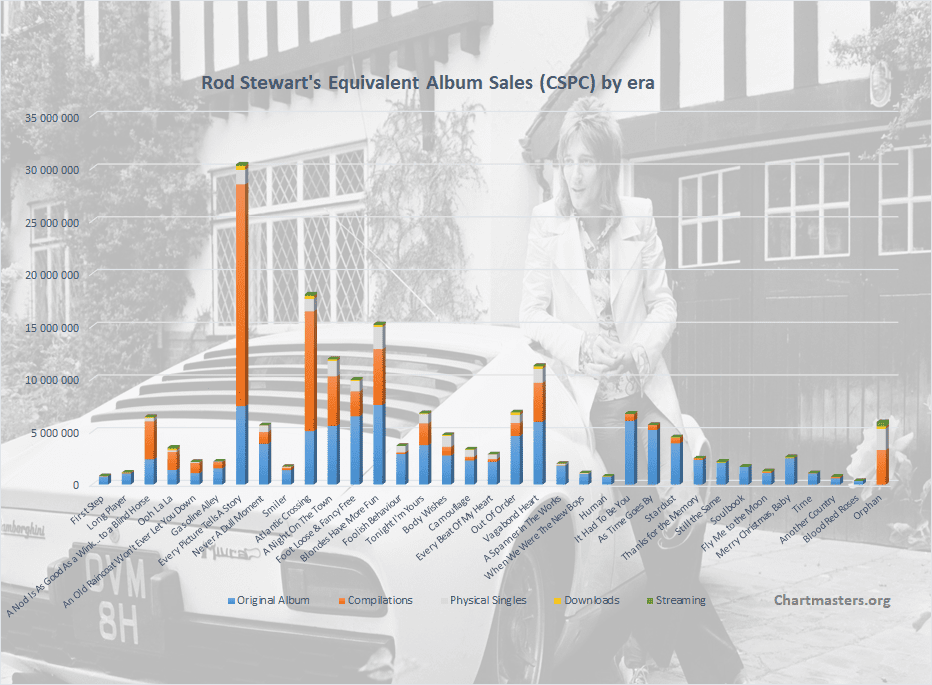 So, after checking all the figures, how many overall equivalent album sales has each album by Rod Stewart achieved? Well, at this point we hardly need to add up all the figures defined in this article!
Chronologically, the first hit album of Rod Stewart was Every Picture Tells A Story. It went on to sell over 7.3 million pure units, record over 4.6 million physical singles sales and move 2.25 million digital singles.
More than anything, it built the legend of the singer, producing his signature song, Maggie May, which fueled zillions of sales of compilations over the last 48 years. It brings the era to a stunning 30.4 million equivalent album sales.
Next up is the 1975 effort Atlantic Crossing. Home of popular songs Sailing and I Don't Want to Talk About It, it stands at 18 million units all-considered.
Blondes Have More Fun popularity hasn't been as long lasting as the previous ones, but the era is still responsible for healthy sales, over 15 million units in total.
The British icon completes a quintet of 10 million performers thanks to A Night On The Town and Vagabond Heart. The latter extends his span of 8 digits eras to 20 years.
Speaking about albums over 10 million, Foot Loose & Fancy Free is almost there.
Faces' A Nod Is As Good As a Wink… to a Blind Hord, Never A Dull Moment, Tonight I'm Yours, Out Of Order and the first two volumes of the Great American Songbook series are all in the 5.5-6.8 million range.
With 12, he is tied 3rd for the most 5-million sellers of all-time, topped only by Madonna (13) and the Rolling Stones (14).
There are 5 more albums at 3.3-4.7 million, including a trio of 80s releases, Foolish Behaviour, Body Wishes and Camouflage.
As many as 13 others top 1 million as well, shifting the superstar's count to 29. Amazing. This streak spans the period 1969 to 2013.
2012's Merry Christmas, Baby was his last strong success with a to date total of 2.6 million.
Career-wise, we are looking at a discography worth 187,869,000 equivalent album sales. Yes, you have read this number correctly!
He is part of a legendary top 5 among solo male artists along with Michael Jackson, Elvis Presley, Elton John and Frank Sinatra.
Singles CSPC results
The list is compiled in album equivalent sales generated by each song. Therefore, these figures are not merged units of singles formats. Instead, it includes weighted sales of the song's physical single, download, ringtone and streaming as well as its share among sales of all albums on which it is featured.
1. 1971 – Rod Stewart – Maggie May [Every Picture Tells a Story] – 26,510,000
2. 1978 – Rod Stewart – Da Ya Think I'm Sexy? [Blondes Have More Fun] – 14,810,000
3. 1975 – Rod Stewart – I Don't Want to Talk About It [Atlantic Crossing] – 9,320,000
4. 1975 – Rod Stewart – Sailing [Atlantic Crossing] – 7,680,000
5. 1991 – Rod Stewart – Have I Told You Lately [Vagabond Heart] – 7,120,000
6. 1981 – Rod Stewart – Young Turks [Tonight I'm Yours] – 5,990,000
7. 1976 – Rod Stewart – The First Cut Is the Deepest [A Night on the Town] – 5,850,000
8. 1971 – Faces – Stay With Me [A Nod Is As Good As a Wink… to a Blind Horse] – 5,600,000
9. 1988 – Rod Stewart – Forever Young [Out of Order] – 5,130,000
10. 1977 – Rod Stewart – You're in My Heart (The Final Acclaim) [Foot Loose & Fancy Free] – 4,850,000
11. 1976 – Rod Stewart – Tonight's the Night (Gonna Be Alright) [A Night on the Town] – 4,620,000
12. 1983 – Rod Stewart – Baby Jane [Body Wishes] – 4,240,000
13. 1972 – Rod Stewart – You Wear It Well [Never a Dull Moment] – 3,300,000
14. 1973 – Faces – Ooh La La [Ooh La La] – 3,200,000
15. 1977 – Rod Stewart – Hot Legs [Foot Loose & Fancy Free] – 2,920,000

If you feel inspired by this list, we just created this CSPC Rod Stewart playlist on Spotify!
Discography results
Thanks to our new ASR (Artist Success Rating) concept, we know that his sales represent 34.85 million times the purchase of his entire discography. Coupled with his total sales, it translates into an ASR score of 458.
It is similar to the score of artists like Whitney Houston, Fleetwood Mac and Phil Collins. The ranking of all artists studied so far is available too at this link.
Records & Achievements
At 187,869,000 EAS, Rod Stewart is the 2nd most successful British solo artist of all-time.
At 108,700,000 EAS, Rod Stewart owns the 7th most successful catalog of recordings from the 70s.
At 12, Rod Stewart has the 3rd most albums over 5 million EAS behind Madonna (13) and the Rolling Stones (14).
At 23, Rod Stewart has the 2nd most albums over 2 million EAS behind the Rolling Stones (25).
At 30, Rod Stewart has the 2nd most albums over 1 million EAS behind Elvis Presley (31).
At 26,510,000 EAS, Maggie May is the 12th most successful song of all-time.
At 26,510,000 EAS, Maggie May is the 5th most successful song of the 70s.
At 26,510,000 EAS, Maggie May is the 2nd most successful song of 1971.
At 14,810,000 EAS, Da Ya Think I'm Sexy? is among the 5 most successful songs of 1978.
At 30,373,000 EAS, Every Picture Tells A Story is the 2nd most successful album of 1971.
At 18,046,000 EAS, Atlantic Crossing is among the 10 most successful albums of 1975.
At 15,224,000 EAS, Blondes Have More Fun is among the 10 most successful albums of 1978.
Tonight's The Night was the most successful male song of the 70s on Billboard charts.
At 18 weeks, Sailing is the 2nd longest running #1 single of all-time in Norway.
NB: EAS means Equivalent Album Sales.
You may be interested in…
… best-selling artists, albums, and singles
To improve your navigation we created several amazing cross-artists lists posted inside the CSPC: Data Collector article. Click on it to see the full listing of all CSPC results compiled so far!
… similar artists
To put figures from this article into perspective, click on the images below to reach career breakdowns of similar artists: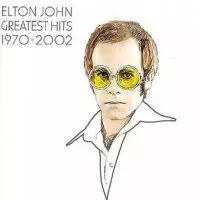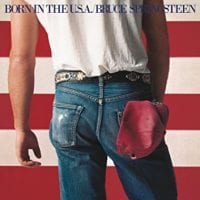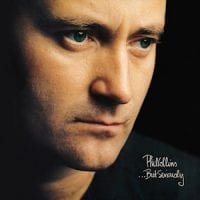 As usual, feel free to comment and / or ask a question!
Sources: IFPI, Spotify, YouTube, Discogs.